If you're an affiliate marketer using WordPress and want to maximize your revenue (with the Amazon affiliates program, for example), you'll definitely need plugins.
The problem is: there are JUST. SO. MANY! So how do you choose?
Look no further, I got you covered. I've tested hundreds of plugins throughout the years, and these are the ones I use on all my websites.
So without further ado, here are the best (free!) WordPress plugins for affiliate marketers:
Essentials
These are essential plugins you have to install before doing anything else on your website.
Once you're done installing WordPress, I want to install these before creating any piece of content or messing up with the settings.
1. All-in-One WP Migration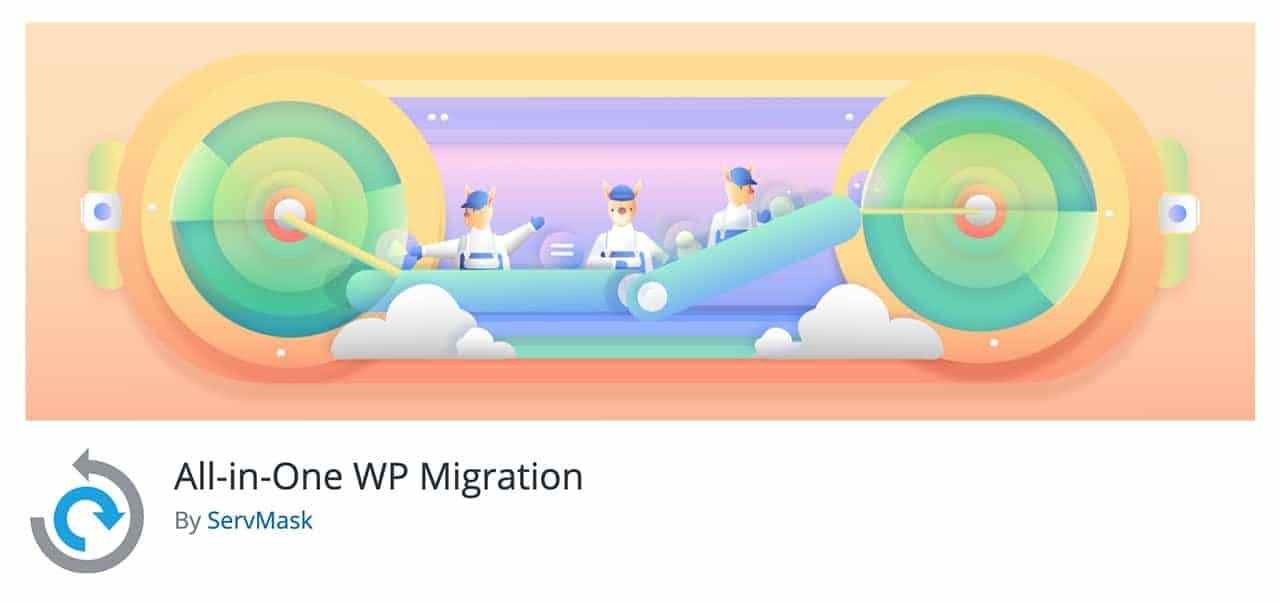 The very first plugin you need to install is a backup plugin, before writing any content or customizing any theme.
You want to make sure that creating, exporting, importing and restoring a backup works flawlessly.
Because when something goes wrong (and trust me, it will at some point), all your precious content and design will be gone, forever.
Unless, of course, you backed up your site.
Okay, so why use All-in-One WP Migration?
Because it makes restoring a website from a backup so easy to use it's not even funny:
1 backup file contains everything: content, media and settings
backup restoration is easy and flawlessly
it can serve as a migration tool to move a website from one domain (or environment) to another
If you've tried to migrate a local or staging website to a production environment, you know exactly what I'm talking about.
The plugin is free to use. But I strongly advise that you purchase 2 extensions (I have them myself):
the Unlimited extension allows you to restore bigger backup files (more than 512 MB). Database and pictures can add up quickly and you will need it at some point.
the Google Drive extension (or any other extension allowing you to save your backups in the cloud or another FTP). It allows for daily, weekly or monthly scheduled backups, and it will save your backup files on a safe, off-site location.
Complete server crash? No problem. Just grab your file from Google Drive, restore it on a brand new WordPress installation, and you're up and running in minutes.
Download All-in-One WP Migration now (free)
2. Really Simple SSL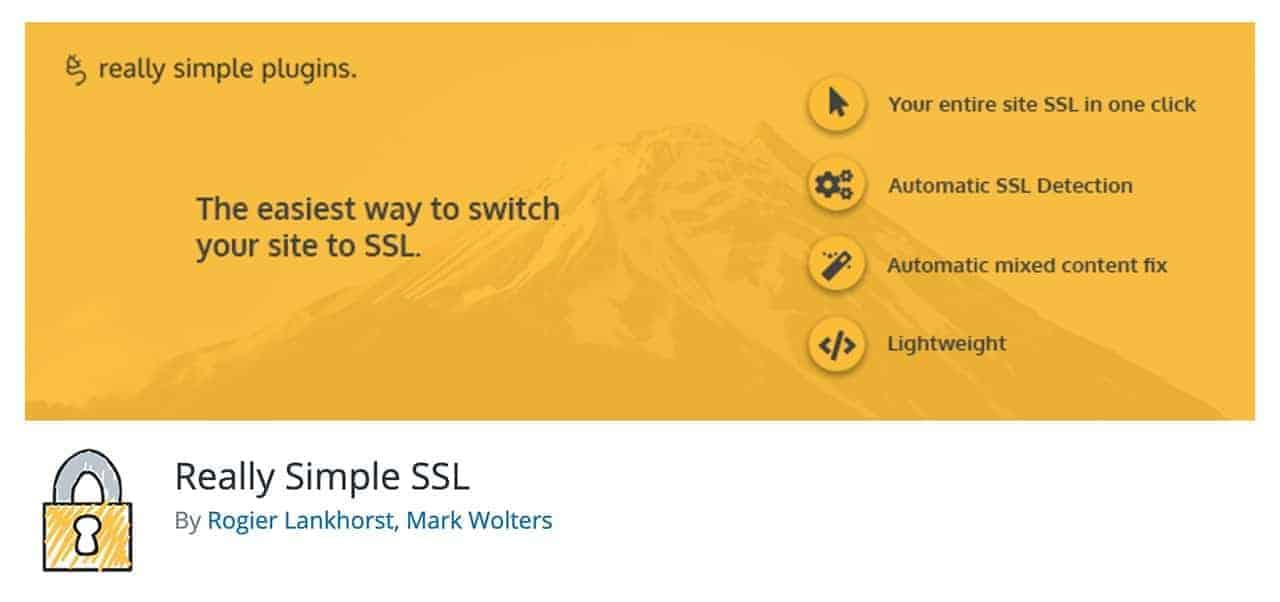 Not only is it safe for your visitors to have a website secured by SSL (with an "https://" protocol), but it impacts your Google rankings, too.
And this is nothing new: Google has been considering HTTPS as a ranking signal since 2014!
So, you definitely want to make sure that you have an SSL certificate up and running for your website, or you'll have the dreaded "Not Secure" badge in front of your URL: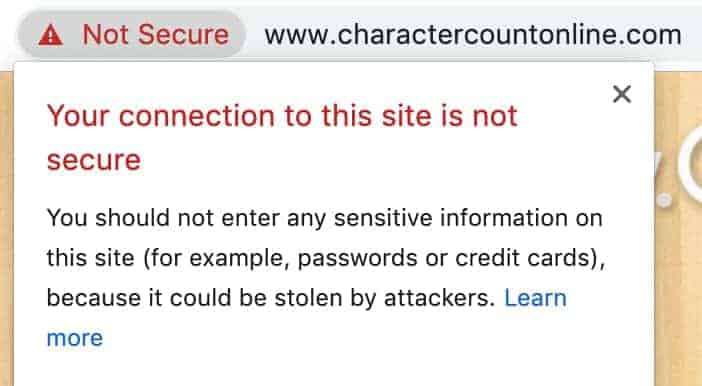 While setting up an SSL certificate on your DNS server / host is pretty easy and straight forward, making it work on your website is a different story.
There are many different ways this can go wrong:
your website doesn't actually force to connect over HTTPS, so your certificate is useless
your website redirect to HTTPS, but the redirect is not properly done
some assets are still loaded over HTTP while your website is in HTTPS, resulting in images or scripts that won't load (for security reasons)
or you can have the nightmare of all web developers and digital marketers alike: a good old 500 server error
Needless to say, you don't want any of that to happen.
For WordPress, I haven't found a simpler yet most effective plugin at managing your SSL certificate.
Really Simple SSL can proudly carry its name, as setting it is a breeze.
It's easy, fast, and efficient.
I never had a problem with it. Just make yourself a favor and grab Really Simple SSL now.
Download Really Simple SSL now (free)
3. Yoast SEO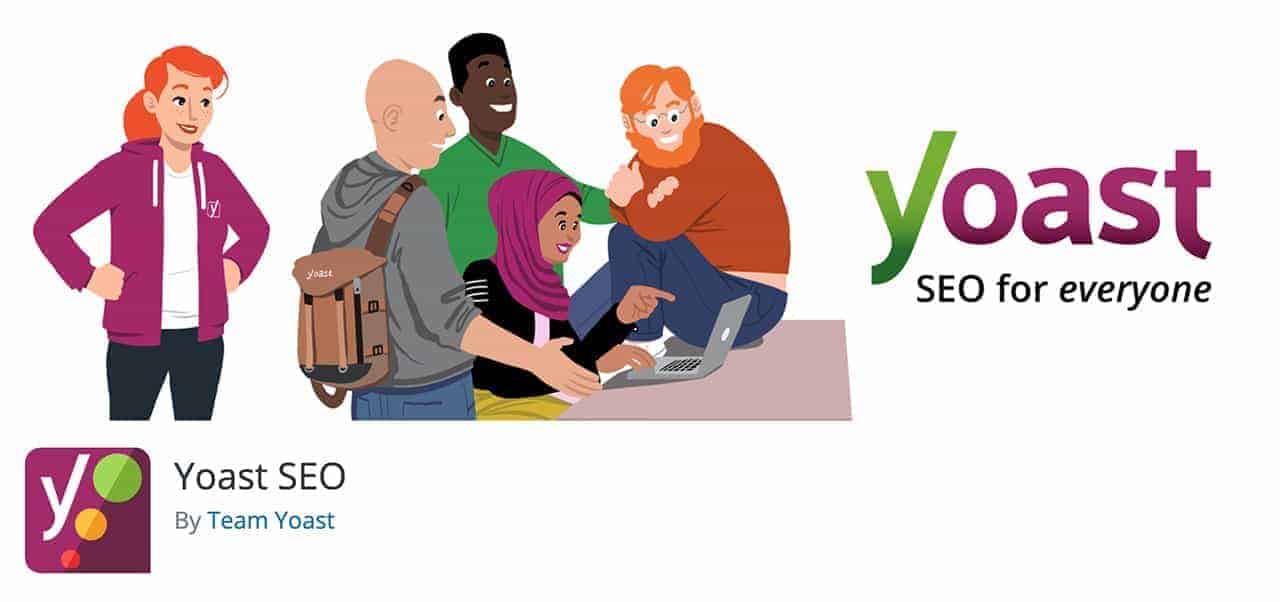 What the point of having a website and publishing content if nobody can find it?
I used to be allergic to SEO. I really, really didn't like it.
I just couldn't justify spending so much time creating description nobody reads, or find the right words for a title so that it's not truncated in Google Search results..
But here is the truth: SEO is the name of the digital marketing game.
It's so important that I featured this plugin in the Essentials plugins, not the SEO plugins!
Sure, Yoast SEO will not help you write great content.
Or catchy titles. Or well-formed, front-loaded descriptions. But it will make taking care of all these tasks a lot easier and more enjoyable.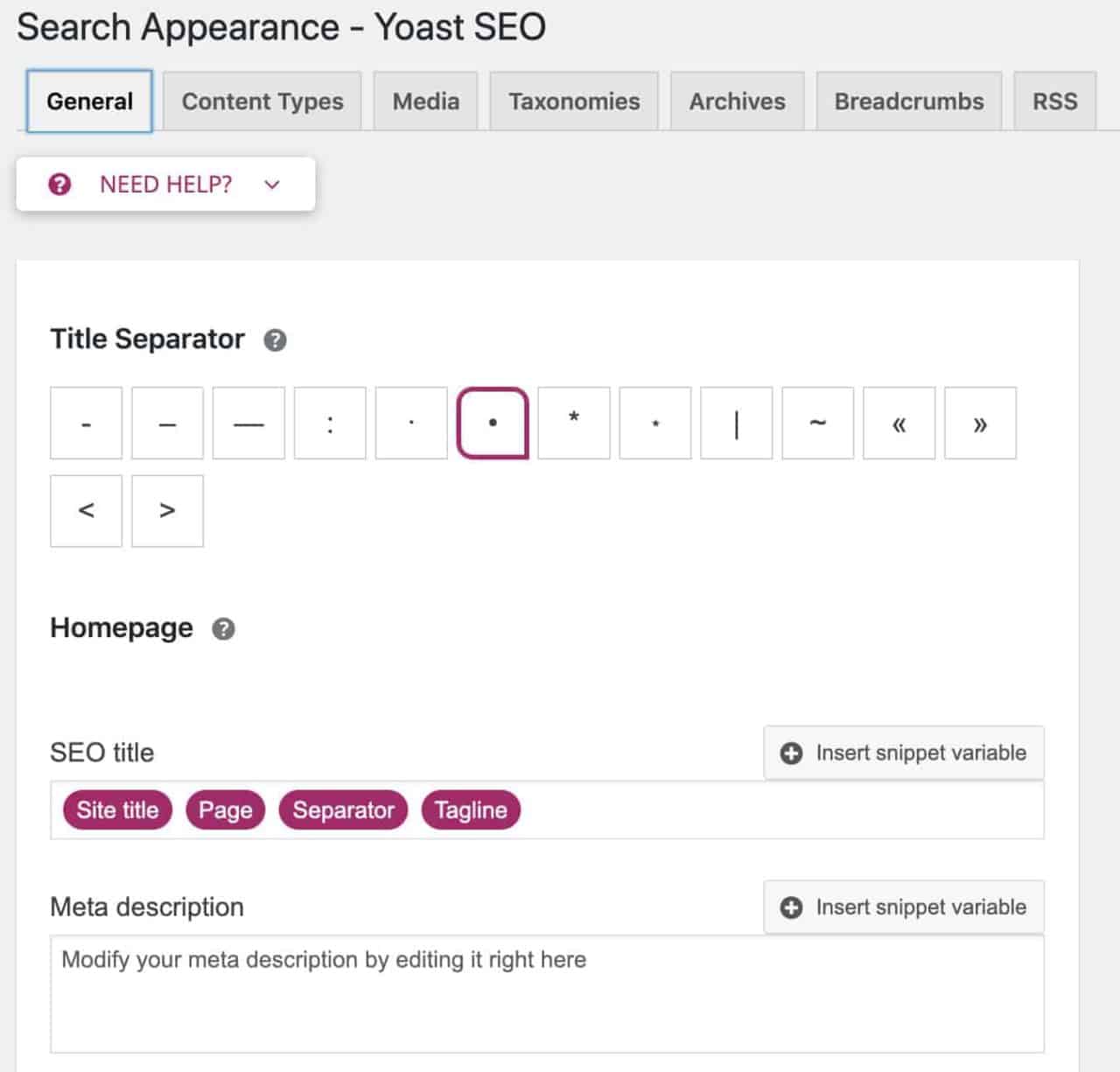 Using placeholders such as the site title, page number, a custom separator through the whole website or your tagline is a breeze.
Also, you get a very handy snippet editor that lets you set up the title, slug and description easily.
Plus you have a real-time preview on how it's going to look like on Google (complete with a character counter):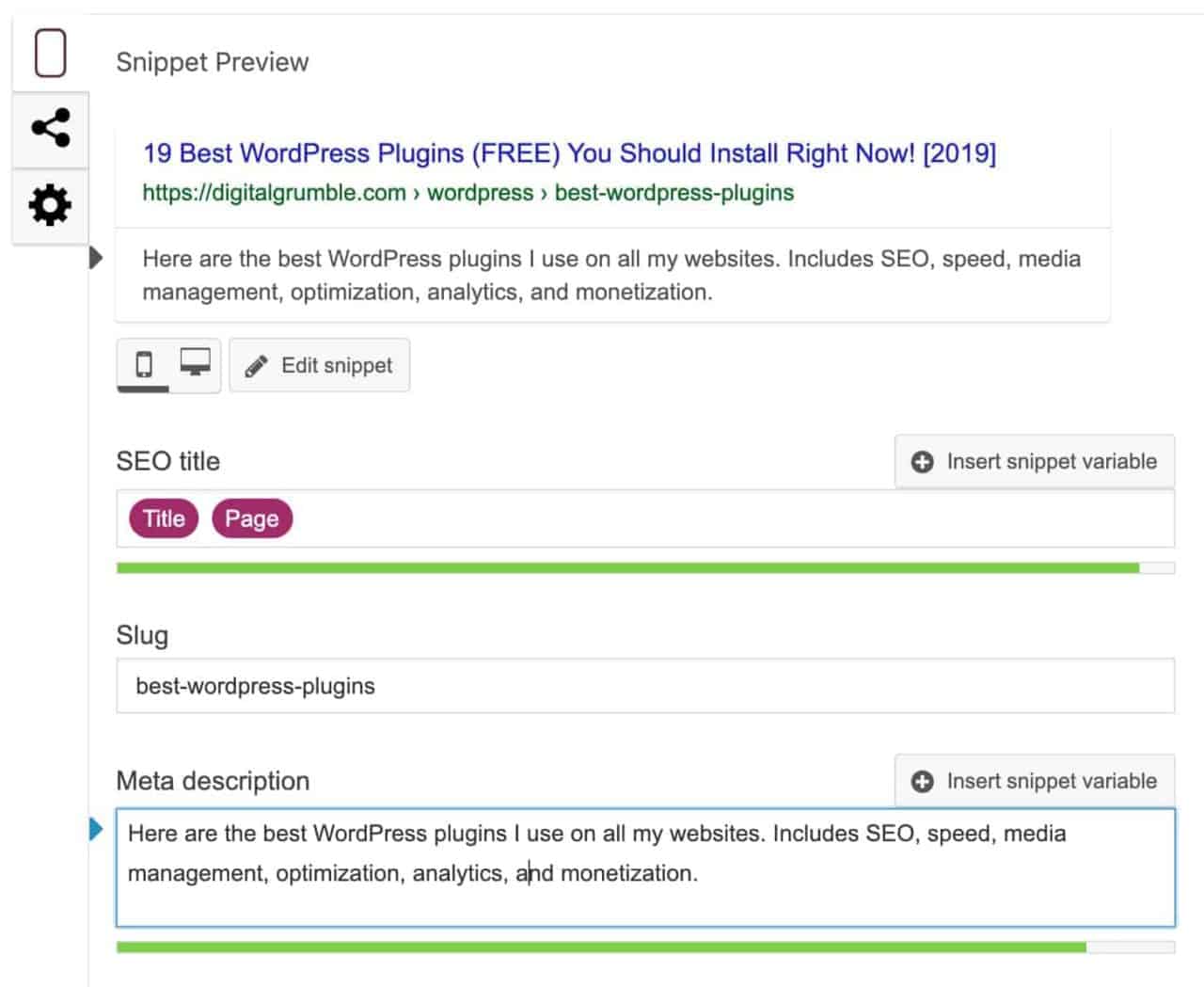 I don't use the SEO analysis, Readability analysis or Cornerstone content features of the plugin.
(They cater to an older SEO school, focusing on unique keywords instead of LSI keywords and long, helpful content.)
But since I installed this plugin, it became a game to try and come up with the most descriptive and enticing title or description.
Those real-time previews and gauge really are addictive.
Oh: did I mention it takes care of creating an XML sitemap for you, automatically?
SEO is not always fun, but it's that much easier to take care of with Yoast SEO.
Download Yoast SEO now (free)
SEO and Speed
Speed and SEO are super important for your website.
The former helps Google understand what your website and content is all about.
The latter makes sure your visitor stays on your website (and it's a ranking factor too). Make sure SEO and speed are spot-on with these plugins.
4. WP Super Cache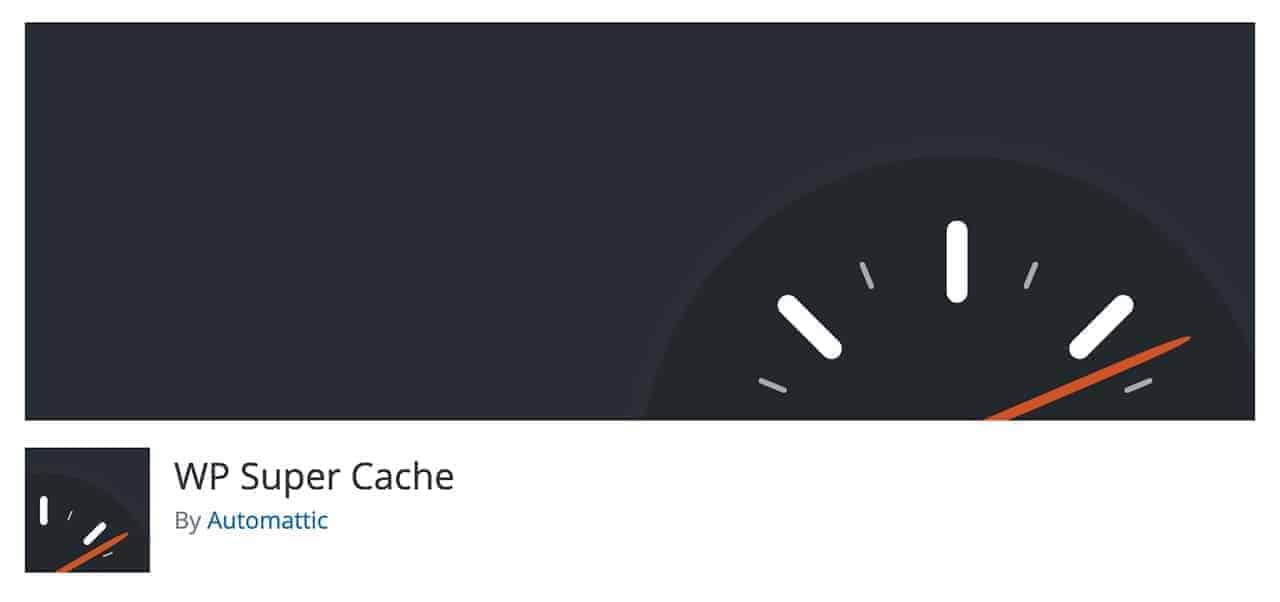 What's worse than a slow website?
Lower rankings because of its speed. Google enabled speed as a ranking factor for mobile searches in 2018.
Google now ranks pages based on the mobile experience of your website (even for desktop users).
So you really want your website to be as fast as possible.
This is why WP Super Cache is plugin taking care of speed as much as SEO.
WordPress pages are dynamic. Meaning that the server has to process a request every single time in order to send back a page as a response.
This is why WordPress is made of PHP files, and not HTML files.
Yet static HTML files are way faster to display: there is no code to run, no calculation to make, no database to reach and yield results from.
But what if you could have the flexibility of a dynamic page while having the speed of a static page?
This is exactly what WP Super Cache does.
WP Super Cache runs through your dynamic pages and makes static versions of them.
So that when visitors come to your website, they get served the cached version, which is way faster.
On some pages of my older sites, I was able to reduce the loading time of some pages from more than 14 seconds (!!!) to just under 1 second!
And you don't have to do anything to get the benefit of cached pages, besides entering a few settings values.
The settings page might seem a little intimidating, but that's just because of its design.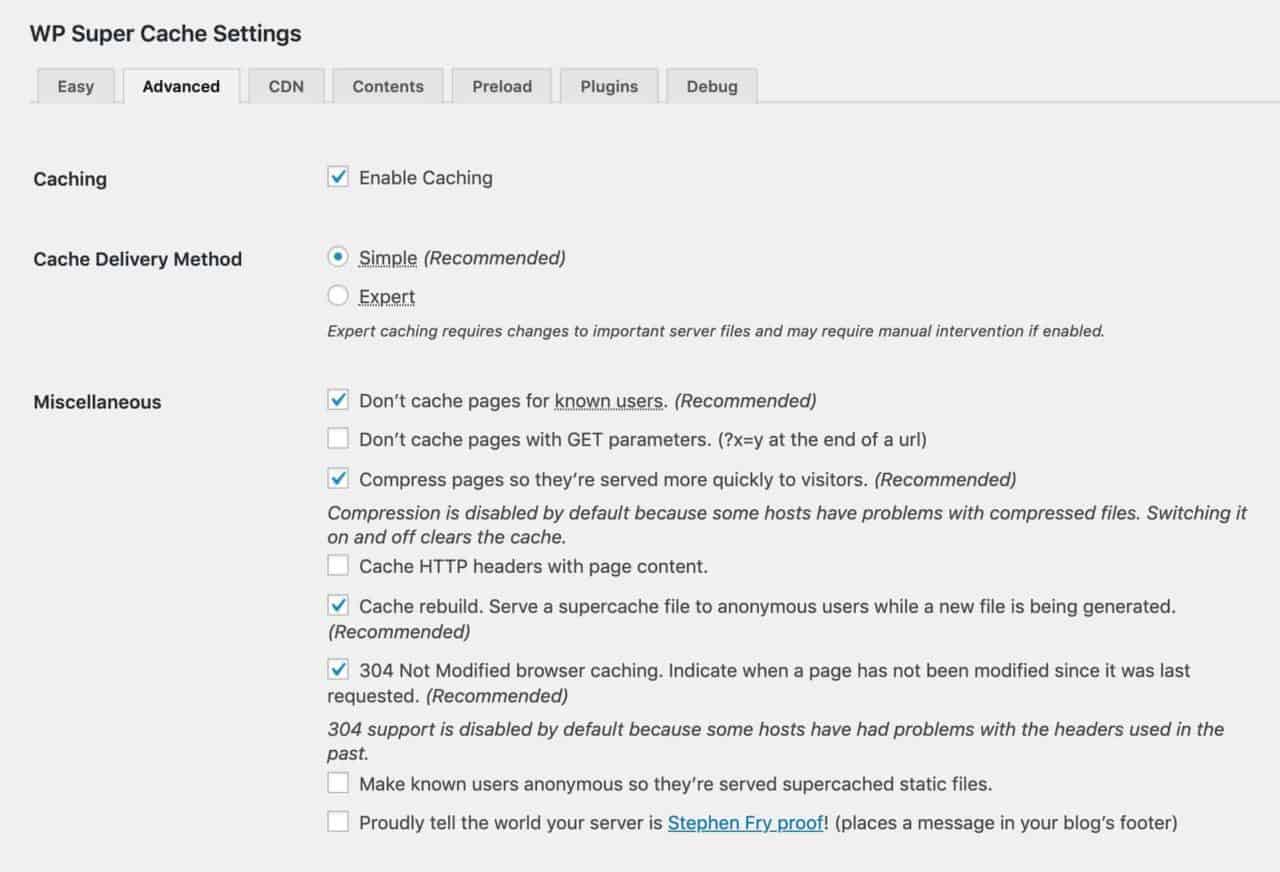 Just check all the "Recommended" checkboxes (for some reason, they are not all checked by default), and you're good to go.
CDN, preloading, garbage collection, it takes care of everything you need.
Now, WP Super Cache might conflict with some other plugins, but fro my experience it doesn't conflict with any plugins of this list.
And sure, there are other cache plugins for WordPress out there. But I found this one to be the most effective and lightweight to use.
Make your visitors a favor and make your site fast by installing WP Super Cache.
Download WP Super Cache now (free)
5. Redirection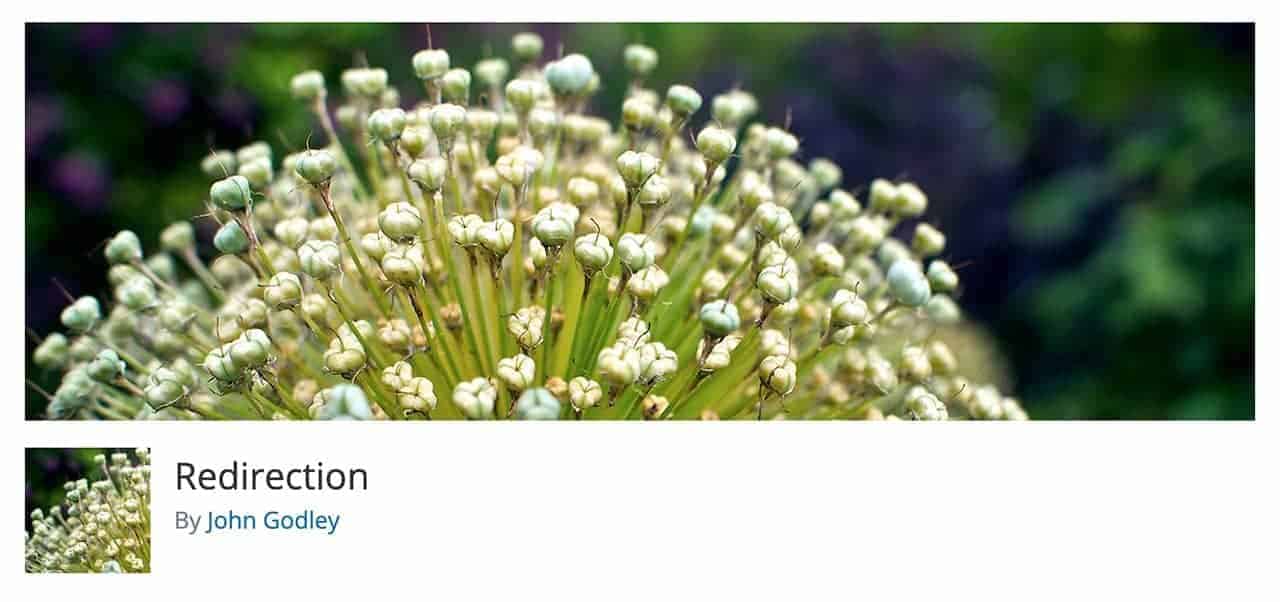 Picture this:
you change the slug of a post to make it shorter and easier to read
you put a post in a brand new category that makes better sense with some other content on your website
you delete an old page that has become useless over time
If you already tried to optimize your content (and you should! a website is not a static thing), I'm pretty sure you've run in one or several of those occurrences.
The problem is:
Every operation of that nature changes the URL of a post, page, category or some other custom post type or taxonomy.
The problem is that Google doesn't know about your changes – its index still has a reference to the older URLs.
So what happens when Google sends traffic over to your website, but that the URL doesn't exist anymore?
Well, nothing. A plain, boring 404 page.
(If you're lucky, WordPress might be able to figure out where the new content is and redirect the visitor to the right URL. But it's pretty bad at that job, and I wouldn't rely on it.)
Well, rejoice!
Redirection is a plugin that will take care of all the hassle.
The magic happens in the "Options" tab of the plugin settings: just check the "Monitor changes to posts" and "Monitor changes to pages" checkboxes, and you're all set! (and any other post type you need)
The plugin will track any change you make to the URLs of your posts and pages.
So that when somebody is sent to your website over an old URL, they will be redirected to the right page.
And it will make Google happy, too (no 404, only 301 and 307 redirects).
You can obviously set up your own redirections by hand, in normal text or with regex – super useful when you change a whole section of your site.
Keep the precious organic traffic alive and install Redirection now.
Download Redirection now (free)
6. ShortPixel Image Optimizer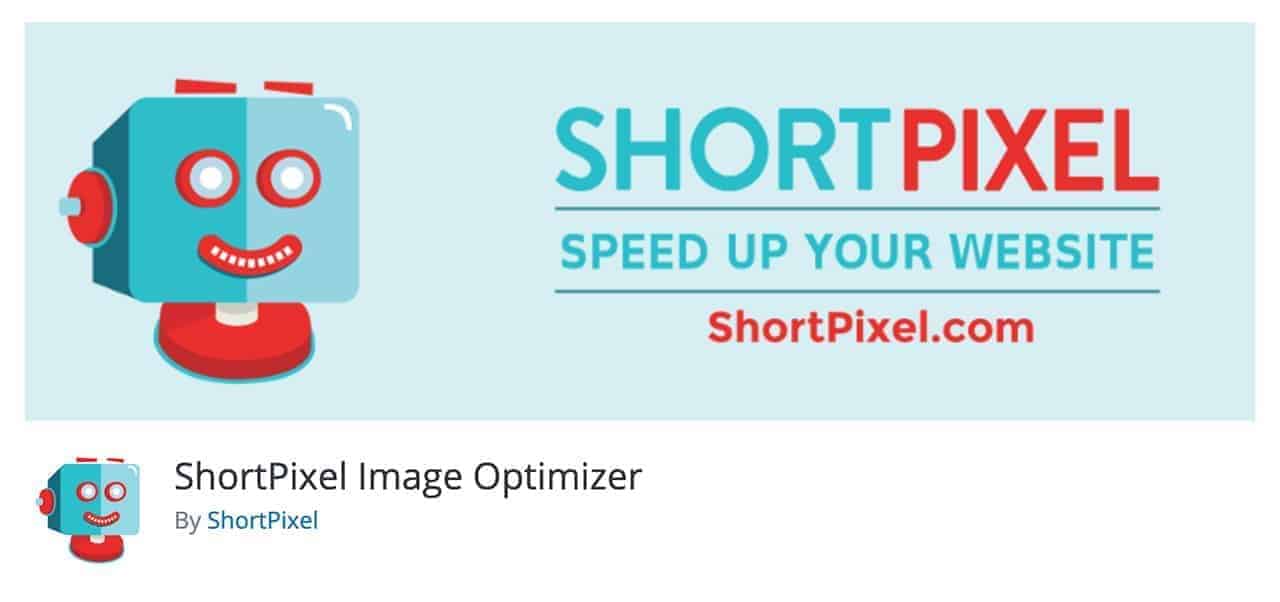 Every website needs pictures.
Yet they are at the same time the best and the worst thing that can go alongside your written content.
The best thing because a useful, well-written post with pictures is always more enjoyable to read. Thus it makes people stick for long periods of time on your pages, and they tend to read more too, sending good engagement signals to Google.
The worst thing because a picture that is slow to load will make visitors go away, sometimes even before your website gets a chance to actually display a single pixel of your page.
Today, people want websites to load fast. (I certainly do, too.)
And if you want to be below the 2 seconds loading time mark, you have to optimize your pictures to the best of your abilities.
Yet reducing the resolution of your pictures is not an option: they either will appear pixellated on high-density screen, or they will appear too small.
This is when you need to compress your pictures with an algorithm that preserves the quality while drastically reducing the weight of your files.
Well, ShortPixel Image Optimizer does exactly that. And this is the plugin that I use to optimize every single picture you see on this website.
But don't take my word for it, and try it for yourself here. You'll see just how good their algorithm is and how much space you can save by optimizing your images.
Thus lowering loading times drastically.
Also, you can manually process the pictures. Or you can ask ShortPixel Image Optimizer to take care of it automatically when you upload them.
Last but not least, ShortPixel Image Optimizer backs up your original images, should you need them at some point in the future.
You get 100/images processed by ShortPixel for free.
That may seem a lot, but thumbnails count towards that number.
And because WordPress can use up to 20 different thumbnail sizes (depending on your setup and theme), the number of images to process can add up pretty quickly.
If you don't have a regular posting schedule (like many solo digital marketing entrepreneurs), it's best to go for a one-time plan.
You can process your images when you want, and your quota never expires.
10K or 30K is okay for most small to medium sites.
You'll be able to process your images for months no problem, and the pricing is very fair too.
I've had a 10K plan for years and I still have a few thousand images to process left.
Grab your one-time plan now (affiliate link).
But you can always get 100 images for free, and that's good for most small corporate websites. So grab ShortPixel Image Optimizer now and enjoy a fast website!
Download ShortPixel Image Optimizer now (free)
7. a3 Lazy Load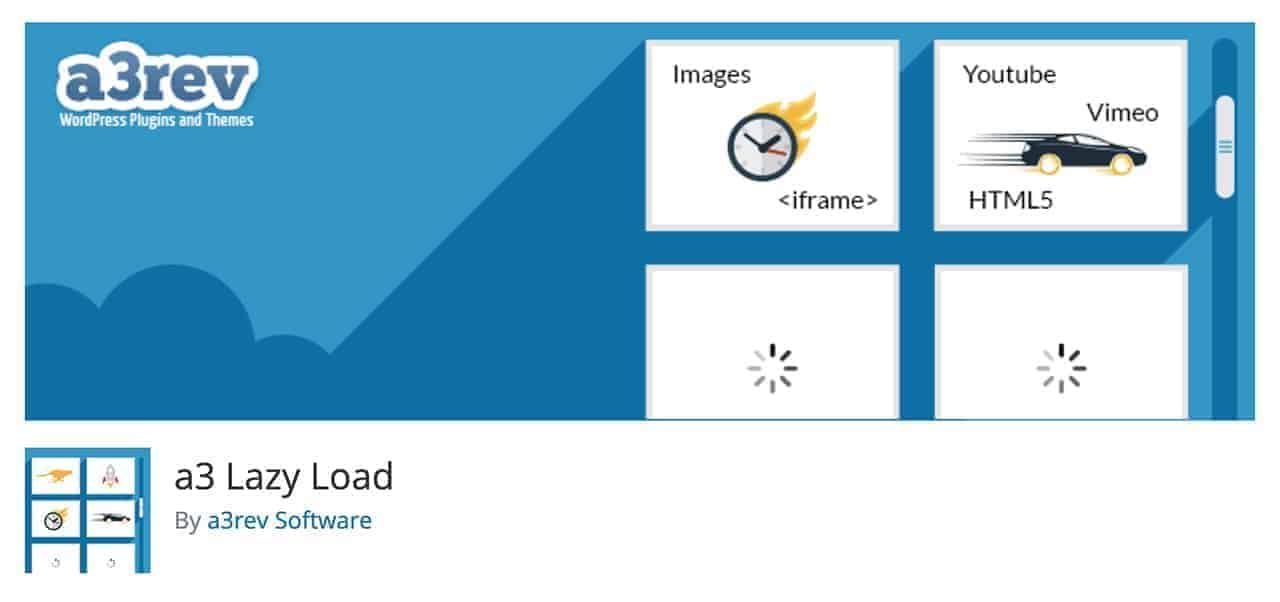 Do you want to speed up your WordPress loading times even more? I'm glad you do.
In conjunction with the ShortPixel plugin (see above), you can use the a3 Lazy Load plugin.
a3 Lazy Load is a great little plugin that will put pictures, videos and iframes "on hold" and not load them until the visitor needs them.
That is to say: until they scroll and the content needs to show them – this is exactly what lazy loading is all about.
Because all these assets are not loaded when the page initially displays, it will drastically lower the time to the first meaningful paint.
In English terms: the page will load faster because it doesn't load everything.
a3 Lazy Load is a nifty plugin that will take care of all your lazy loading needs.
You can get really nerdy and exclude some content type (posts, pages, categories, …) or even exclude individual URLs. I just tend to keep everything checked.
But the most useful setting is the Image Load Threshold, which I set to 500 pixels.
Meaning that a3 Lazy Load will only load an asset when it's 500 pixels below the fold.
So unless they scroll like madmen, your visitors will never see the pictures or videos load when they need to see them.
Just get this super useful and free plugin, and enjoy a website that is that much more responsive.
Download a3 Lazy Load now (free)
8. WP Old Post Date Remover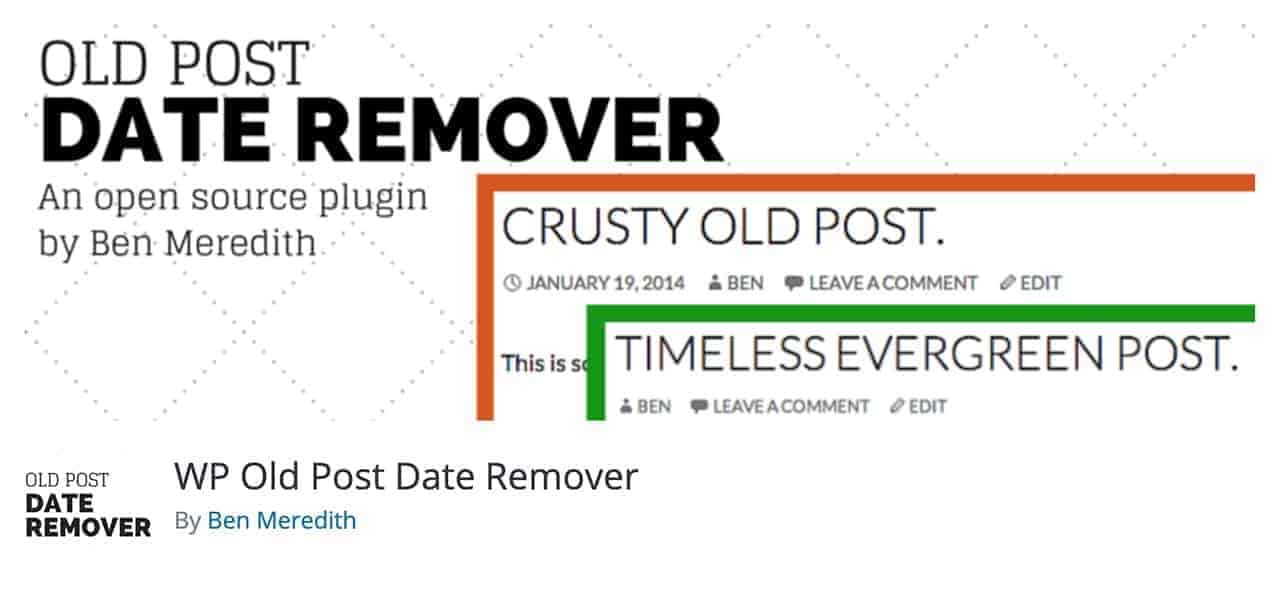 Why in the world would you want to remove the date of a post?
If you're posting news stories, then keeping the post date at all times is a good thing. You want visitors to know exactly how old your content is.
But what if you post evergreen content?
What if you post content that is as good in 2025 is it was back in 2022?
The best example is recipes: they are as good today as they were 30 years ago.
When it comes to lists (just like this one), we're always looking for the freshest content out there.
And that's normal: fresh content contains up-to-date information.
But if you have evergreen content, you might just update some articles once a year, and they might still provide tremendous value for the visitor.
This is exactly when you don't want the post date to be displayed.
With WP Old Post Date Remover, all you have to do is enter the number of days after which you want the post date to disappear from your content.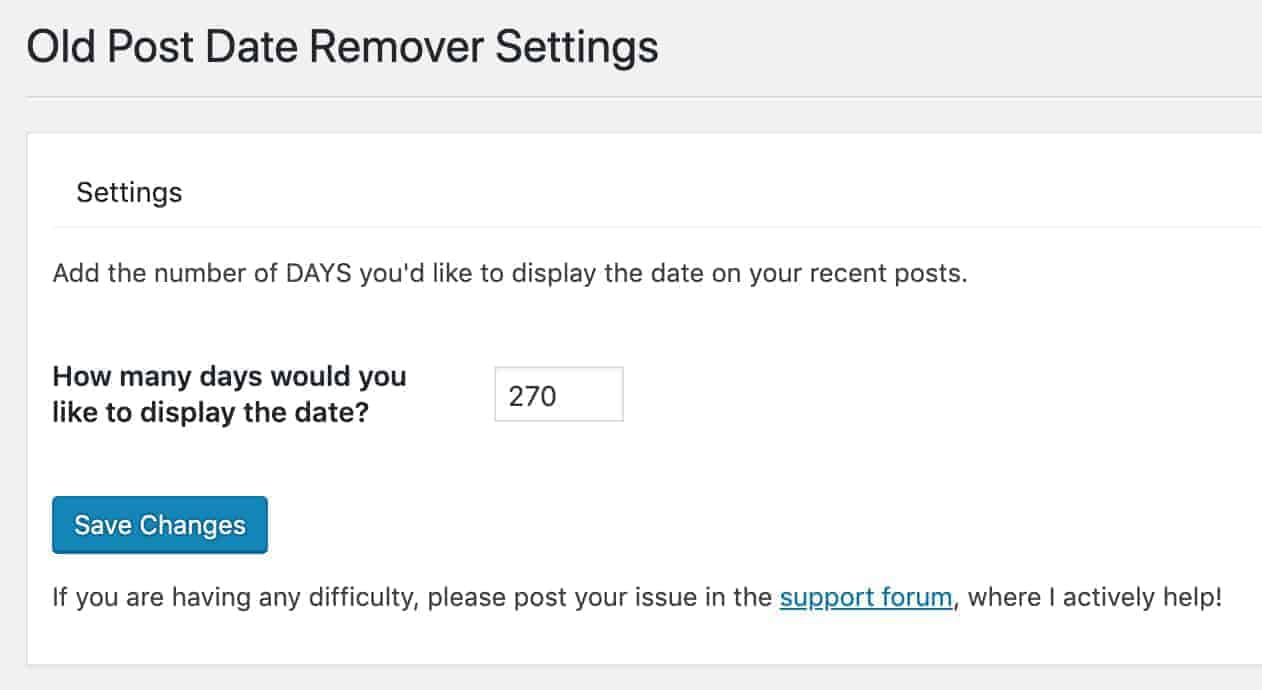 And just like that, your visitors won't question the relevance of your content because it's too old.
This plugin is a lifesaver if you happen to have a true passive income website, and you want it to continue to generate revenue for years to come.
It's so simple to use and so effective.
If you write evergreen content, I don't see any reason why you wouldn't want to install WP Old Post Date Remover.
Download WP Old Post Date remover now (free)
Website Appearance
We shouldn't judge a book by its cover… but we do.
Same goes for a website. Make sure yours looks great too, so that visitors are delighted and want to read more!
9. Simple Custom Post Order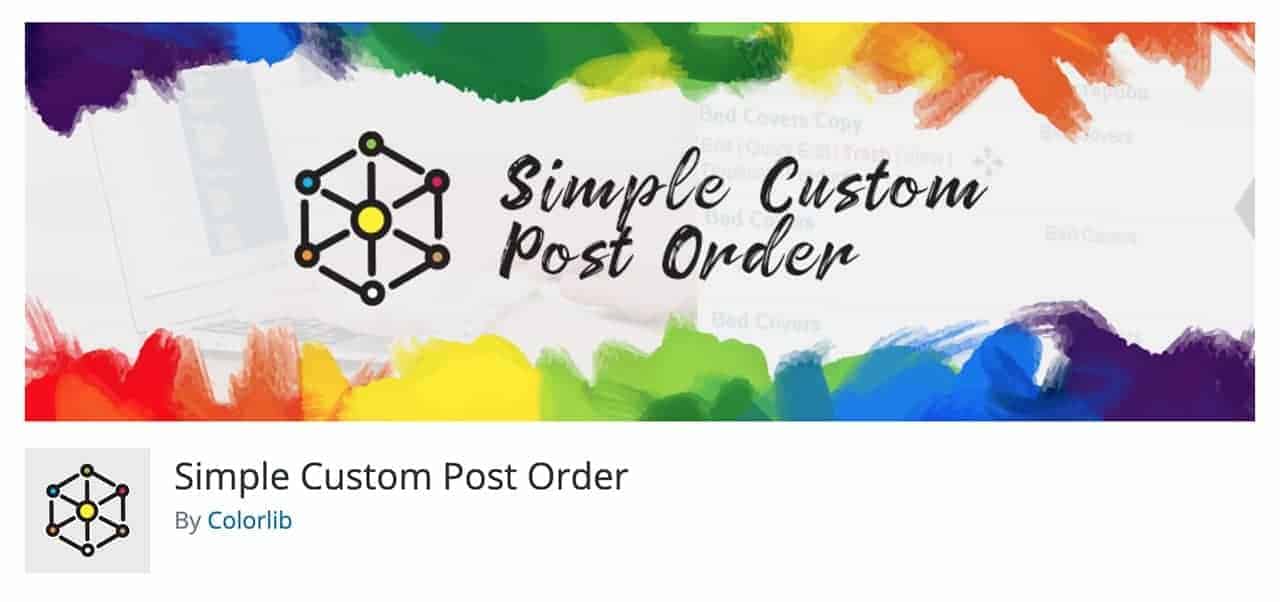 I love WordPress. I really do. It's a great tool to build corporate websites, ecommerce websites, blogs, and everything in between.
The only caveat it:
WordPress never was intended to be the engine behind most sites.
It's first and foremost a CMS made for blogging.
And as such, content is presented in an anti-chronological way: from newest to oldest.
This is great if you have a blog (the primary purpose of WordPress), or a news website. But what if you have another type of website?
Listing your posts by post date is probably a bad idea for your business:
if your content serves as a sales funnel to sell products or services, you might want to feature your best converting posts at the top of each category
if you're into digital marketing and make money off of ads, you might want to feature your how-to guides and lists with the best RPM (or even better, best ePVM) first
Yet, this is not the way WordPress works.
Sure, you can change the post dates of every post to sort them as you want, but it's a tedious task.
And what if you have a brand new post, now?
Do you want it to be at the top of everything else?
Well, Simple Custom Post Order is here to the rescue.
Just check all the content types you want to be able to easily sort: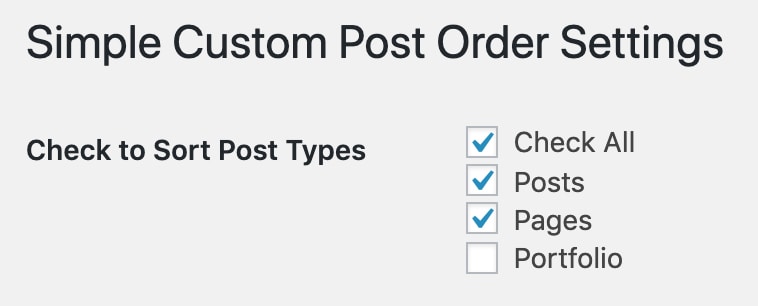 Then, in your posts (or pages, or…), just drag and drop the posts to reorder them: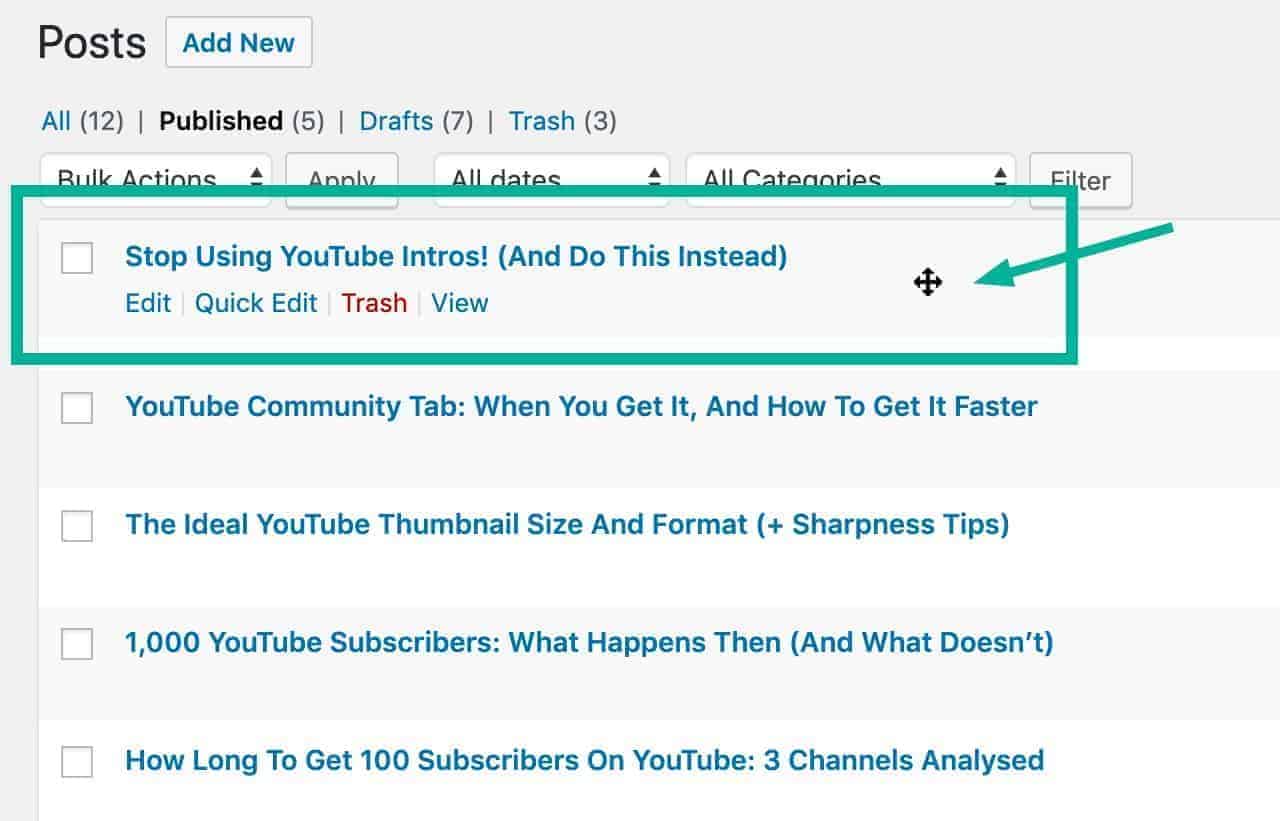 That's it.
The posts will now be sorted by your custom order, on the blogroll pages and on the category archive pages.
Download Simple Custom Post Order now (free)
10. Favicon by RealFaviconGenerator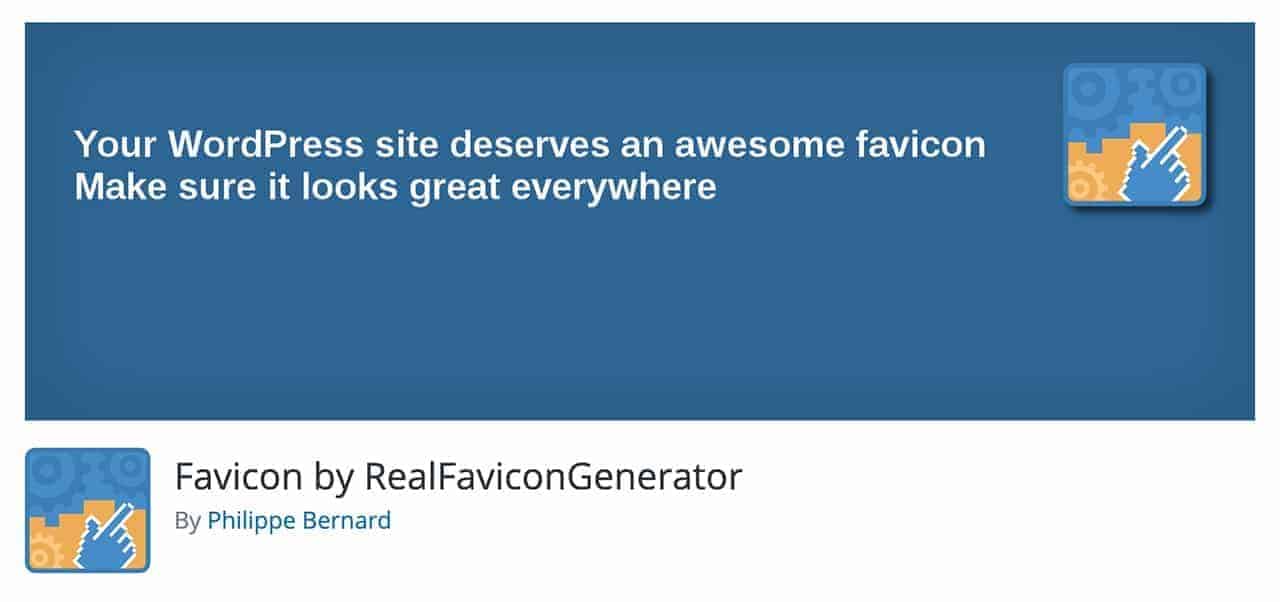 If you want your website to look serious and authoritative, you need to have a favicon.
But long gone are the days where you could just throw a favicon.ico at the root of your domain and call it a day.
Today you should also take care of how your favicon will look like as shortcuts:
on the Google Chrome start page (or any other browser)
on the Home Screen of an iOS device
on the Home Screen of an Android device (they have different standards that the one from Apple)
on less-used platforms or features like the Microsoft Metro interface or the Touch Bar on some Apple laptops
And I'm probably forgetting a lot of places where your favicon could be (poorly) displayed.
Long story short: you want a system that takes care of all of this for you
This is exactly what Favicon by RealFaviconGenerator is all about.
And it does it effortlessly, and efficiently.
Just get it now and don't look back.
Quick tip: I make my favicon files at least 320×320 pixels big, so that they look great on many different resolutions.
Download Favicon now (free)
Media Management
No site can exist without media assets. Assets can range from pictures to videos to PDFs or other downloads.
Use these plugins to help you with the (often tedious) task of managing media on your WordPress website.
11. Auto Image Attributes From Filename With Bulk Updater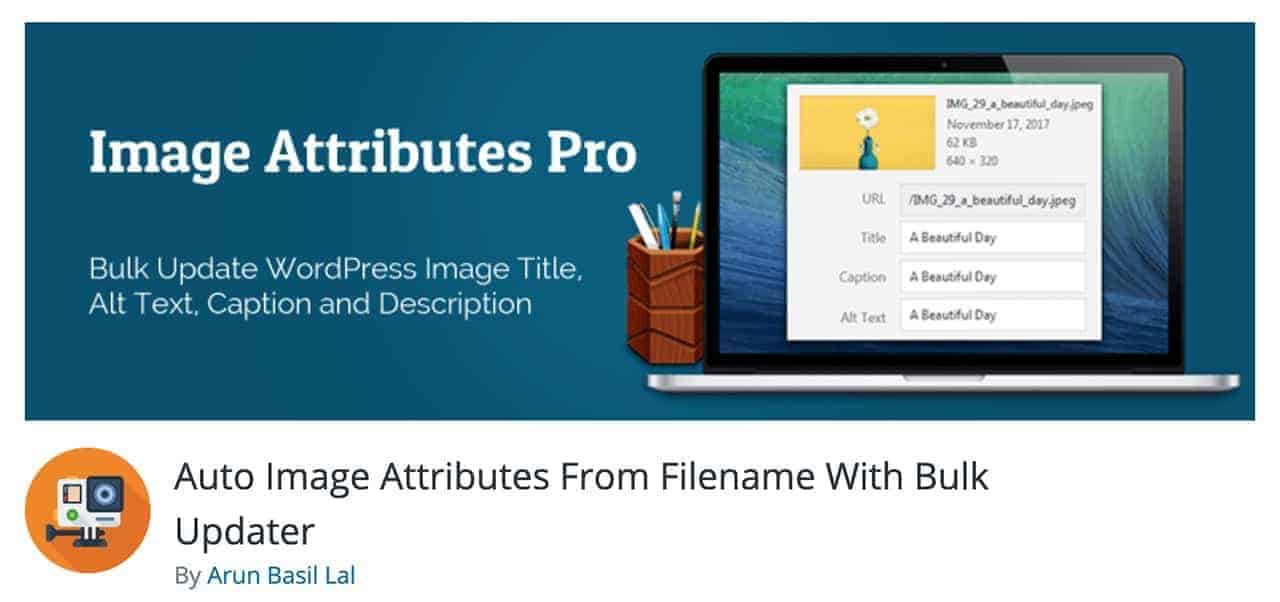 Managing media files in WordPress is a real chore. But it's a task every webmaster and digital marketer needs to tackle, whether they like it or not.
Your pictures and other media assets can drive traffic to your website too (through Google image Search, for example).
So you definitely want to optimize them as well.
How?
By making sure that your caption, alternative texts and description fields are filled in for every media of your website.
Yet doing this is a very tedious task.
What if there was some plugin to take care of that for you?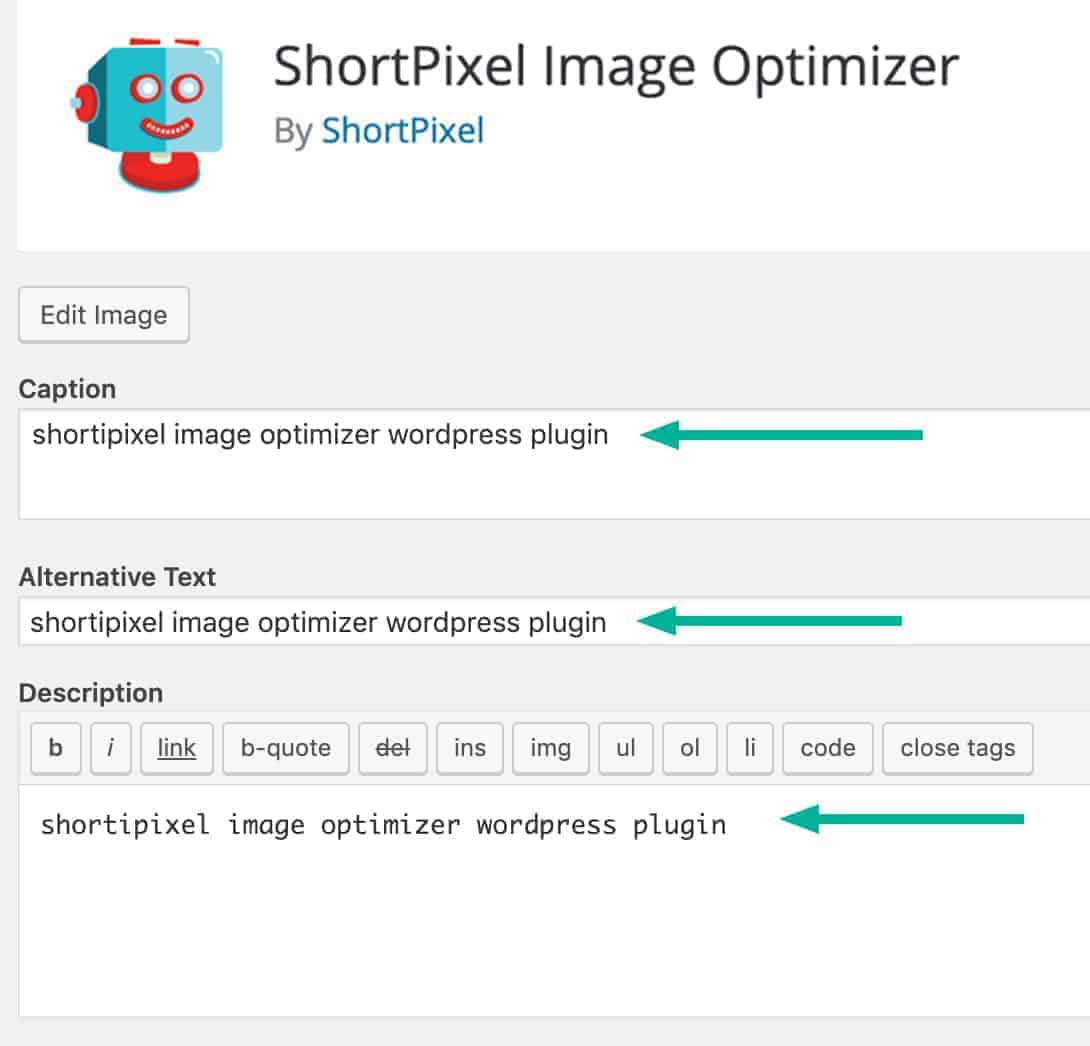 And that really is the only step you need to take in order for this plugin to work: name your file with a descriptive name (and hyphens instead of spaces).
Auto Image Attributes From Filename will fill in the caption, alternative text, and description fields automatically.
Based on the filename (hence the plugin's name).
In its free version (the one I use on this site), Auto Image Attributes From Filename will remove the hyphens in the filename and replace it with spaces.
This is all you need for most uses.
The Pro version can remove more special characters from the filenames, letting you choose how to populate the title, alt text and caption fields, and gives you access to the capitalization settings:

I use the free version of this plugin, naming files right from the start. But in some cases, you might want the added convenience and flexibility of those features. Your pick!
Download Auto Image Attributes From Filename now (free)
12. Media File Renamer (Auto Rename)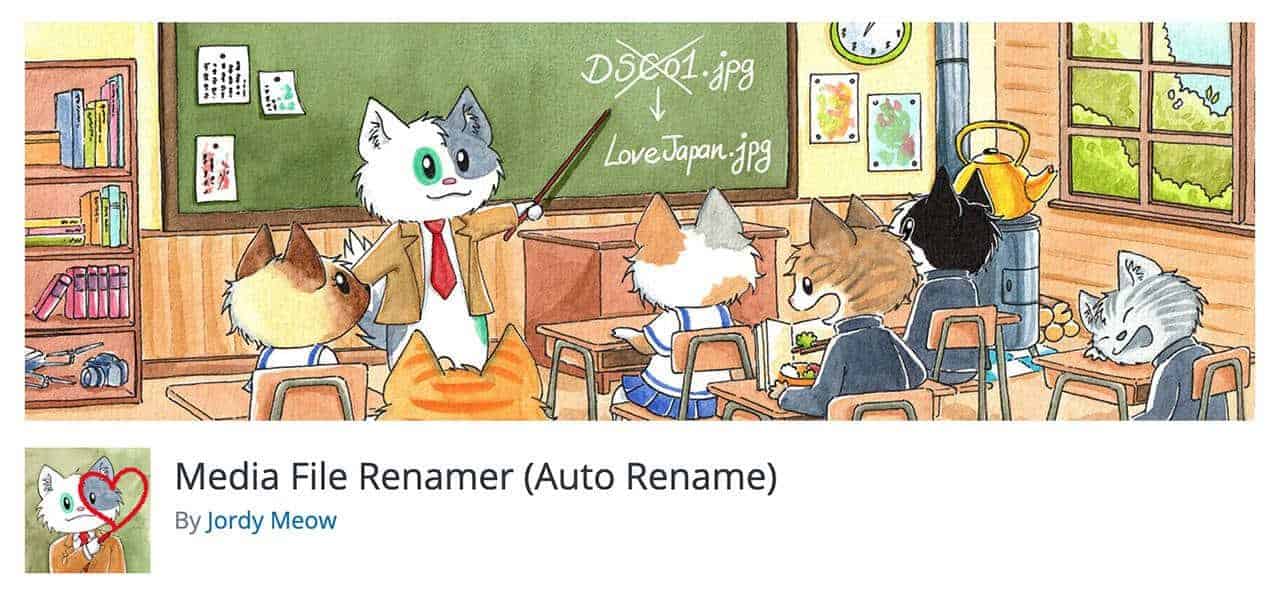 Why should you rename your files, when you already renamed the title of these? Well, there are 2 main reasons:
the files are easier for you to find in your FTP (and you will need to go there at some point, trust me)
most importantly, the filenames are used by Google and can be used to rank for specific keywords, too
Taking care of your files' titles, descriptions, alternative texts and captions is important.
But making sure your files have a good name is important too.
Media File Renamer will come in handy when you need to rename your old WordPress files.
Like when you uploaded files with names like "a5f2kq68z.jpg" or "Screen Shot 2019-04-02 at 12.42.58".
It's easy:
as soon as you give your file a new title, the plugin will change the actual filename accordingly.
Descriptive filenames, targetted keywords, everybody is happy.
Now, it's important to note that you can't only change the filename without changing the file title. Only the Pro version of the plugins allows for that.
Also, renaming your file's title won't change its caption, alternative text or description.
But the plugin will update the references to the newly titled files, making sure that your website is still working with no picture or asset missing.
If you've been working on a legacy WordPress website, you know this plugin is a blessing in disguise…
Download Media File Renamer now (free)
Monetization
If you're a digital marketer, you need tools to help with monetization and make sure your website is generating income consistently and continuously.
Using plugins can help you with that, increasing your revenue. So why not use them?
13. Ad Inserter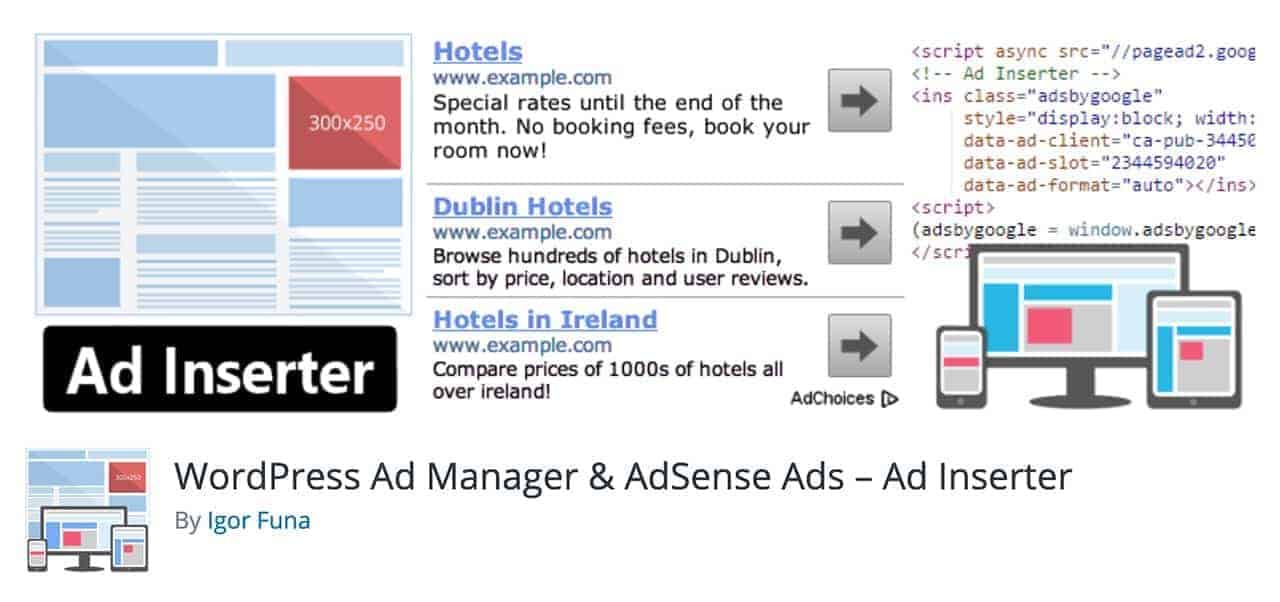 If you want to directly monetize your site, you will at some point place ads on it to hopefully generate revenue.
And you basically have two options:
either your trust your ad exchange or ad network to place automatically the ads at the right spot
or you place your ads manually on your site
Automatic placements like "Auto Ads" form Adsense can work and generate revenue no problem.
But most of the time, the placement of those ads doesn't look all that great.
Ads can be placed in the wrong HTML tags, resulting in a sub-par design and experiences for your visitors.
Same can be true with ad exchanges or networks and your dedicated account manager.
They can place ads for you with an external tool, but you'll have a better result if you do it yourself.
That's not to say that you have to do it manually.
What if you could set rules to display ads in your content?
This is exactly what Ad Inserter does.
Ad Inserter lets you decide after how many paragraphs you want to display an add, along with many other settings:
on which content type
after a specific HTML tag
in the footer or header
anything you can think of, really
Yes, the plugin is intricate and a bit intimidating to learn at first, but I think it's the best out there.
In comparison, other plugins are a let down when it comes to the design and placement rules.
And this is why I use Ad Inserter.
Also, you can also set custom CSS rules in order for your ads to show perfectly. Or automatically switch between several options for a single add.
And the most useful feature: you can see placeholders of where your ads placeholders appear on your site.
If you've been placing ads on a site, you know how painful finding the right spot and previewing it can be sometimes.
With Ad Inserter, it's easy.
There is a paid version too, but truth be told, the free version is so complete that it will take care of the needs of 95% of the marketer out there.
So tackle that learning curve, and take full control of your advertising space with Ad Inserter.
I promise you'll thank me later.
Download Ad Inserter now (free)
14. Q2W3 Fixed Widget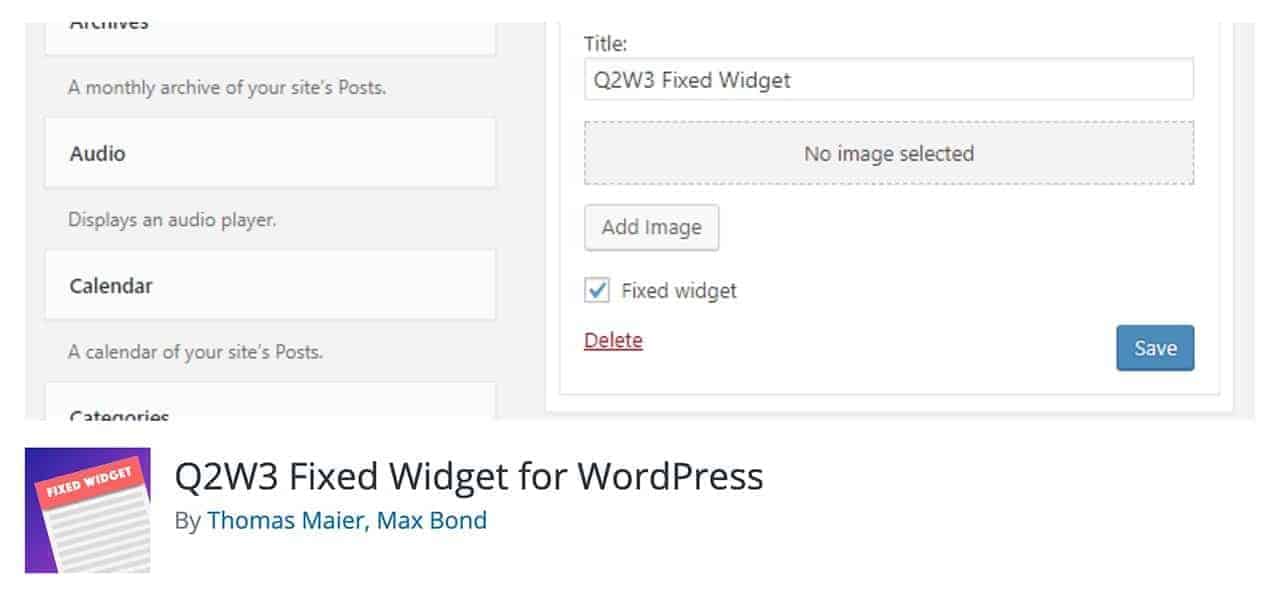 One of the best ways to monetize your website is to have a sticky* ad in the sidebar of your website.
(*that stays at the top of the page even if your visitors scroll down.)
One one of my other websites, that exact ad (sticky at the top of the sidebar) generates 8%+ of the total ad revenue.
This is nothing to sneeze at.
To do that, you need to use a combination of CSS and Javascript for the sidebar's widget(s) to stay at that juicy position – to become sticky.
Or you can just use the Q2W3 Fixed Widget plugin that will do just that for you.
After you've installed this plugin, every widget you put in the sidebar will gain a new "Fixed Widget" checkbox.
Check it, and your widget will become sticky.
Here is a gotcha: if you check a widget that is in the middle of the sidebar, only it will be sticky.
Meaning that the following widgets will scroll underneath it – not only does it look weird, but it's probably not the behavior you're looking for.
If you want a widget to stay sticky while the following ones "wait" until you scroll to the bottom of the page, then you need to check the box for the relevant widget and all the other widgets below it.
Other than that, there's nothing more to say about this nifty plugin.
So grab it now and increase your revenue in a matter of seconds!
Download Q2W3 Fixed Widget now (free)
15. Shortlinks by Pretty Link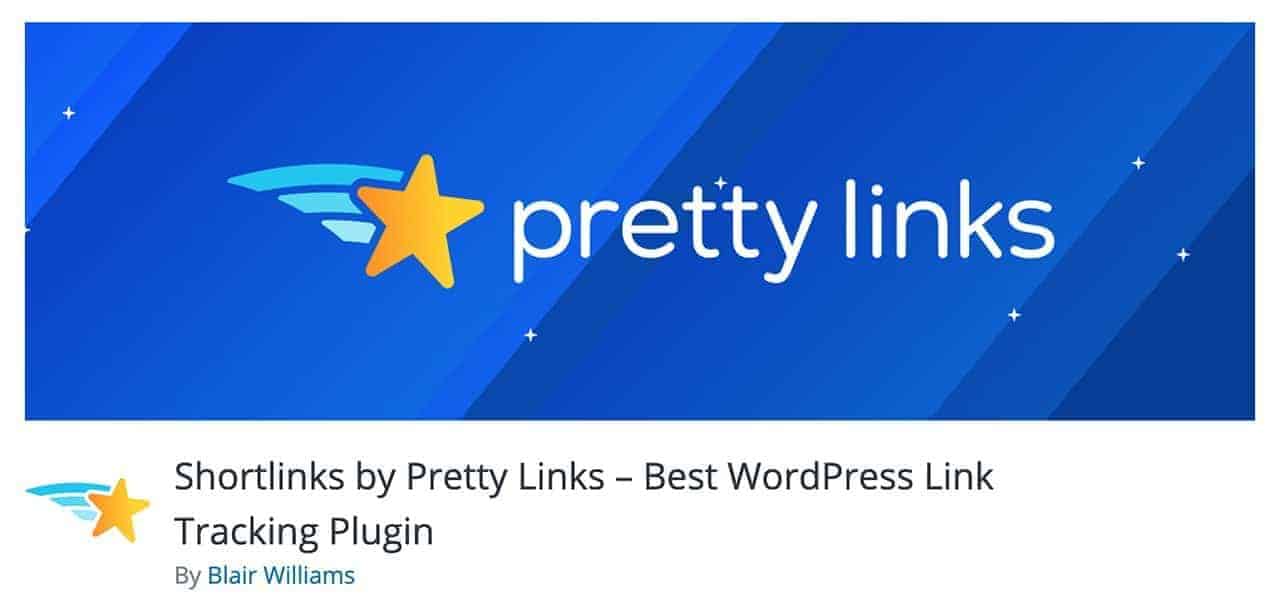 Here are a few scenarios:
you're invited on a podcast and want to share a great resource on your website
you created a YouTube video with a CTA and want to send people over to your website on a specific page
Now, let's say you have a website about Yoga.
Would you rather people to remember and type:
myyogawebsite.com/best-yoga-poses or
myyogawebsite.com/poses?
While your post URL should totally be "best-yoga-poses" for SEO, it's much easier to say, remember, and type "poses" – a shorter link that will help anybody trying to reach your website directly.
Shortlinks by Pretty Link makes it easy to create a manage those short, pretty links.
You have full control over the target URL, so you can create UTM campaigns in a breeze (if you happen to share only one link on a specific platform, in a podcast for example).
And the plugin displays statistics about how many links they were clicked.
So you can use those links as a way to share and monitor your affiliate links.
And this is why I featured this plugin in the monetization section of this list. But really, the possibilities are endless.
Download Shortlinks now (free)
Analytics
Because data is knowledge and knowledge is power.
Monitor your website at all times and make the best-informed decisions based on data. You need plugins to help you with this.
16. GAinWP Google Analytics Integration for WordPress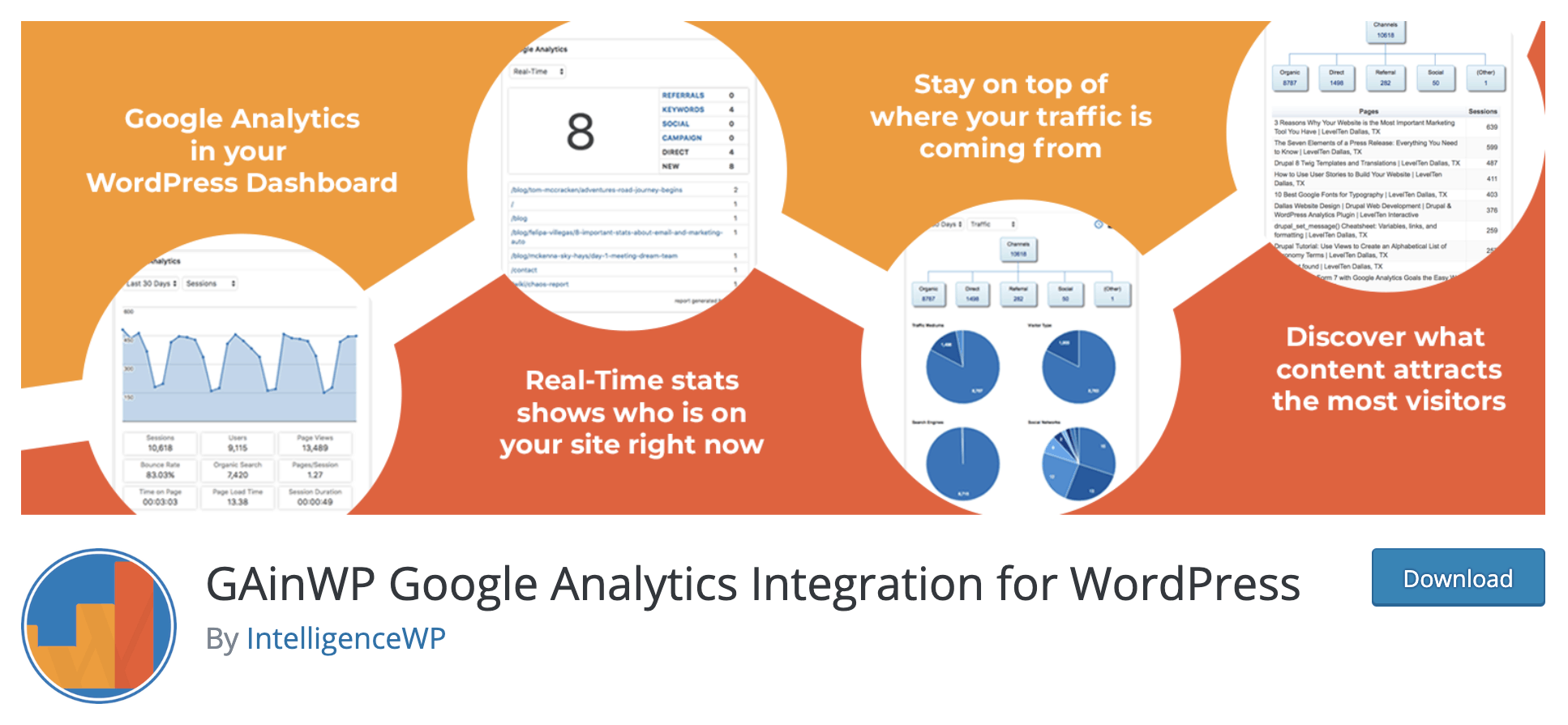 There are many other plugins when it comes to inserting your Google Analytics tracking code on your website.
But I really like GAinWP Google Analytics Integration for WordPress because it allows you to insert a simple Google Analytics or a Google Tag Manager code.
On some of my sites, I really need to be able to use a GTM tracking code, so this plugin comes in really handy.
You also have a customizable graph (for sessions, users, page views, …) in your WordPress dashboard. This is super handy to monitor your organic traffic right from your WordPress website.
And if you use the simpler Google Analytics tracking code, the plugin can take care of tracking events like:
downloads, mailto, telephone and outbound links
affiliate links (complete with custom regex)
fragment identifiers, hashtags (#) in URI links
form submit actions
page scrolling depth
And last but not least, you can exclude tracking if you are an administrator, editor, author or contributor (which you obviously want to not skew your Analytics data).
Look no further and get this one today.
GAinWP Google Analytics Integration for WordPress (free)
17. WP Word Count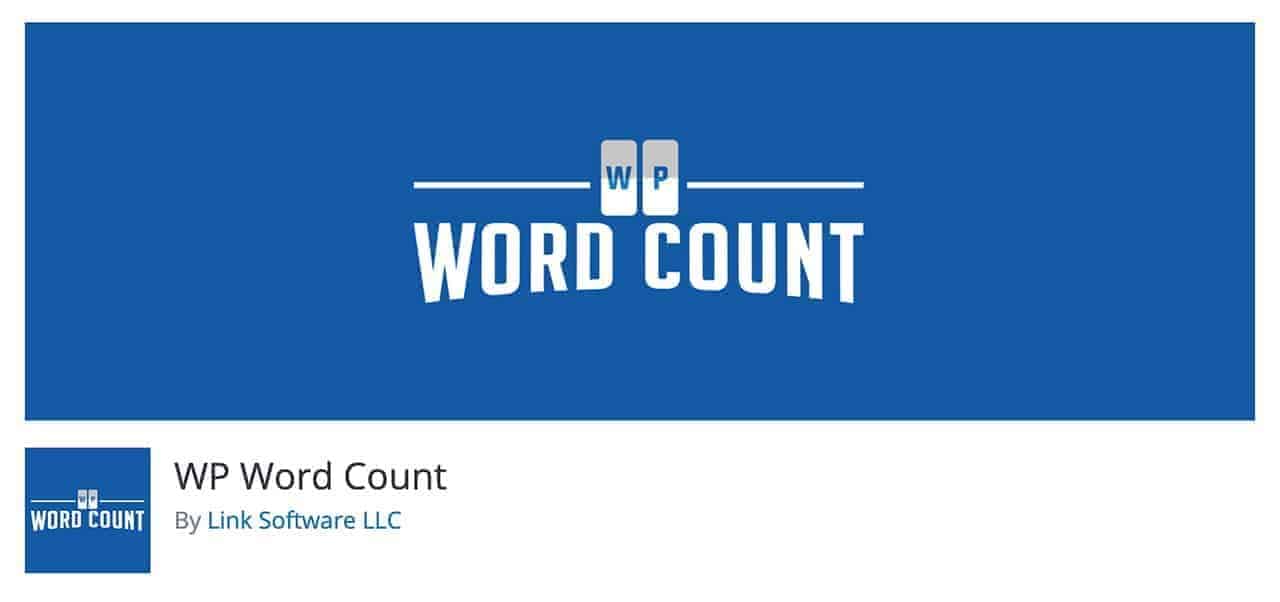 Whether you need to track your progress or the one of a freelance writer, you'll need to count the words of your content at some point.
The free version of WP Word Count will cover 95% of your word count needs.
You'll be able to see:
the word count by post type and by published / unpublished content
what content has the most words
the monthly stats of how many were published for a specific month
the author stats
Writing helpful, long-form content will help you get to the first page of Google.
And of course, the WordPress built-in word counter will be enough to make sure you hit that 2,000 words target.
But if you need a bird's-eye view of what going on on your website, and how far away you are from your monthly goals, then you definitely need WP Word Count.
Download WP Word Count now (free)
18. Header Footer Code Manager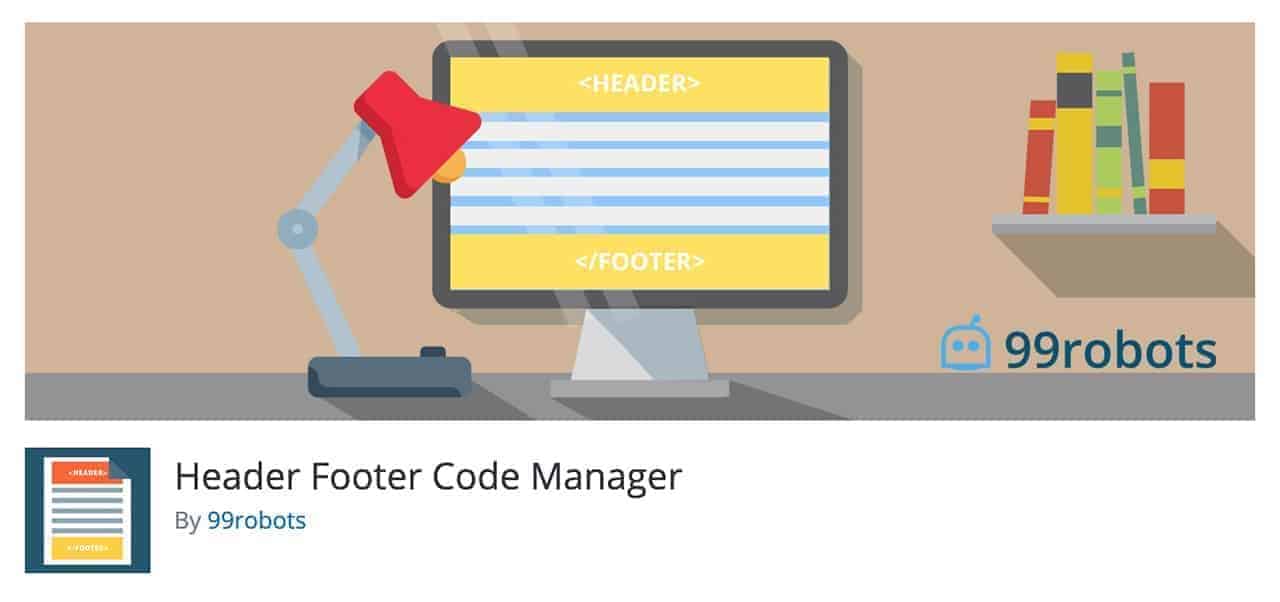 At some point in the life of your website, you will need to put some code in the header or the footer of your website.
For a Google Analytics tracking code, you're better off using a plugin like Google Analytics Dashboard for WP (GADWP).
For all the other cases you need a plugin that is specifically designed to handle that task.
Why, you ask?
After all, you could use your theme's ability to handle code insertion in the header or the footer!
That's true… but if your change your theme, your codes are gone!
But the real reason is that most themes do a poor job at managing code.
Yes, they can place code in the header and footer, but there is no granular control or easy-to-use interface.
Header Footer Code Manager to the rescue!
With this plugin, you can:
decide on what content you want a code to be placed (site-wide, or on specific posts or pages)
exclude the code from certain posts or pages
decide of its exact location: header, above content, below content or footer
switch it on for all devices, desktop-only or mobile devices only
disable it (should you need to keep the code but not have it active)
Once you use Header Footer Code Manager, you'll understand just how much you missed it.
Stop relying on your theme code management, and get this plugin now!
Download Header Footer Code Manager now (free)
Optimization
There is no such thing as a WordPress website that doesn't need optimization.
Even the tiniest tweaks can make a big difference in the long run. So don't take this lightly.
19. Revision Control

If you're like me, you save your content a lot before going live.
The problem is:
If you're writing long-form content like this post, the space it uses in your WordPress database can add up very quickly?
Why?
Every time you save your content, WordPress will create a new entry in the database.
You read that right:
WordPress will not overwrite your content. Rather it will create a new version of it – a revision.
So let's say you saved your content 25 times before reaching that 3,500 words target.
That means that your WordPress database will have 25 instances of your content, ranging from a few hundred words to the finished post.
Yet, how many times will you have to back to those first few saves?
And wouldn't it be great if you could save some precious space in your database?
(Making creating a backup that much faster, keeping your database costs down, and database speed up.)
This is exactly why I use Revision Control on every single one of my websites.
You can set a maximum of revisions to keep in the database per post type.
And you can get fancy by overwriting this setting for every single post or page, should you need to keep all revisions (or none whatsoever).
Using Revision Control will make dealing with your database faster and more manageable.
So let go of those old revisions you probably won't ever need, and download Revision Control!
Download Revision Control now (free)