Can you rank fast in Google?
You bet! This is the fastest Google ranking I've ever seen on any of my websites – getting a post on the first page in only 4 days!
(And that's for a 21-day old website.)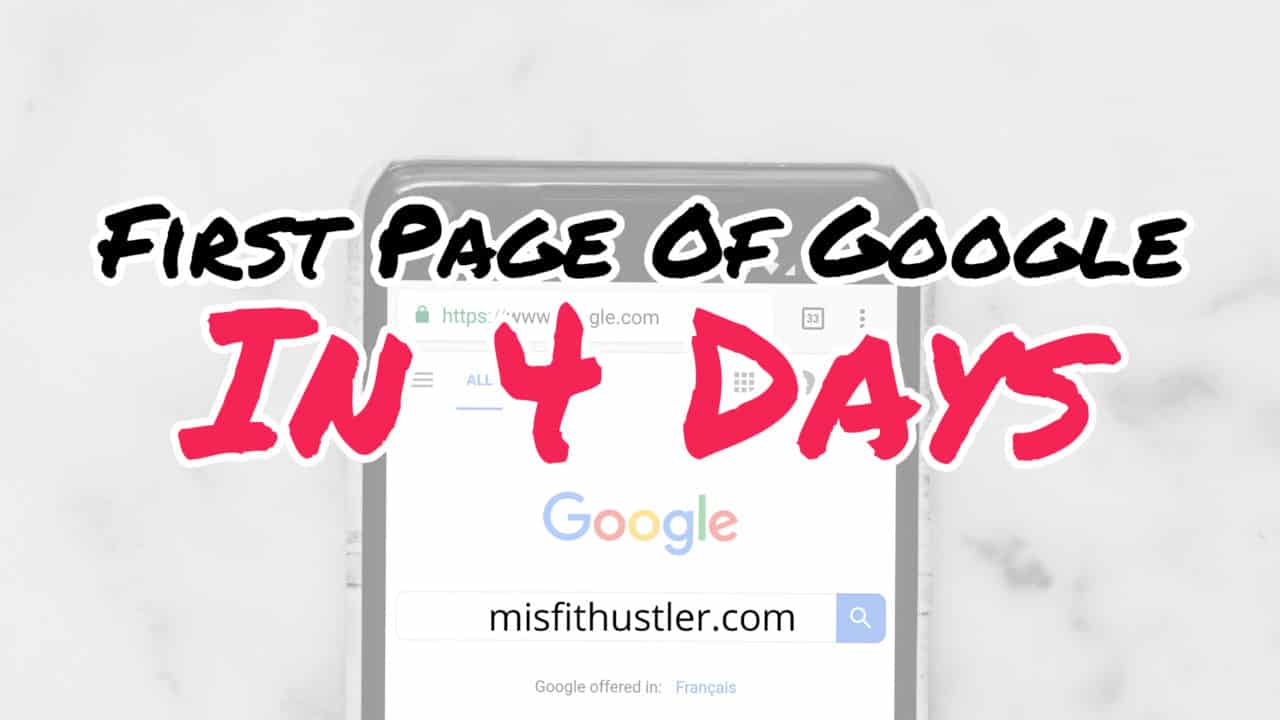 So yes, you can rank high and fast… just not under any circumstance.
Today, I'm gonna share what I did on a specific article for it to rank on page 1 of Google fast.
Early organic impressions can be full of surprises
On the morning of July 1, 2019, I checked the Google Search Console property of this very website.
And my site was not showing on Google for any of my target keywords.
I didn't have any expectations whatsoever, though.
Misfit Hustler was only 21 days old at the time after all (as you can see on this whois.com screenshot):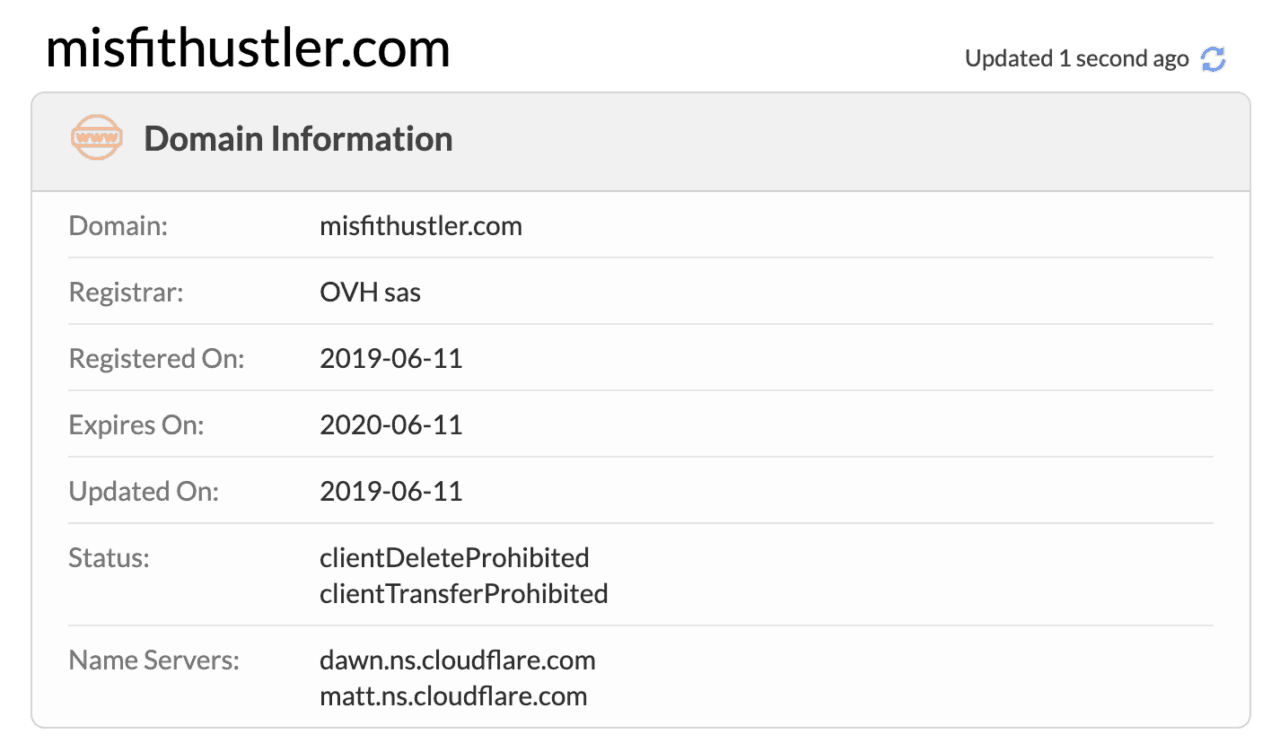 Now, some of my target keywords are VERY competitive – the kind of keywords you can wait 6 months or more to rank for.
Of course, these keywords weren't listed in the Search Console (even on a super-low position like 95 or 182).
But I was surprised to find this instead: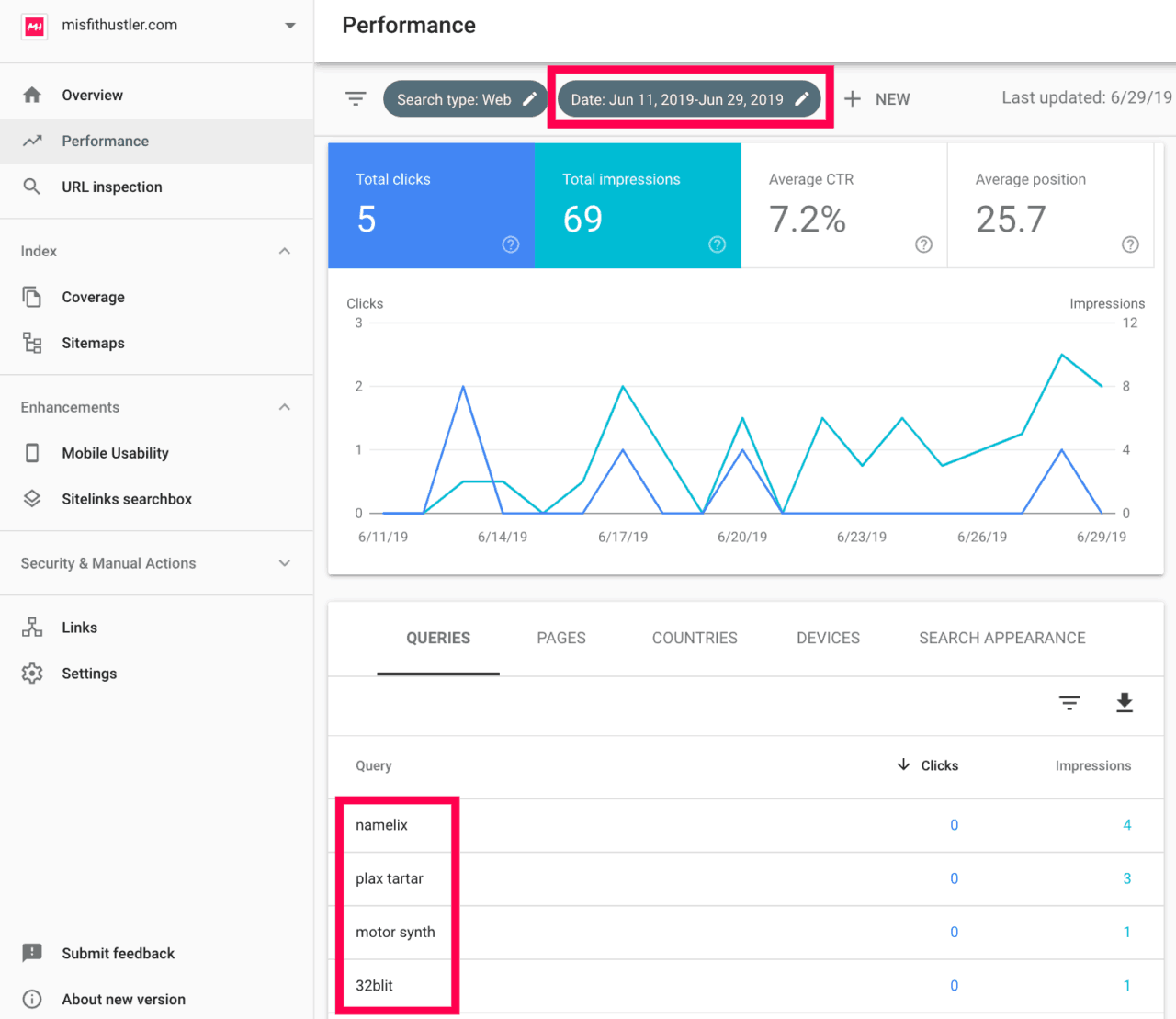 Here is the interesting thing:
I didn't write specifically about those topics! All of these 4 keywords are about secondary topics…
Let me explain:
But getting very early impressions on Google is pretty typical.
Or is it?
This is what the Google Search Console of a typical new website looks like
I've launched many small websites over the last 18 months (to experiment with SEO, mainly).
Here are the stats for another website of mine: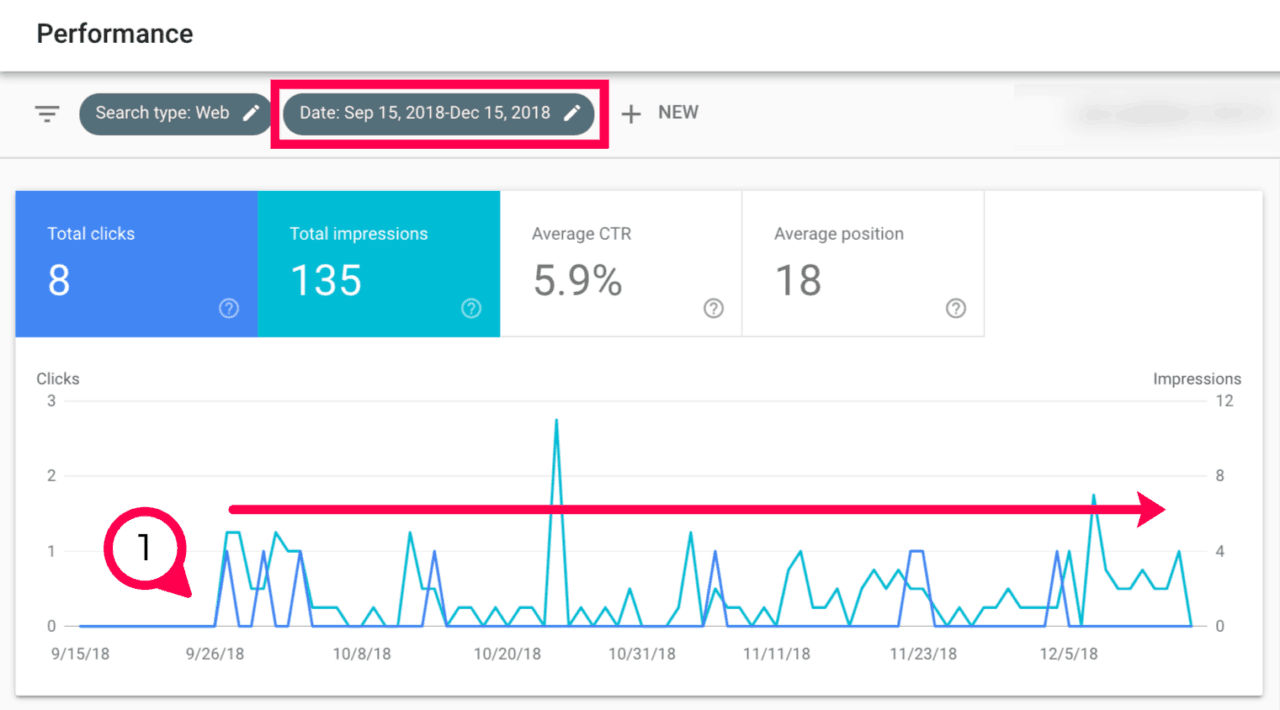 I published the first article on September 26, 2018 (marker #1).
And over the first 3 months, impressions barely budged – between 0 and 5 a day.
For reference, here is the same 3-month period plotted on the full-length graph: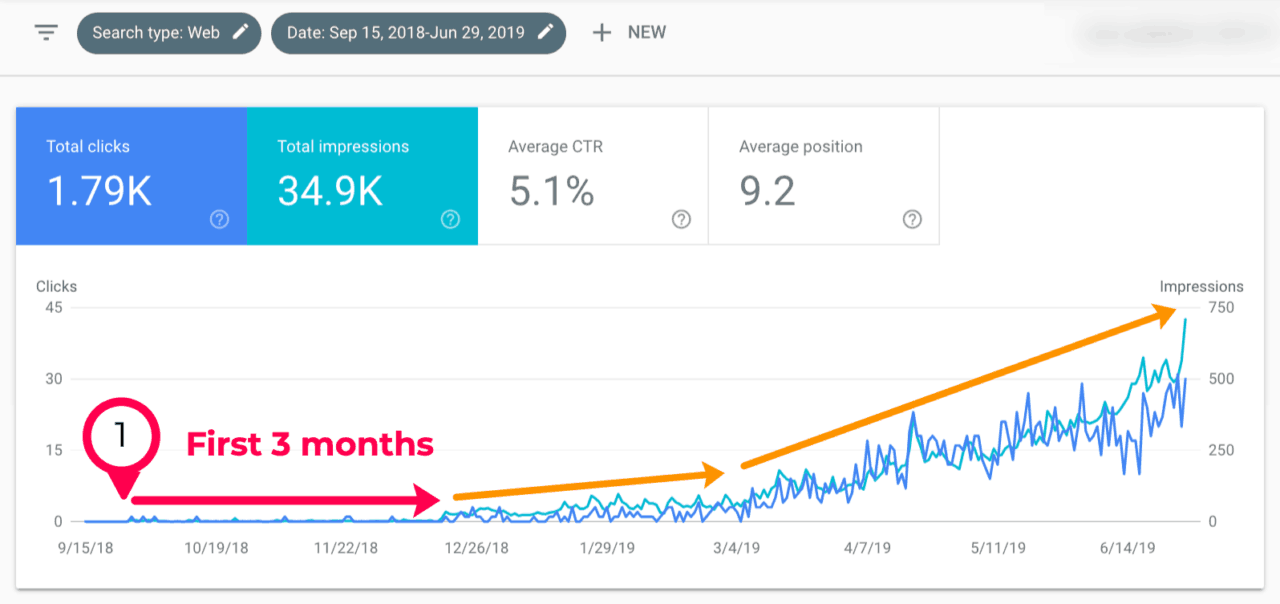 Even for the next 3 months (first orange arrow), you can see that progress is VERY slow.
When you don't publish much, you can expect to wait 6 months before Google starts to show your content in the search results.
(I noticed this on all of my previous websites.)
But this time, something was different.
Misfit Hustler ranked for a keyword in 4 days!
So I decided to see where my website ranked for all secondary topics.
And when I searched for "brave overnight breakfast" (in incognito mode), I was shocked to find this: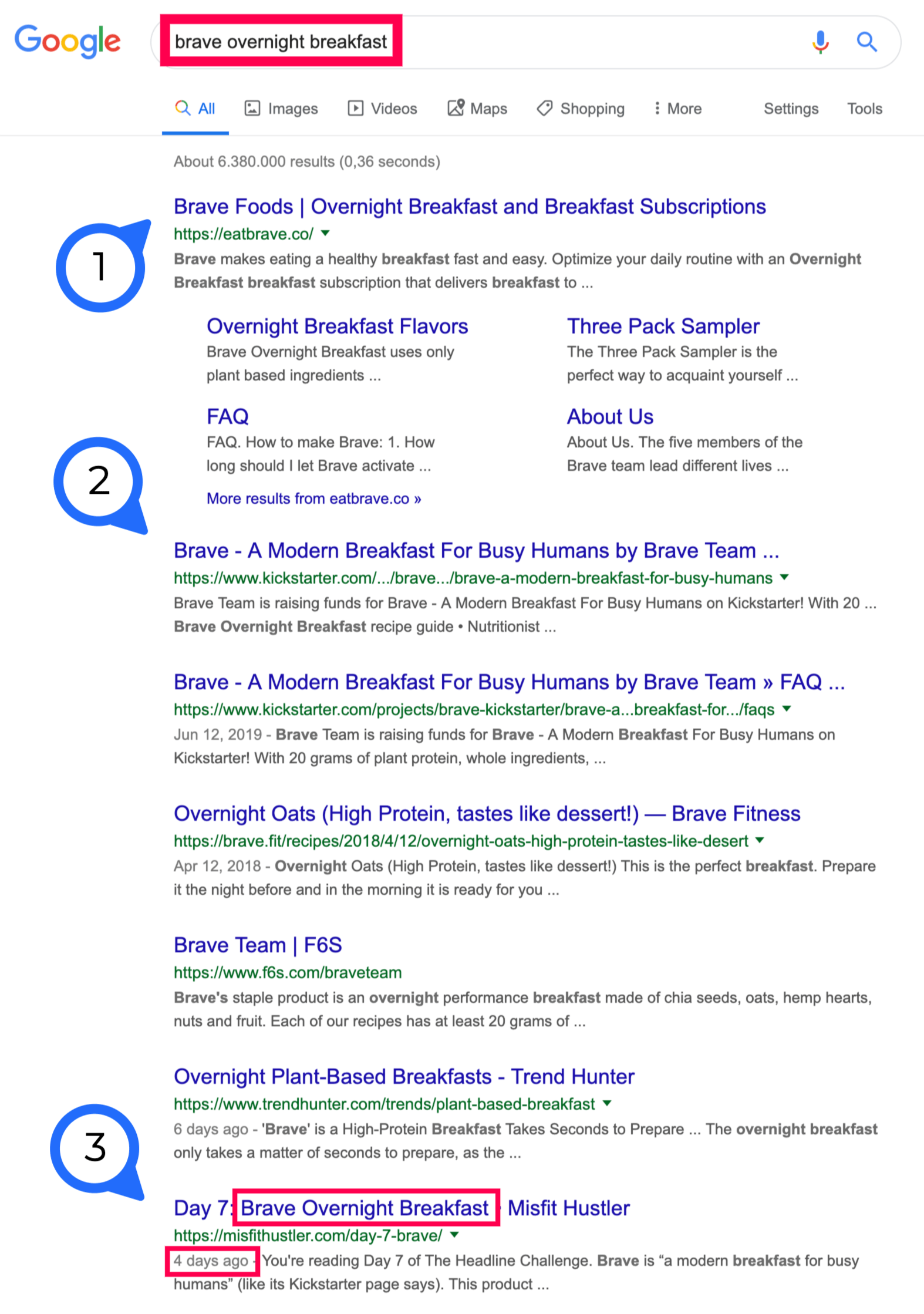 For the target keyword, we see:
marker 1: the manufacturer's website at position #1
marker 2: their Kickstarter campaign at position #2
marker 3: my 4-day old post at position #7 (after, it ranked as high as #5)
Now, ranking on the first page of Google with a 4-day old post for a 21-day old website is pretty crazy.
This just flies in the face of conventional SEO wisdom.
That post is only 1,238 words, when you really want to aim for 1,950 words.
And I didn't provide any helpful or relevant content!
The keyword/topic ("brave morning breakfast") is just an excuse to practice – more about this right after, I promise.
Also, this post just doesn't care about E-A-T at all:
Expertise: I have no expertise in (overnight) breakfast whatsoever
Authority: everybody knows me in the field… NOT!
Trustworthiness: I have so many different projects tied to my name on Google that I don't know how it is supposed to trust me for ANYTHING!
So how did that happened?
How I got one article on the first page of Google in 4 days
Let's analyze this bad boy: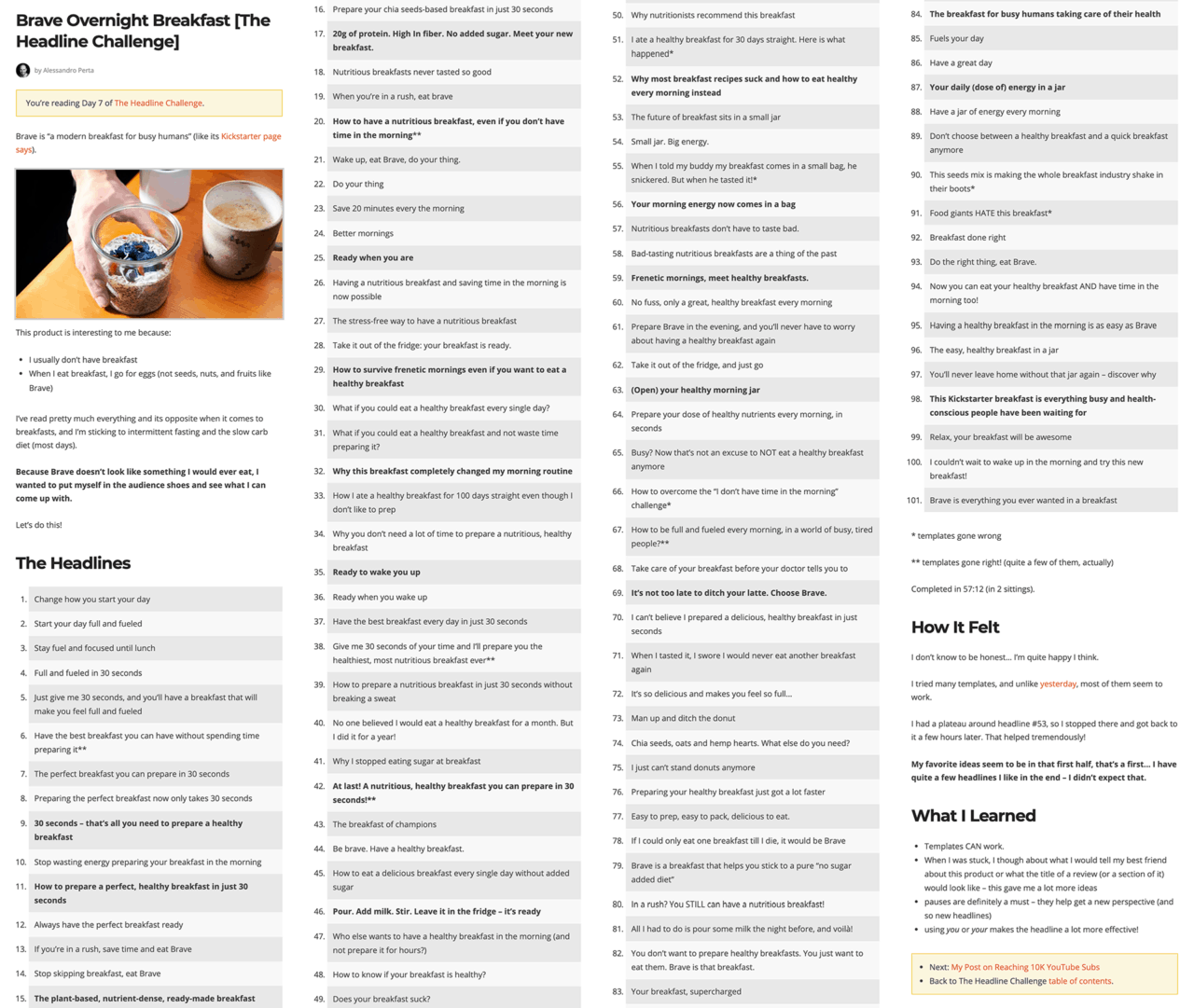 1. Use ultra-niche keywords
I don't use much the search volume in Google Keyword Planner for keyword research.
But it's still a good indication of what's going on.
So let's see:
| Keyword | Monthly search volume |
| --- | --- |
| namelix | 1,600 |
| plax tartar | 20 |
| motor synth | 0 |
| 32blit | 0 |
| brave overnight breakfast | 0 |
For Google standards, these are NEGLIGIBLE volumes!
For comparison's sake, "how to tie a tie" (completely random keyword) gets 450,000 monthly searches!
Going for ultra-niche (aka underserved) keywords means that you have a fighting chance in the long run AND the short run!
2. Target ultra-new topics
As promised, let's talk about that whole "practice for The Headline Challenge" thing.
I challenged myself to write 100 headlines a day for 100 days. And I called this project The Headline Challenge.
To practice writing headlines, I need to find products or services.
And when I want to write about products, I browse Kickstarter and pick a product I like or find interesting.
At most, Kickstarter projects (and often keywords) are 30 days old.
Of course, some companies create massive pre-launch campaigns BEFORE a product even goes live on Kickstarter (this can run for months).
But it doesn't seem to be the case for the Brave Overnight Breakfast.
For Google, this is news!
So pick fresh subjects that didn't exist 30 days ago (like Kickstarter campaigns) and write away!
3. Publish a post every week
As of today, I publish a blog post at least 5 times a week on Misfit Hustler.
This is mainly due to The Headline Challenge (I try to post 5 days worth of headlines every week).
But I'm also on a writing spree: I publish 1 or 2 in-depth articles every week (just like this one).
In fact, in the first 21 days of the website, I published 18 articles.
Because of that, Google is seeing a lot of new content on this website early on. To stay up-to-date, it crawls the website a lot more often.
I've also seen changes reflected in Google Search (aka indexing) a lot quicker than my other websites.
When I change the title or description of a blog post on my other websites, I sometimes have to wait for WEEKS before seeing any change on Google.
Not here.
Posting early and regularly makes Google happy. So post at least once a week, from the very first week.
(And don't forget to submit your sitemap to the Google Search Console.)
4. Display your full name in plain sight
You've probably seen this: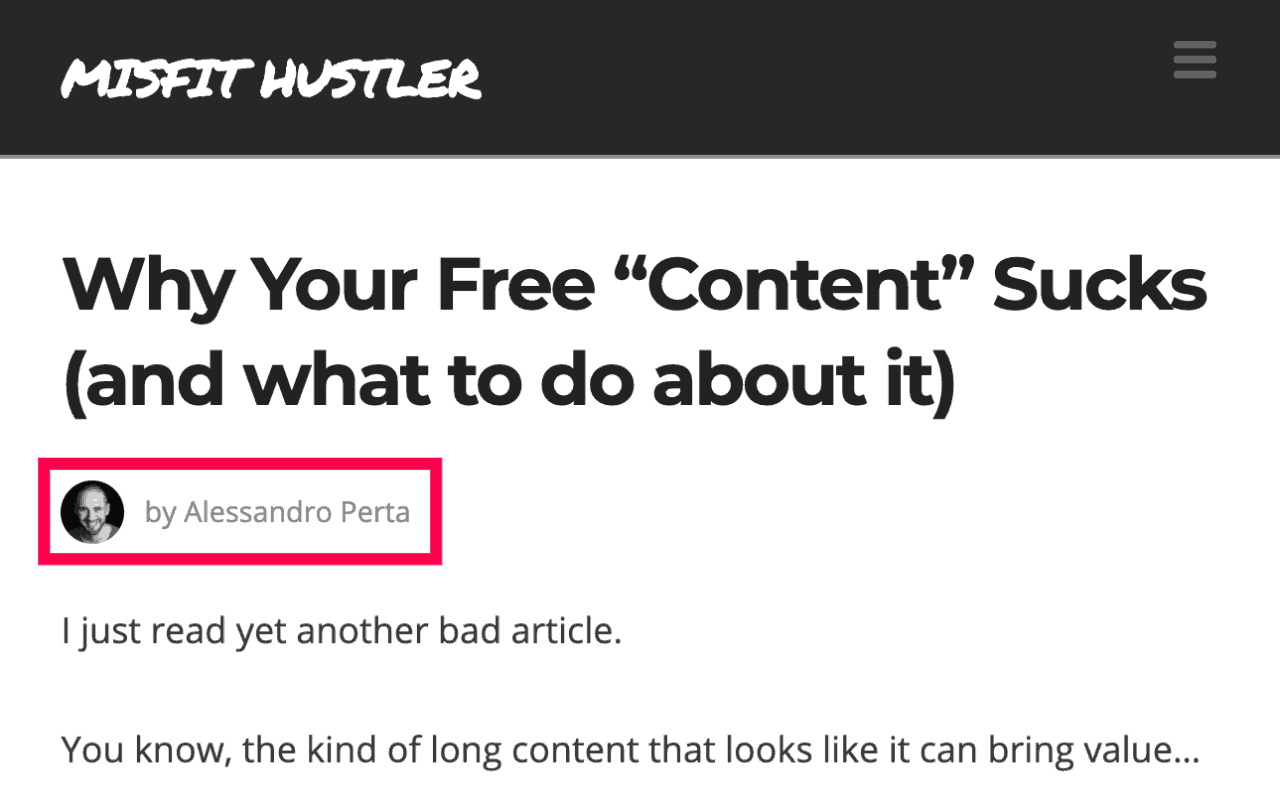 I call this the minimalist author box, and I put it at the beginning of every single article.
It's a minimalist author box that has everything you need:
A full name
A picture (grabbed from gravatar.com)
and nothing you don't:
a link to the author page
a business author description
(These can be useful… sometimes. But for the time being, it's only me myself and I writing on this site, so there's no point.)
I stole the technique from Brian Dean (on his Backlinko website):
To my knowledge, Brian doesn't talk about this under-the-radar feature anywhere (in his free content, at least).
But I think that:
it looks good
it's way more digestible than those long author descriptions
it's in your face, not buried at the end of the post
it adds trustworthiness to the post
Put your picture and name at the beginning of your post. Be proud of what you write, and show that you're a real person!
5. Write mobile-first content
Not only should your site be mobile-first, but your content too!
I was already advocating for mobile-first websites in 2011, when I was working in a big digital agency.
8 years later, a lot more people read your content on mobile.
So if your site is not responsive AND mobile-first, FIX IT NOW!
(I'm serious, NOW.)
And here is why:
This is the breakdown by device category of one of my websites for the last 30 days: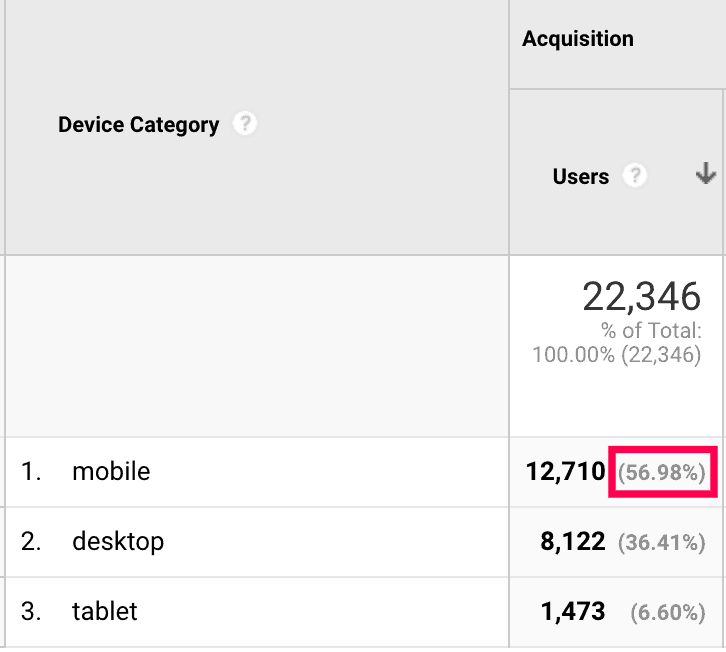 56.98% of the traffic comes from smartphones only and 63.58% from all mobile devices
Yes: almost 2 out of 3 users use a mobile device on that website.
Go check your Google Analytics, you might be surprised – even for a corporate, B2B or transactional website!
Needless to say, you want to make sure your website experience is as smooth as possible on mobile.
To me, it's simple: if the design or the content flow doesn't work on mobile, it just doesn't go live – period.
This is why all the fluff is gone:
no sidebar
no heavy javascript
no crazy-long menus
no overly long paragraphs
visually-engaging content with a lot of pattern interrupts
PS: seriously, if your website design and content is not mobile-first, FIX IT NOW!
6. Optimize for SEO and add LOTS of semantic keywords
Back to the "my post is not on-topic" thing.
That's true: I don't talk ABOUT the breakfast per se: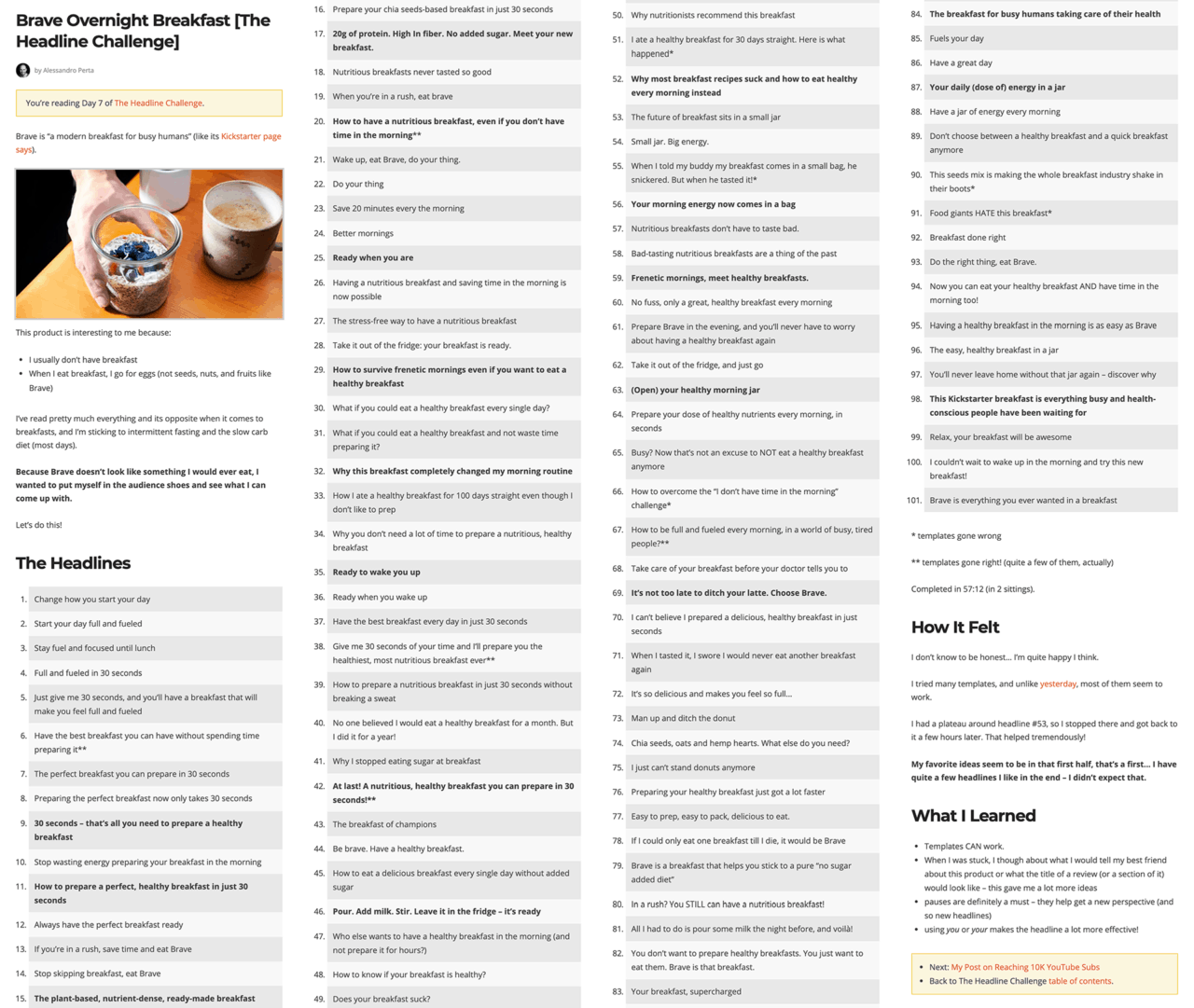 This post is basically 100 headlines sandwiched between an intro and a quick analysis (of my headlines, not the product).
Let's look at the very beginning of this post: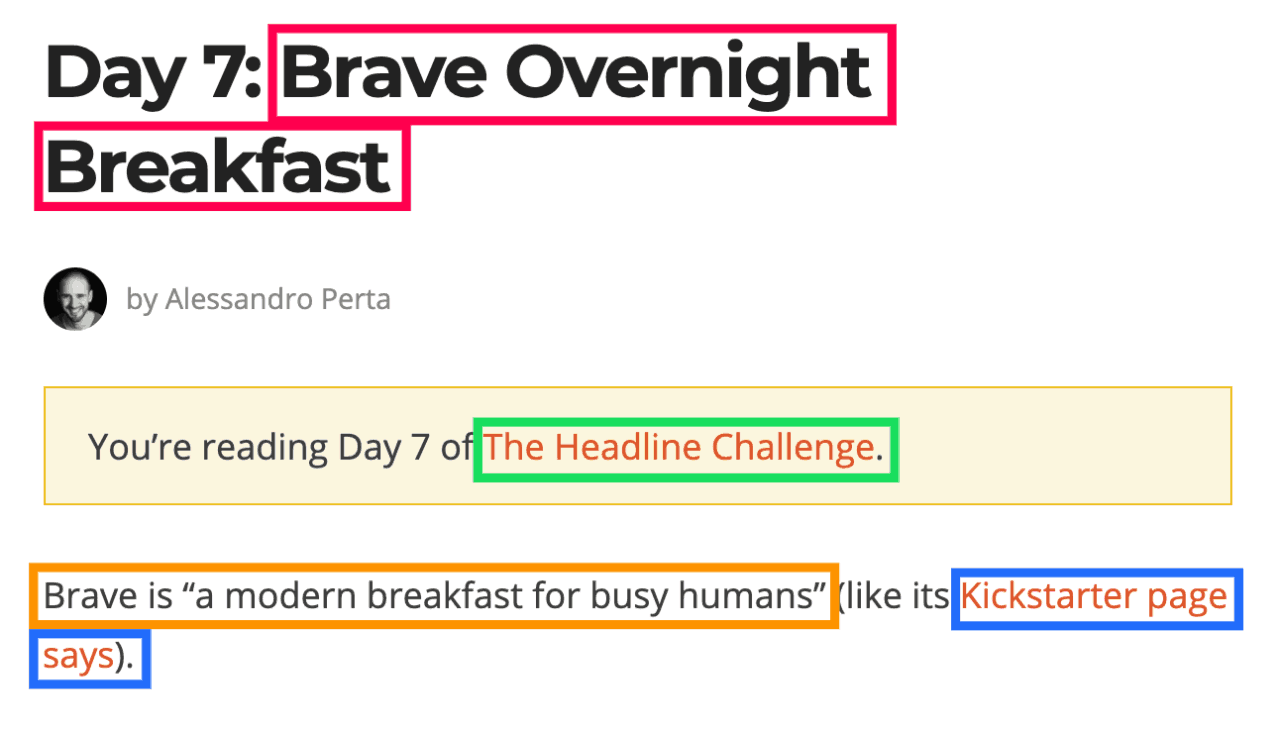 "brave overnight breakfast" is in the h1 tag (red box) and title tag (though you can't see it here)
I used the first sentence of their Kickstarter campaign (orange box)
I linked to the relevant page (blue box)
Having so much "on-topic" content at the top of the page indicates to Google that this post is somewhat related to the keyword.
Now, I rewrote the title to optimize around the "the headline challenge" keyword (green boxes):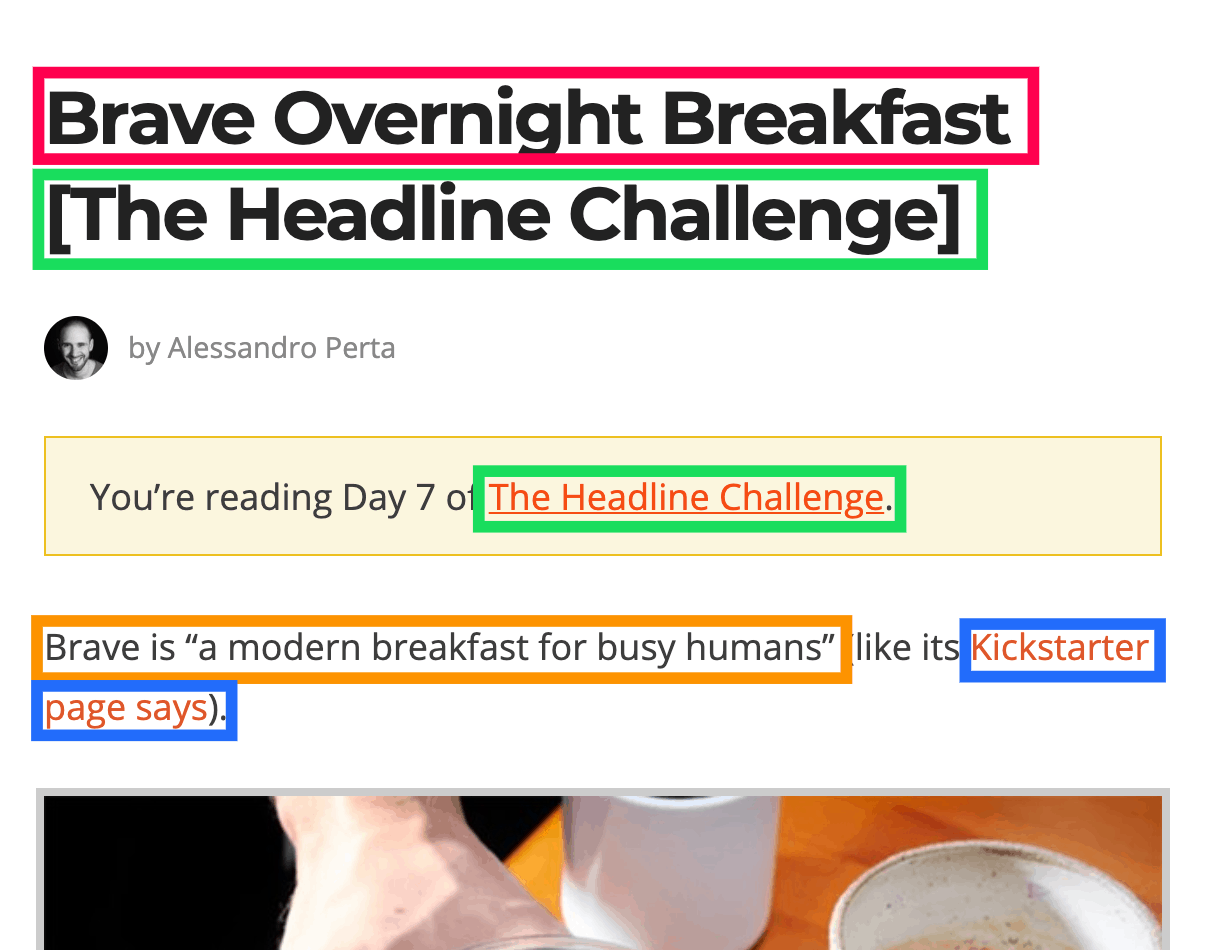 And as soon as Google detected THAT change, Google made the page rank lower or disappear from the search results (depending on the keyword you type). Even if nothing else has changed.
(Ranking will continue to move in the future, too.)
Also, those 100 headlines have semantic keywords in them.
Keywords alternatives (to "breakfast" or "oats", for example) that are highly relevant to the topic.
It's like keyword stuffing, 2019 style.
(Don't stuff keywords. It's bad. Sprinkle relevant semantic keywords instead.)
The funny thing is: I didn't optimize the description tag.
If you don't write an excerpt, WordPress will use the beginning of the post for it:

Because my target keyword ("the headline challenge") is at the very beginning of the post, I'm good to go.
Now, not having a customized description tag is not perfect.
But the goal of that article is not to rank anyway – it's just a challenge for myself, remember!
Optimize your title and h1 tags
Include your target keyword in the first few lines of your post
Link to relevant sources at the beginning of your post
7. Share on your personal social profiles
That's the first time ever that I share regularly about my website on my personal social profiles.
Before, I used branded social accounts to share to… well, basically nobody (since those accounts had no followers).
I share all my posts of The Headline Challenge on Twitter:
When possible, I also tag the manufacturers' Twitter account:
I also post my in-depth posts on my personal Linkedin profile (not the Misfit Hustler company page). This helps with trustworthiness.
Post on your personal social profiles. For work, Twitter and Linkedin work great.
And that's it!
An important note about changing your titles
I changed the title of the article I analyzed in this post.
Two SEO reasons for that:
I wanted to include "the headline challenge" in the title to rank for that keyword
I removed "day 7" in the title which serves no SEO purpose. And it's in the very first sentence of the post AND in the description anyway.
And sure enough, Google freaked out and removed the article COMPLETELY from the search results for "brave overnight breakfast". for a few days
I've seen this behavior over and over again with my other sites.
Google then takes some more time to "trust" that your content is still relevant after the change (with some kind of A/B testing).
So don't take this lightly – changing the title (in the title or h1 tag) could completely kill your ranking. Consider yourself warned!
It's all good for me though, as I don't try to rank for "brave overnight breakfast" anyway, but rather for "the headline challenge".
And guess who showed up in the search results a few days later: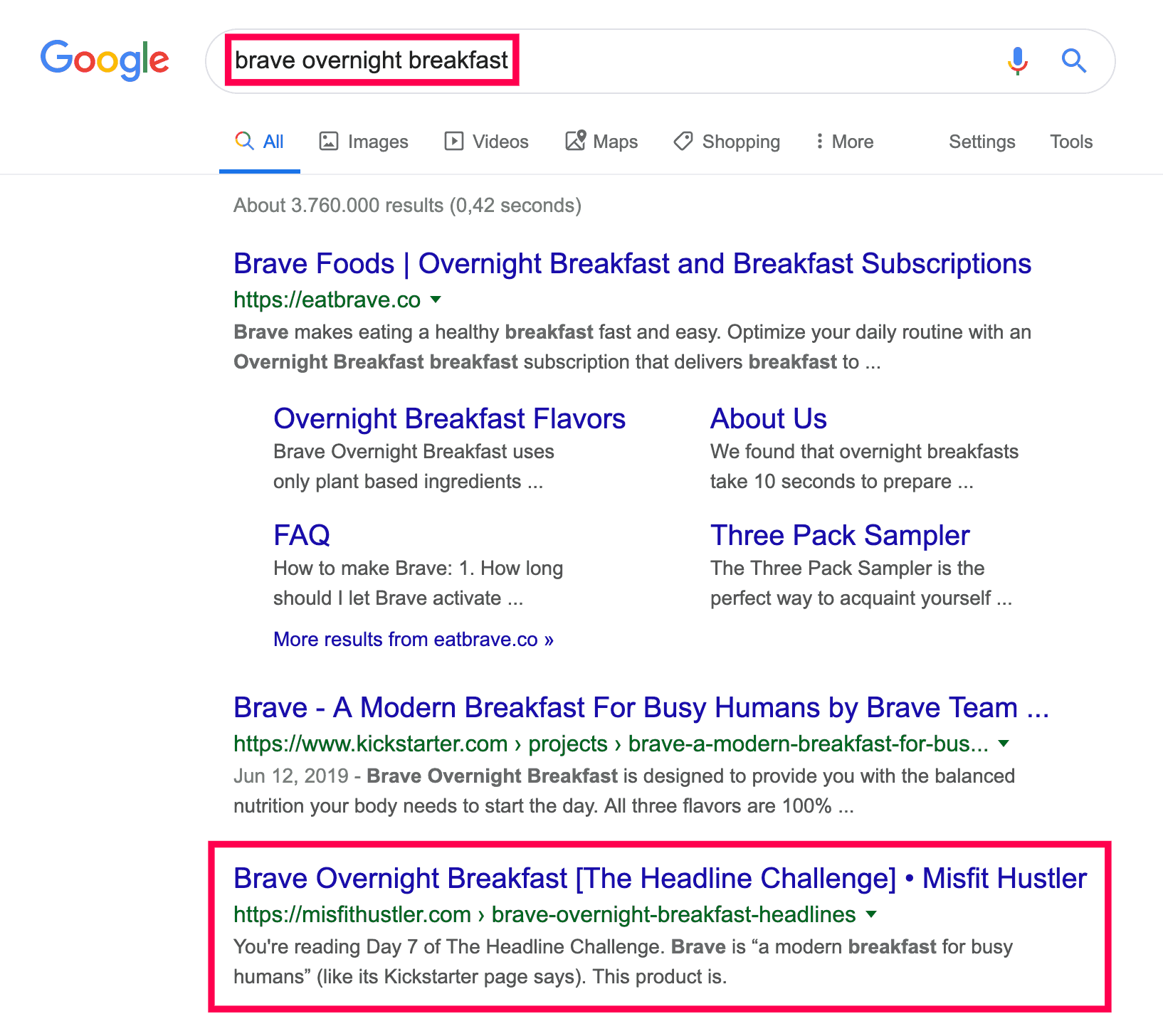 That's right – my article is now positioned better than ever, at position #3!
For sure, this will change in the future – but it just goes to show that:
ranking fast on the first page of Google is possible
Google removes your site from the search results when you make some big changes, analyses it, and then put it back on (if relevant)
This is not a quick fix for big keywords
Don't expect this 7-step technique to work for a super competitive keyword.
At least, not in 4 days.
There's a good reason why some keywords are competitive: marketers and companies make (a lot of) money with them.
So they make everything they can to be on page 1:
long helpful posts (published sometimes years ago)
backlinks
regular updates
Don't expect to beat them easily and fast.
SEO is a game you play for years.
Now, when you think about it, all these 7 tactics are common sense things to do.
But don't expect to rank a lousy post in 4 days if you're going after something like "how to lose weight" – it will just never happen.