It's that time of the year again when Amazon slashes their commission rates for their affiliate program.
So:
how bad is it this time?
what should you do about it?
Read on.
By how much is Amazon Associates cutting commissions on April 21, 2020?
On April 21, 2020, the Amazon affiliate program will cut commissions rates by 45.45% up to 80.00% (depending on the category).
Here is the detail:
| Category | Before | After | Drop |
| --- | --- | --- | --- |
| Furniture, Home, Home Improvement, Lawn & Garden, Pets Products, Pantry | 8.00% | 3.00% | -62.50% |
| Headphones, Beauty, Musical Instruments, Business & Industrial Supplies | 6.00% | 3.00% | -50.00% |
| Outdoors, Tools | 5.50% | 3.00% | -45.45% |
| Grocery | 5.00% | 1.00% | -80.00% |
| Sports, Baby Products | 4.50% | 3.00% | -33.33% |
| Health & Personal Care | 4.50% | 1.00% | -77.78% |
| Amazon Fresh | 3.00% | 1.00% | -66.67% |
If you wonder, here is how you can find this information.
First, you get the typical "Upcoming Program Operating Agreement Update" email from Amazon: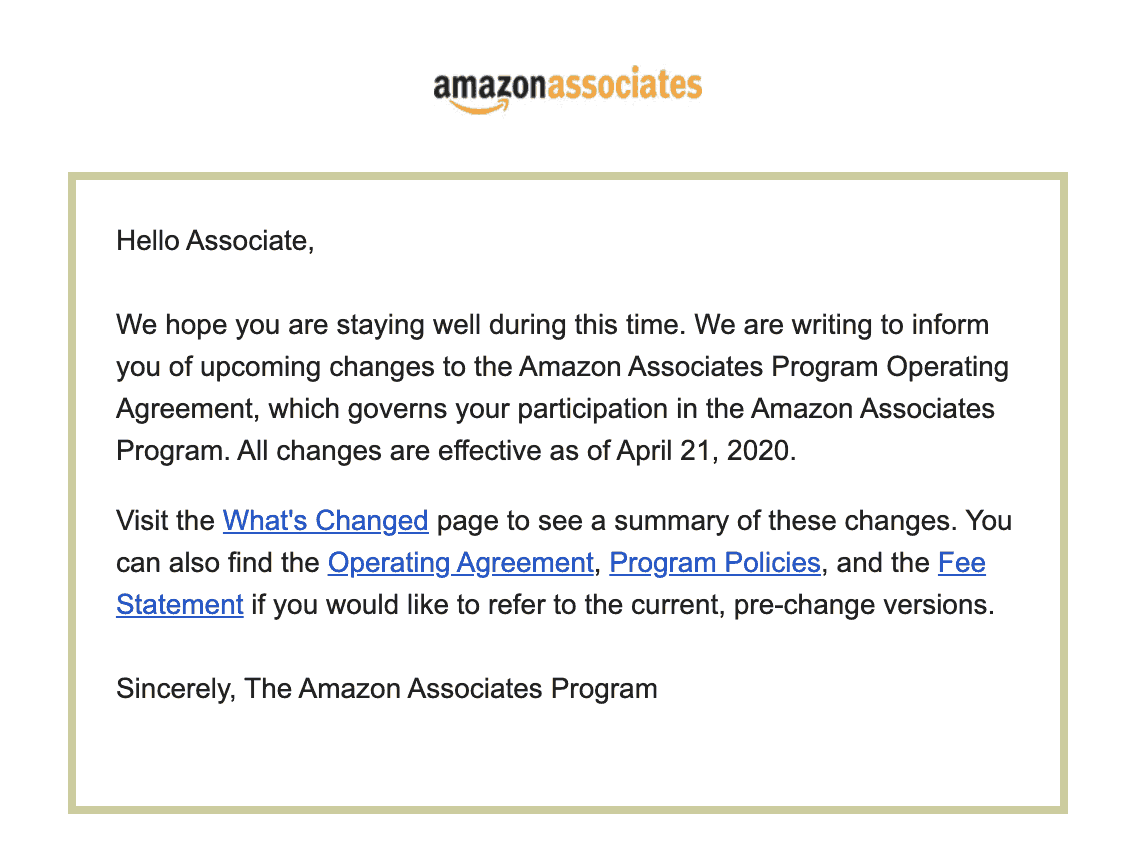 When you click on "What's Changed", you see this: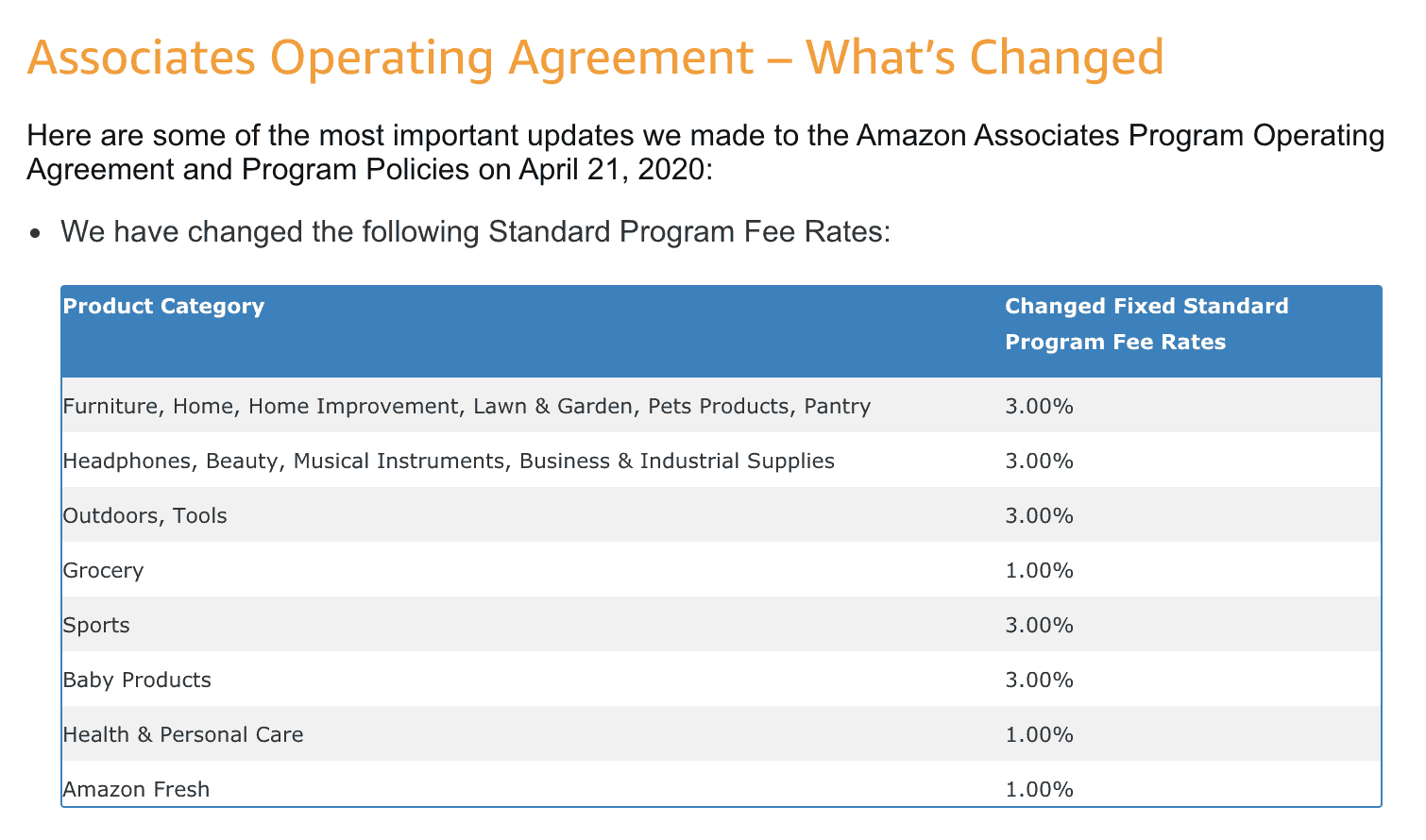 And when you click on "Fee Statement", you see this: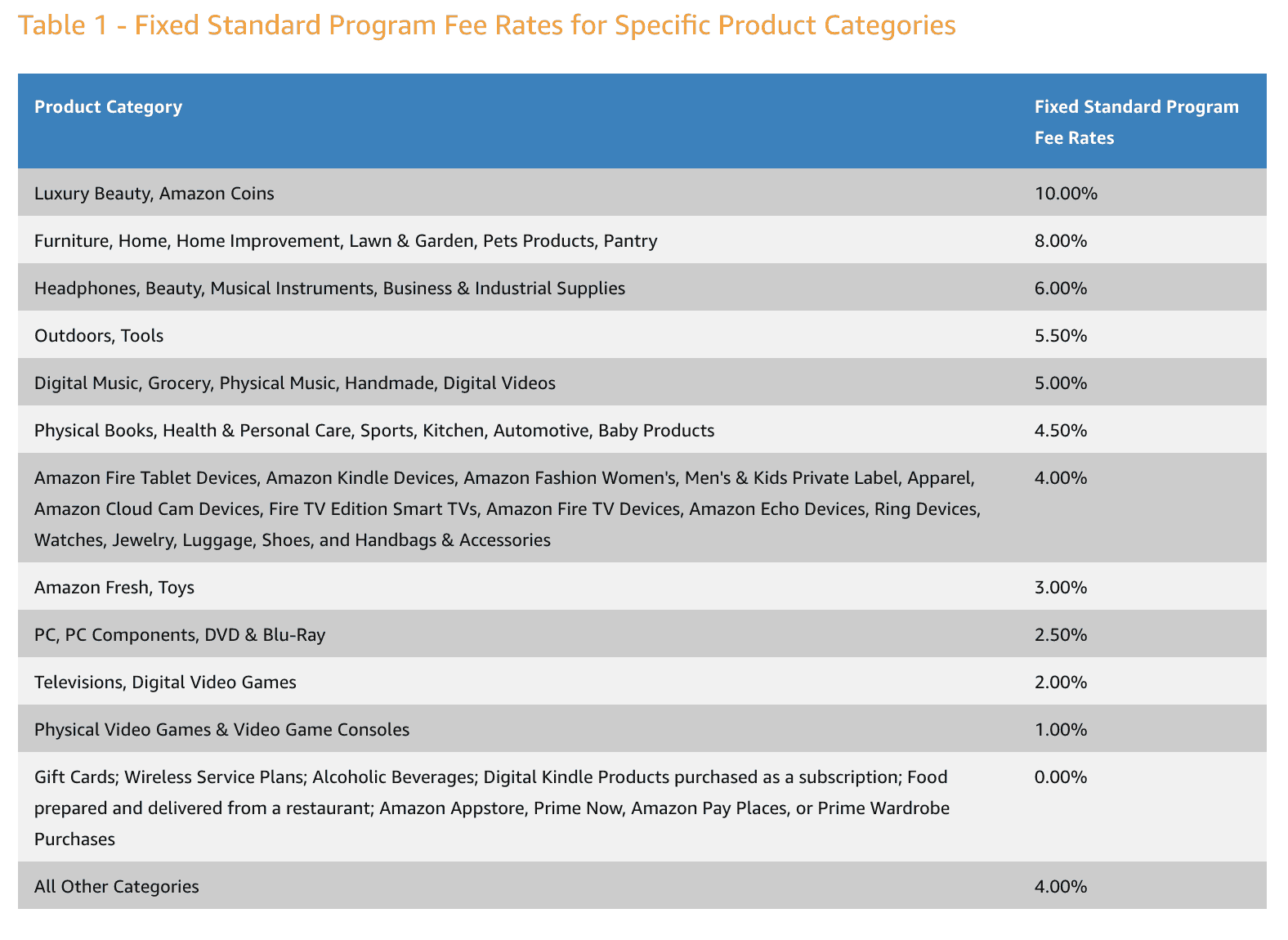 Note that these links always show the latest changes and the latest commission rates.
Read: the only way to know what happened in the past is to have logged it yourself.
(If you're interested, Geniuslink has a historical guide of the Amazon Commission Rates changes)
When and why does Amazon cut affiliate commission rates?
Amazon cuts commissions several times a year. And the big cuts seem to happen every year around April or May.
So this is nothing new.
But this time, the cuts are pretty drastic. And given the global pandemic going on, the timing is awful for affiliate marketers.
But why do they cut commission rates?
Amazon is a mature business, so it's no surprise that they cut their commission rates over time.
Sure, affiliate marketers helped build Amazon's business to what it is today.
But it makes little business sense for Amazon to keep the commission rates as high as they were in the past.
And we can expect more commission rates cuts in the future.
Maybe not as drastic as this time. But many categories still have commission rates up to 10%, so Amazon will most probably cut them too at some point.
What to do when Amazon cuts commission rates?
It depends.
Not every niche is the same.
Maybe leaving Amazon Associates for another affiliate program is a good idea. Maybe not.
Let's find out.
1. Search for Amazon Associates alternatives
Go on Google and type:
[niche] affiliate program
For example, my main niche website is all about watches.
So in my case: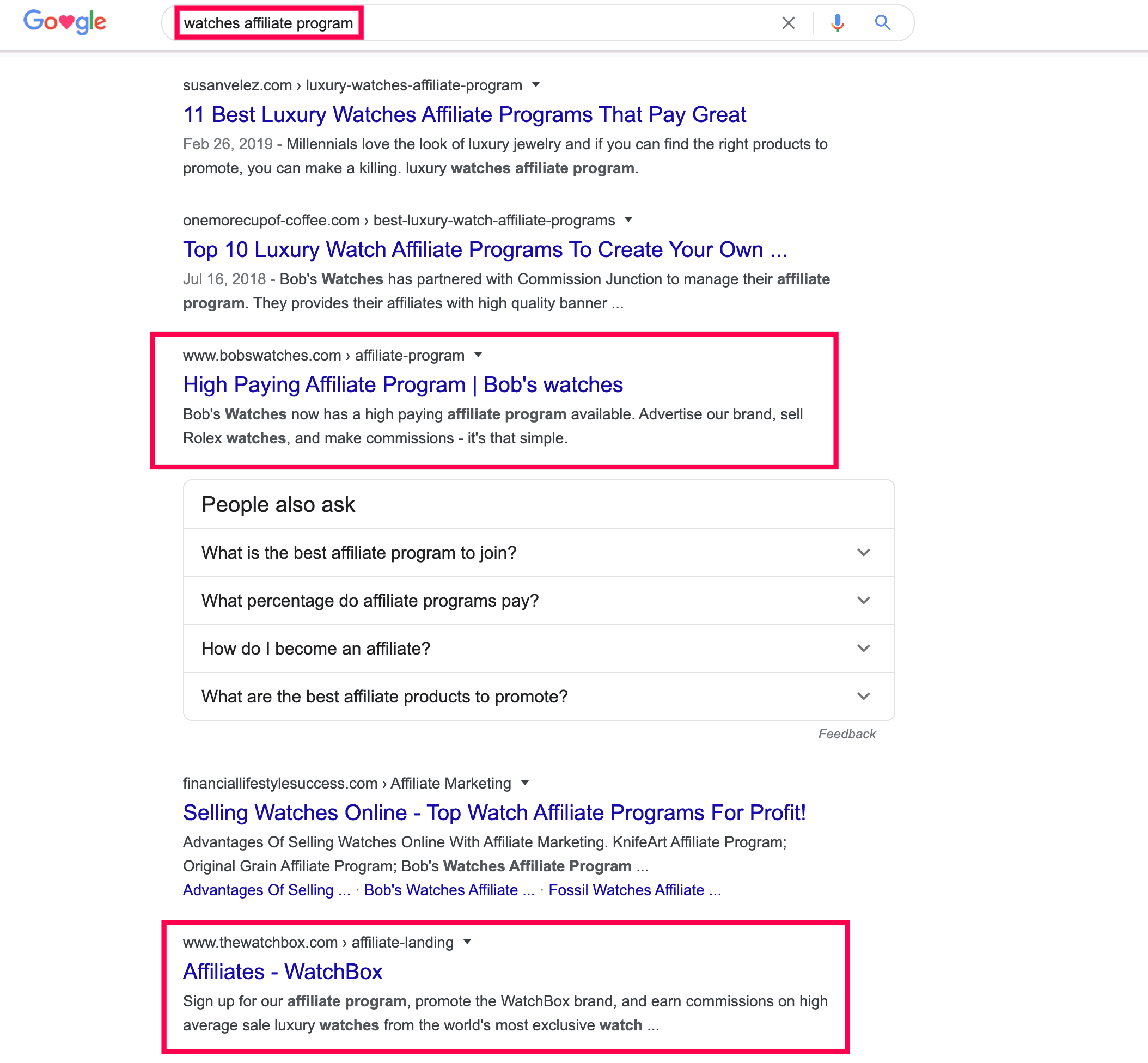 Bob's Watches and Watchbox are big retailers in the watch game – and they have affiliate programs.
You may be surprised by the number of affiliate programs available for your niche, too.
Don't forget some brands have affiliate programs too. So if you really like their products, give it a shot too.
Just search:
[brand] affiliate program
2. Switch to another affiliate program (if it makes sense)
Amazon is a household name.
So when you send people to their website, you expect people to trust their business and buy with confidence.
And this is a very important aspect of your business.
So even if you can find alternatives to the Amazon affiliate program, it doesn't mean you should switch right away.
Because having better commission rates is just not enough!
In particular, you should check if other affiliate programs have:
a good amount of products available
a fast and cheap delivery service (free is even better)
an excellent return policy
a great customer service
and a fast and automatic payout
While the 4 first points will help keep the conversion rates high, the fifth will keep your income and cashflow safe.
You now should know if it makes sense for you to switch from Amazon Associates.
If you have a viable alternative
Sign up for your new affiliate program(s).
Go through your website and change your affiliate links.
If you're using WordPress, you can use a plugin like Better Search Replace. Proceed with caution, and always backup your website before you mess up with the database!
If you haven't already, track clicks on your affiliate links.
Create goals in Google Analytics and triggers in Google Tag Manager.
Always make sure you track clicks on your website!
You want to have as much information as possible to determine the conversion rate on your affiliate links.
(If you don't know how to do it, hit me on Twitter.)
If you don't have an alternative
Keep your existing affiliate links to Amazon
Diversify your income streams (read on)
Sure, Amazon slashes commissions rates more often than we like.
But I don't think they'll shut down their affiliate program completely any time soon (if ever).
So even if rage quitting and removing all the links to them is tempting, it makes no business sense.
Keep calm and diversify.
3. Diversify your income streams
Whether you already make money with the Amazon affiliate program or not:
Having just ONE revenue stream is way too risky.
You literally have ZERO control over a platform (like Google or YouTube) or a partner (like an ad network or an affiliate program).
They could kick you out at any time or shut down altogether.
That's why you should build other revenue streams like:
Ads: put ads on your content – it's the simplest and most effective way to create more revenue for your online business (and a great hedge against commission rates cuts)
Digital products: create and sell ebooks or online courses
Merchandising: even if you don't (want to) sell a physical product, you can always create some merch for your audience
Membership community: sell monthly memberships to a closed community where you answer questions and insiders share their tips
Now, these are just a few ways to diversify your revenue stream.
I go into much more detail in my in-depth guide about monetizing your online business.
Read this if you're just starting your online business
I surely wouldn't base my strategy on making money (only) with Amazon Associates.
But I would still consider it.
In fact, Amazon Associates is still a legit way to make money online – it's just not as lucrative as it once was.
But don't put all your eggs in that one basket. And don't even start with it.
If you're wondering what you should do instead, read my ultimate guide to starting an online business.