Would you like to find an actual business name in seconds, even without brainstorming?
Today I'm going to share with you the best business name generators to find a memorable business name (and how to use them).
In fact, I use these exact tools every time I need to find a name for a business, startup or brand.
So if you're fed up with generators that just try to sell the domain names they have in stock, I'm sure you will love this list.
So here are the best business name generators:
1. ExpiredDomains.net – Find a Great Name in Seconds (without brainstorming)
ExpiredDomains.net is a great tool to help you find a startup name.
Not because you'll be able to snipe a domain name that someone let slip the into public domain again (even if that's the case).
But simply because someone might already have come up with a brilliant name, but didn't do anything with it.
It's like getting the result of thousands of brainstorming sessions for free!
(Not all of them will be winners, but still).
Okay, let's say you want to open a restaurant for families, with affordable prices.
Pick a keyword relevant to your business, enter it in the Search field and click "Search":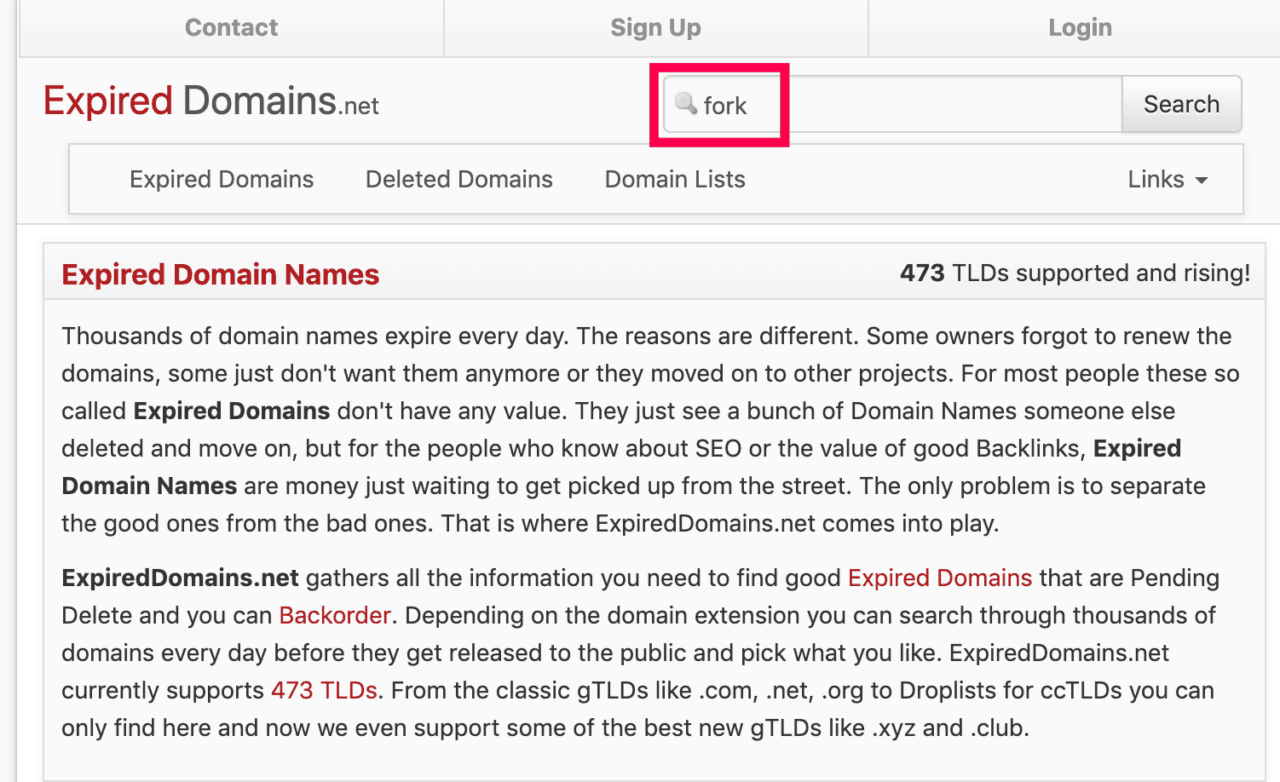 Click on "Show Filter":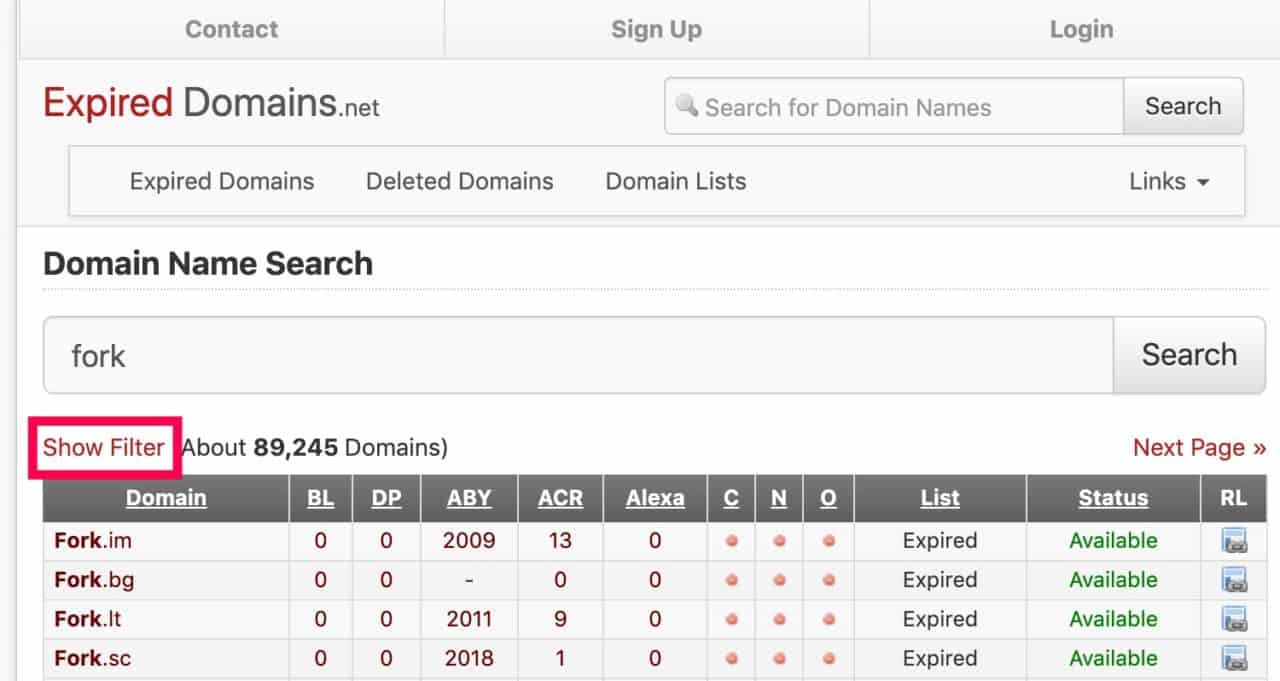 Click on .com, no hyphens (if you want to know why, check out my post on the top mistakes when finding a domain name) and then "Apply Filters":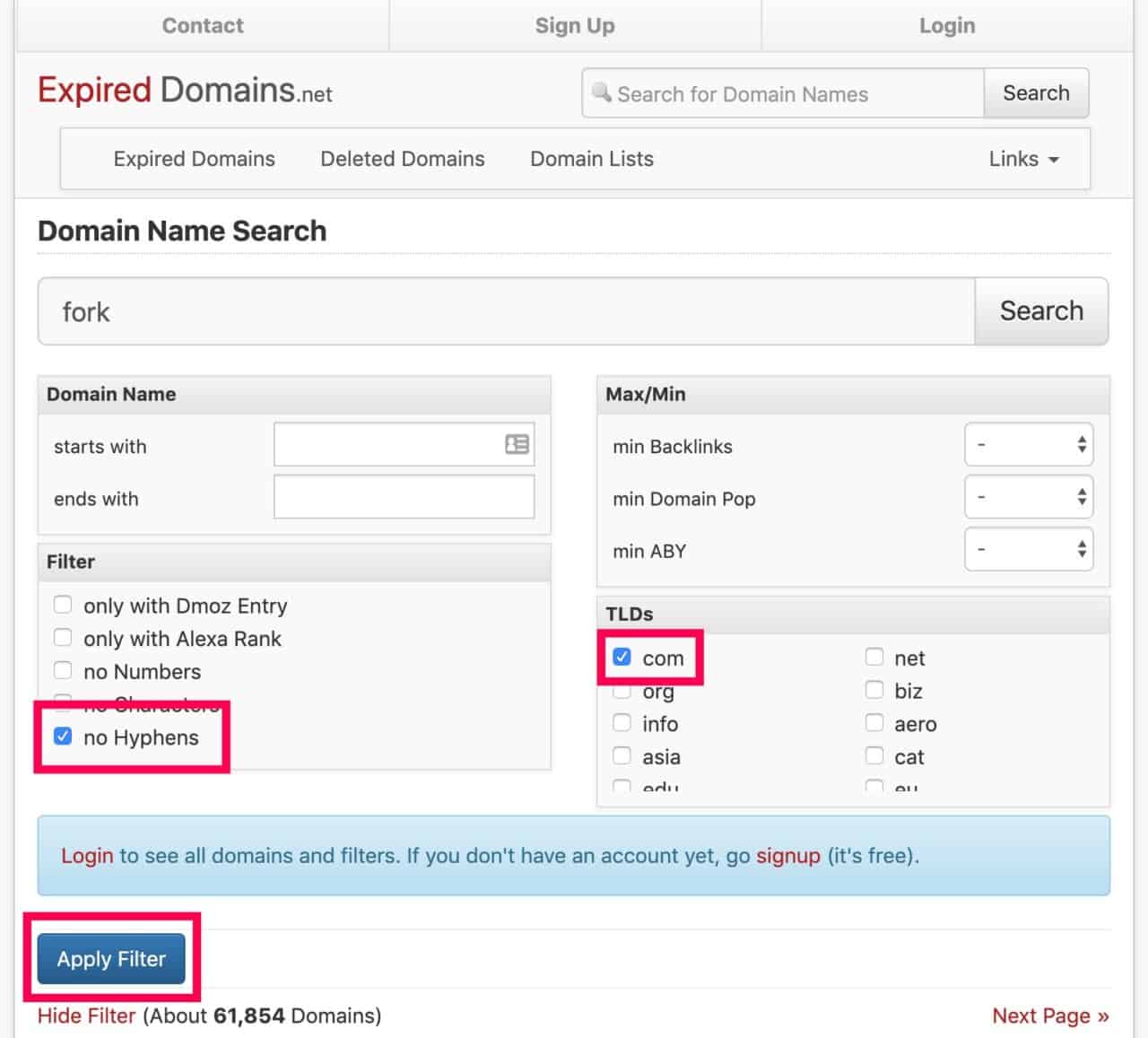 And voilà!
You got yourself a list of available names for you to grab.
Some are "available", meaning you can have them for just a few dollars at any registrar.
Some might be for sale for a premium, but might be good options as well!
Look at how EastFork.com was available (at the time of writing this article):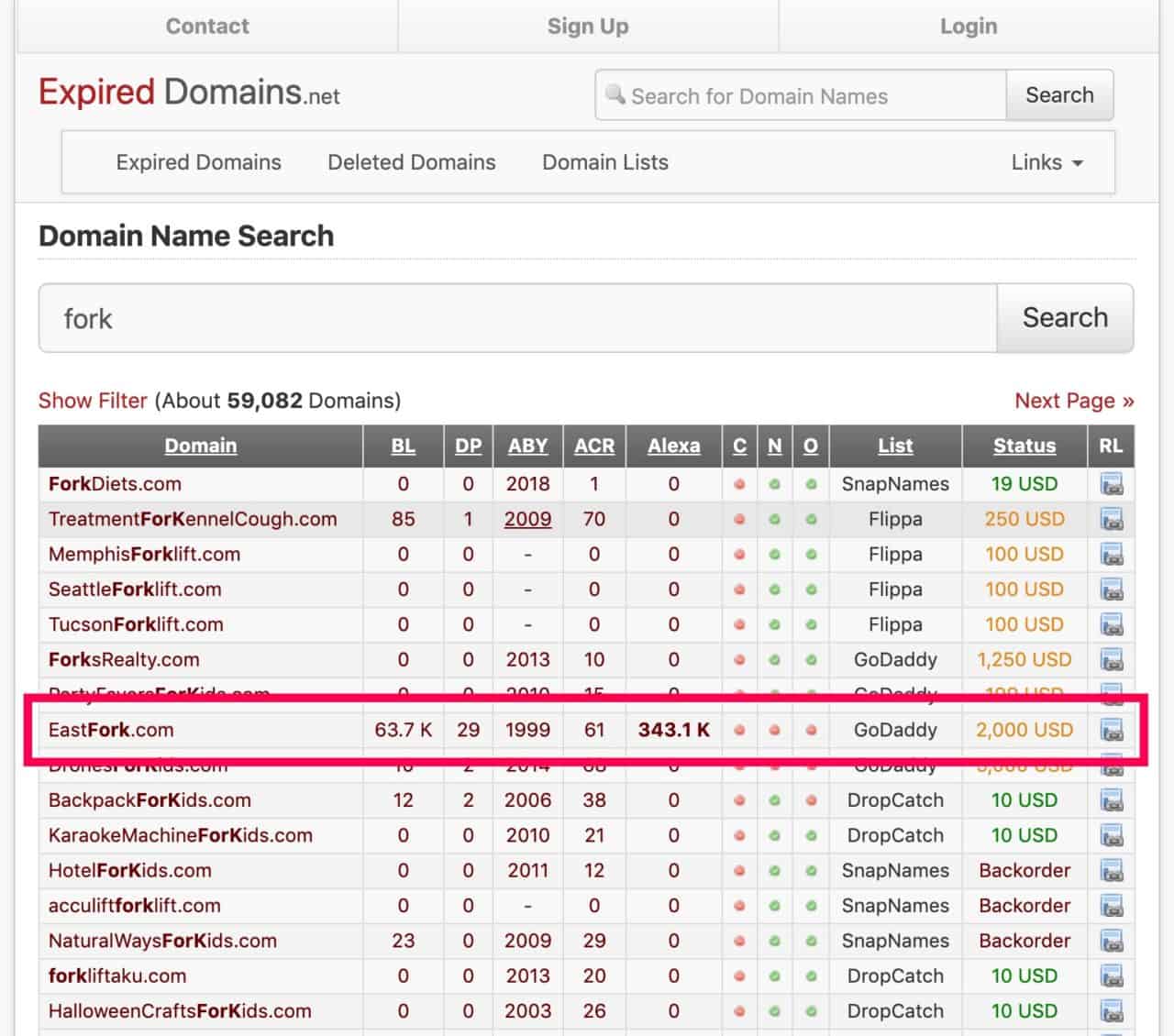 Imagine you intended to open a restaurant in NYC or Miami – this is golden!
Of course, it's gone now.
And it might not be the best name ever if you ever think of expanding your business.
(I wrote an article in which I talk about why taking a name that is too local might not be a good idea.)
But it goes to show how you can find names for your business that you may have not thought about at first.
And it might spark some new ideas from what you see there.
Or you could just buy the domain if it makes sense for your business or startup.
CAUTION: if you find a domain that you like and that you're ready to buy, make sure the name in itself is not trademarked.
There is a difference between being able to buy a domain, and being able to use it without issues down the line.
Sure, a former Google employee managed to buy and own google.com (source)… but that doesn't mean he kept it (he didn't) or that he could use it!
If you're not sure about a name you just found that seems like it is trademarked, consult with a lawyer.
Or better yet: let it go and find another one.
2. Thesaurus.com – Find ALL The Synonyms to Your Keywords! (and then some)
Thesaurus.com is probably the online tool I use the most when I'm naming a business.
The reason is simple:
In today's market, where every name out there is already taken, you'll need to come up with many variations of your keywords.
And I mean A LOT of them.
This is when Thesaurus.com comes into play.
Let's say you're in the personal development business and one of your keywords is growth.
When the word has several meanings, notice how the words in the tab (narrowing down a specific meaning) is not in the list: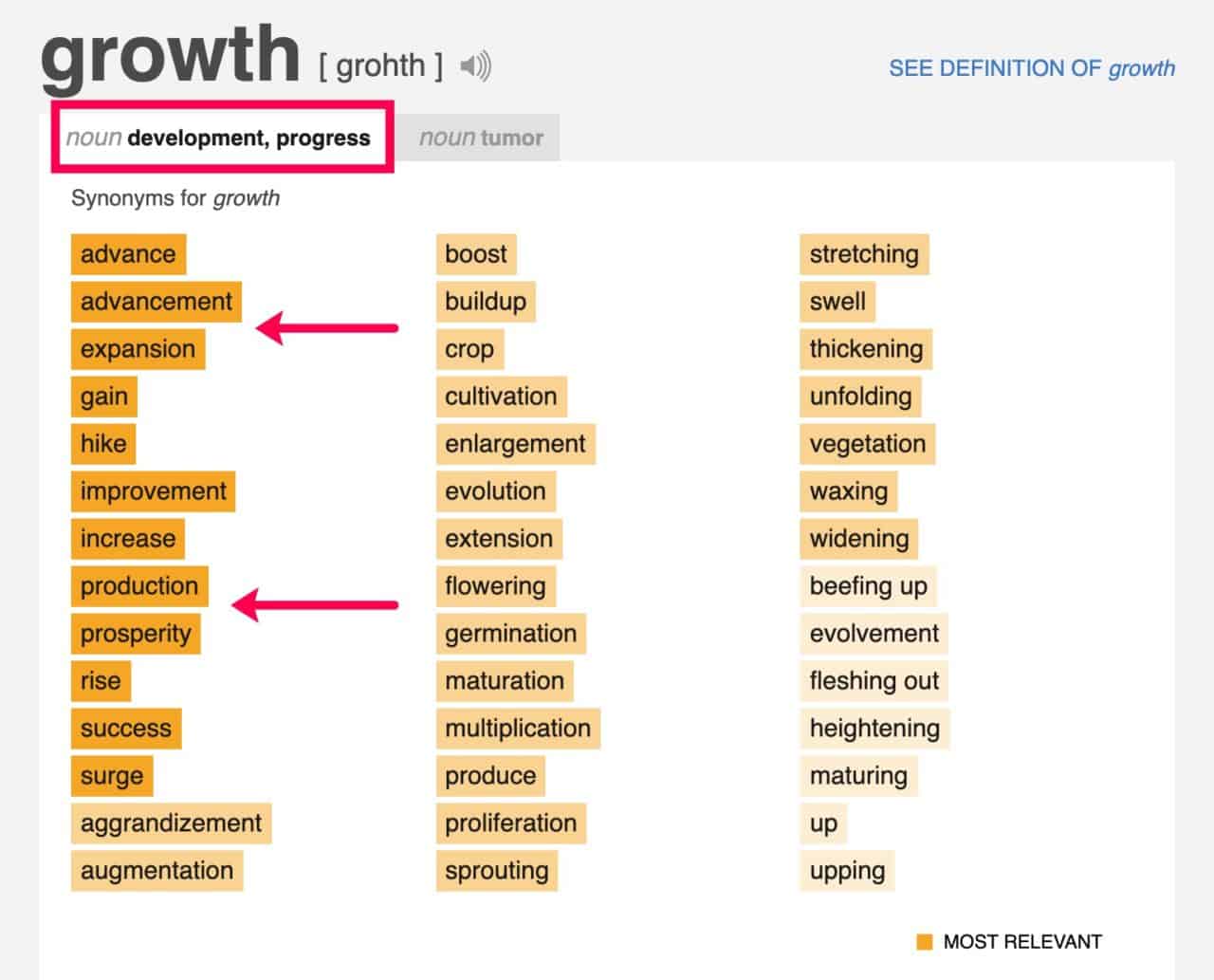 So don't forget to take these into consideration as well.
Let's say you want to find synonyms for plan (as in think out, penultimate tab).
You could find even more relevant synonyms by clicking on an antonym that is the contrary of what you're originally looking for, like ignore: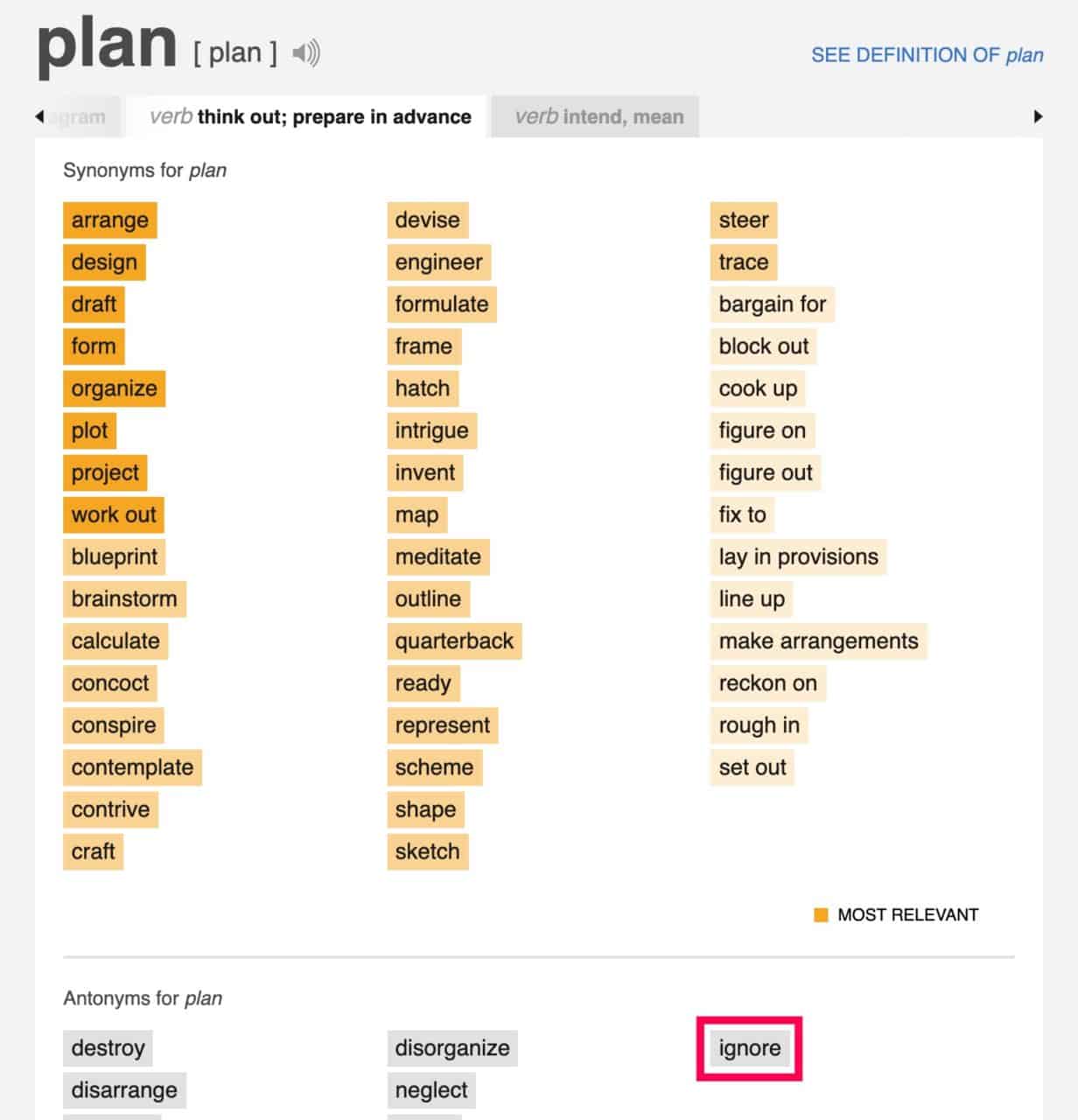 And then check out the antonyms for that word: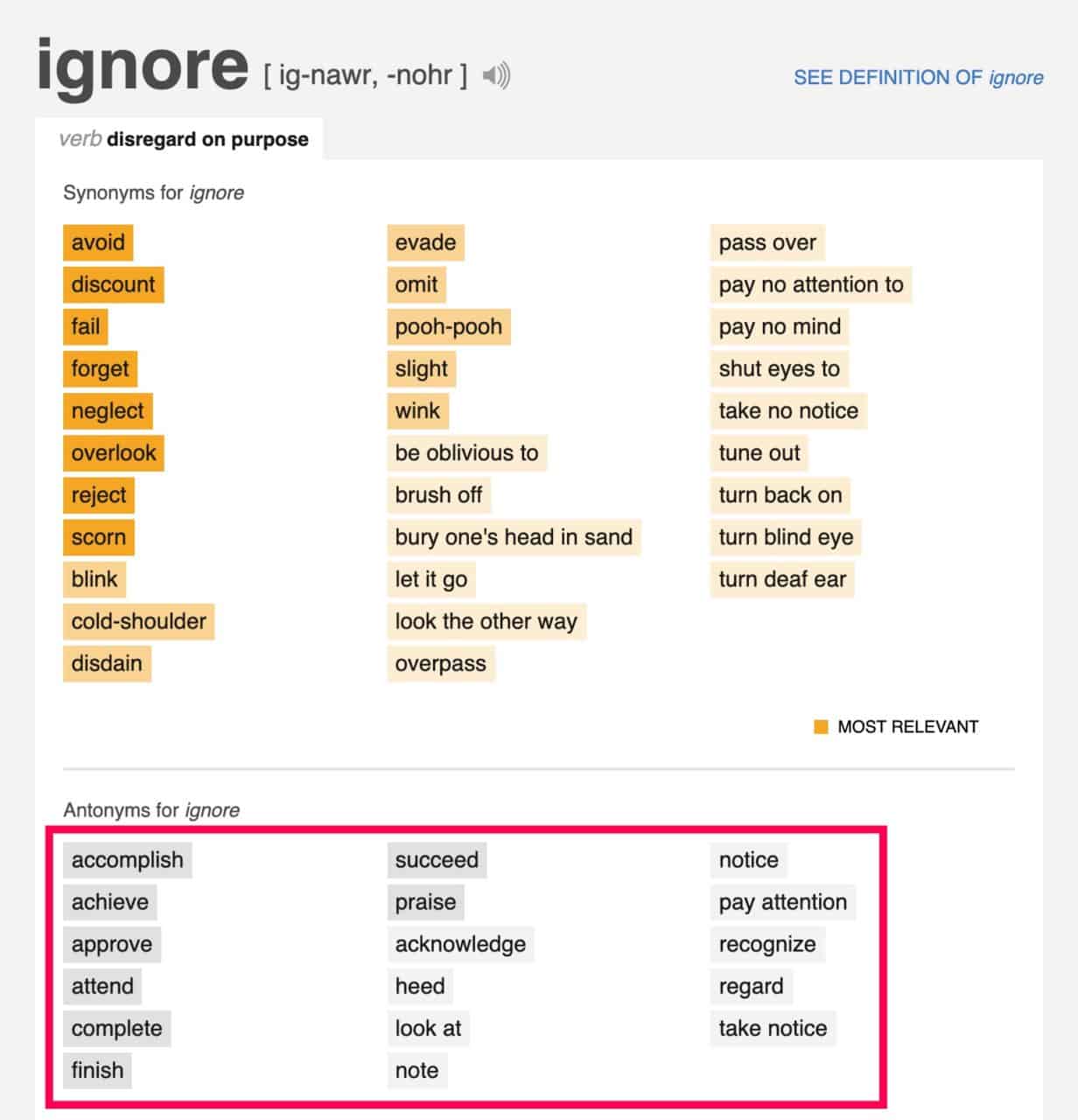 As you can see, many of them were not in the first list, but might make for great alternatives for plan.
3. Portmanteaux – Invent New Brandable Names (in just one click)
Portmanteau words are made of two words to create a brand new one.
Here is an example I'm sure you know:
The word podcast is made up of iPod and broadcast.
Portmanteaux is an online tool that allows you to find those words easily, based on 1 or 2 keywords: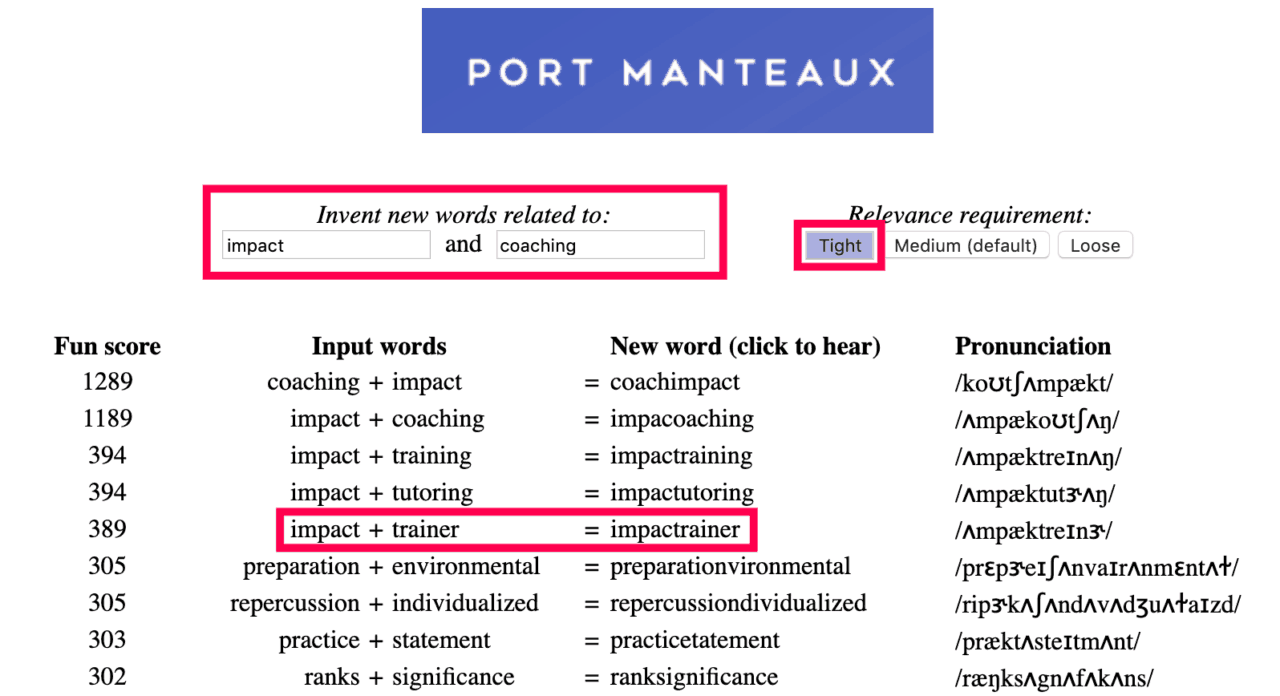 Here, I mixed impact and coaching.
Sometimes, the tool comes up with weird propositions – so you always want to make sure to set the relevance requirement to tight.
Some new words like practicetatement sound just plain silly and won't do. But sometimes, you'll find brandable names, like impactrainer.
(At the time of writing this article, it's available as a .com domain. Grab it if you want!)
By the way, no need to flip the first and second word – as you can see, Portmanteaux does that for you right at the beginning of the list.
Convenient.
4. Wordoid – Memorable Brand Names for Dummies
Wordoid works a bit like Portmanteaux, but it only uses one word to do its magic.
Also, it can check on the spot if a particular idea of his is available as a .com domain.
Here are the settings I would use for Wordoid:
Language: English
Quality: High
Pattern: Containing (your keyword)
Length: 10 (or less)
Domain name: Show available only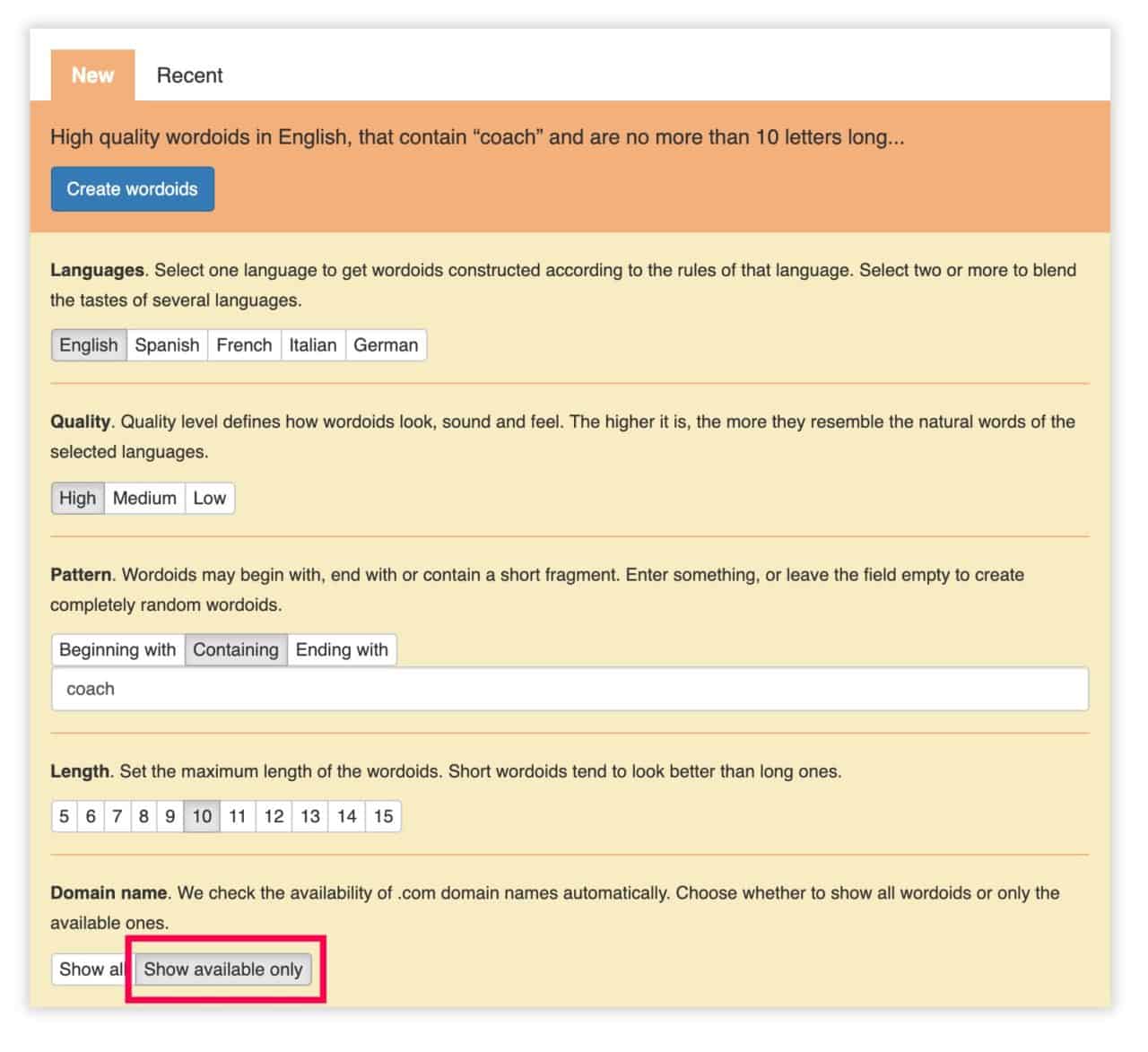 Let's say you're in the coaching industry.
Here are the propositions Wordoid would come up with (this is page 7 of the results for "coach"):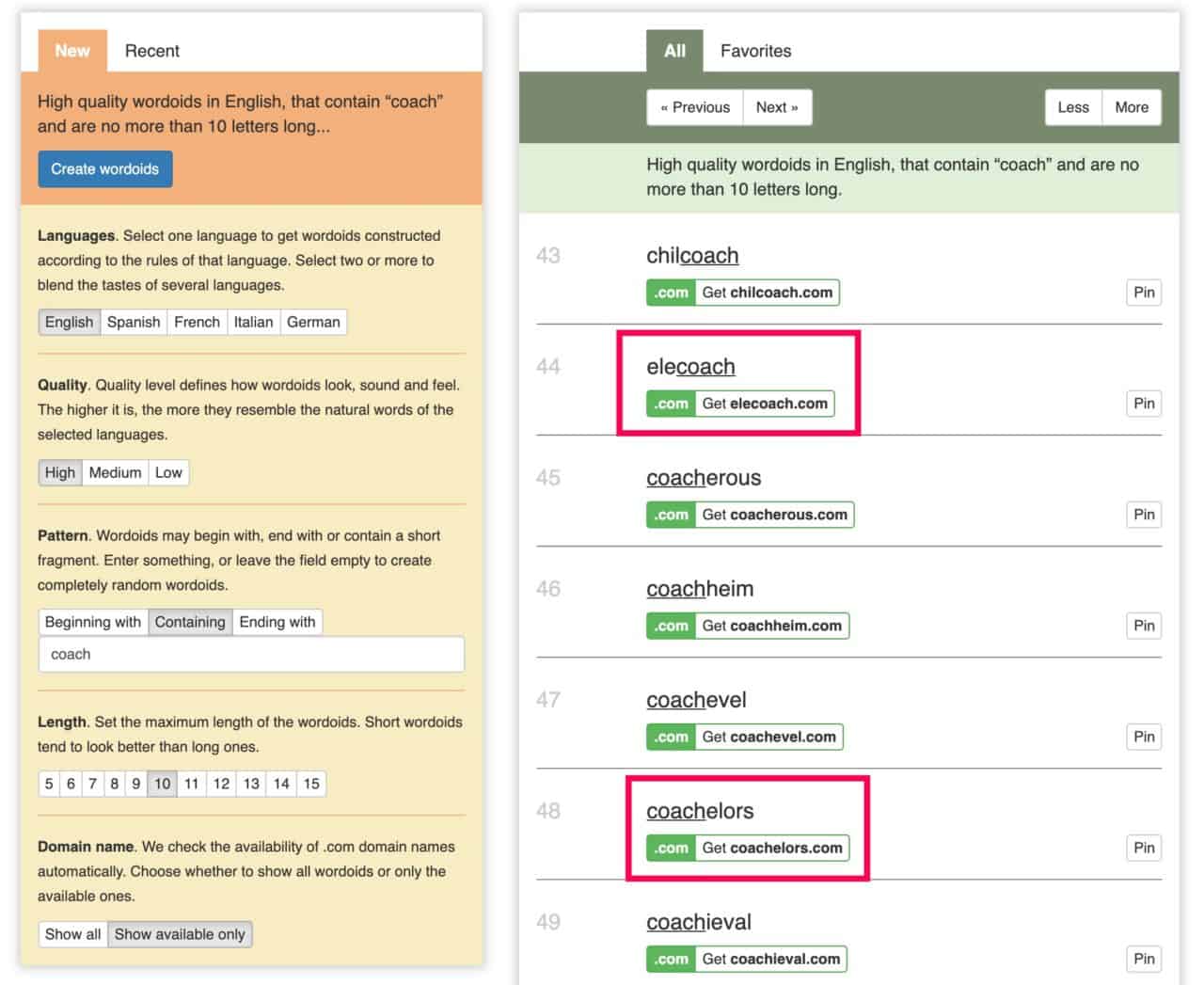 We have 2 interesting propositions here!
Elecoach is a nice blend between elevate and coach which is a nice, positive message – and a great brand too!
Coachelors sounds a lot more corporate.
That's probably because it seems like a mashup between coach and counselors.
I love them. (Get these 2 before someone else reads this post!)
BUT be aware that these are making a few business name mistakes.
As such, think long and hard before you pull the trigger – rebranding a business is a real pain in the neck!
5. NameMesh – Get Hundreds of Name (and Business) Ideas With a Simple Mouse Scroll
I don't like generic domain name generators, because they tend to sell you only available domains… and most of them sound terrible.
NameMesh is different, just by the sheer number of propositions it spits out (given a simple keyword).
Let's search for yoga (and hide already registered domains):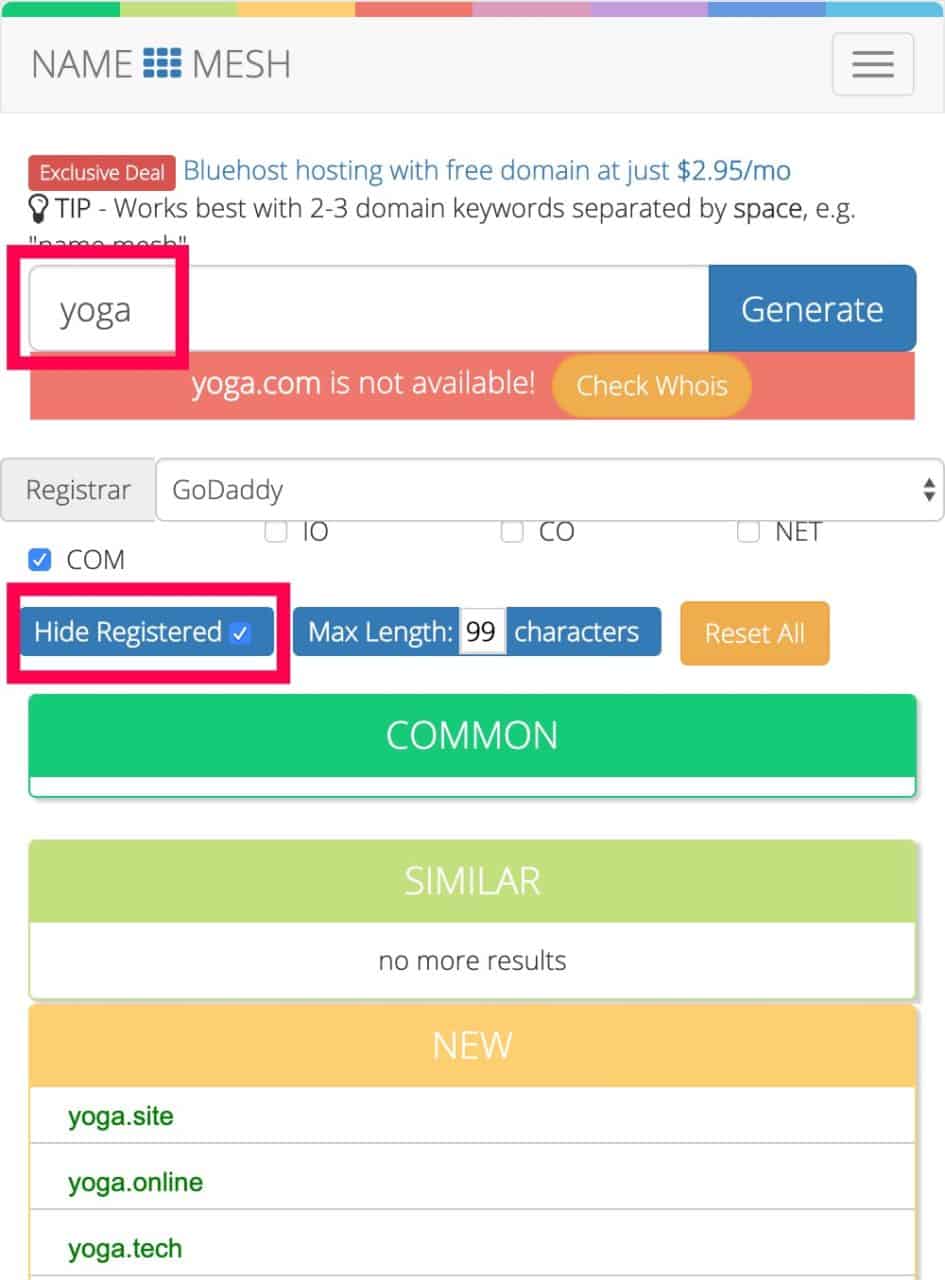 Then go to the "SEO" tab and scroll away!
You'll discover hundreds of ideas, like: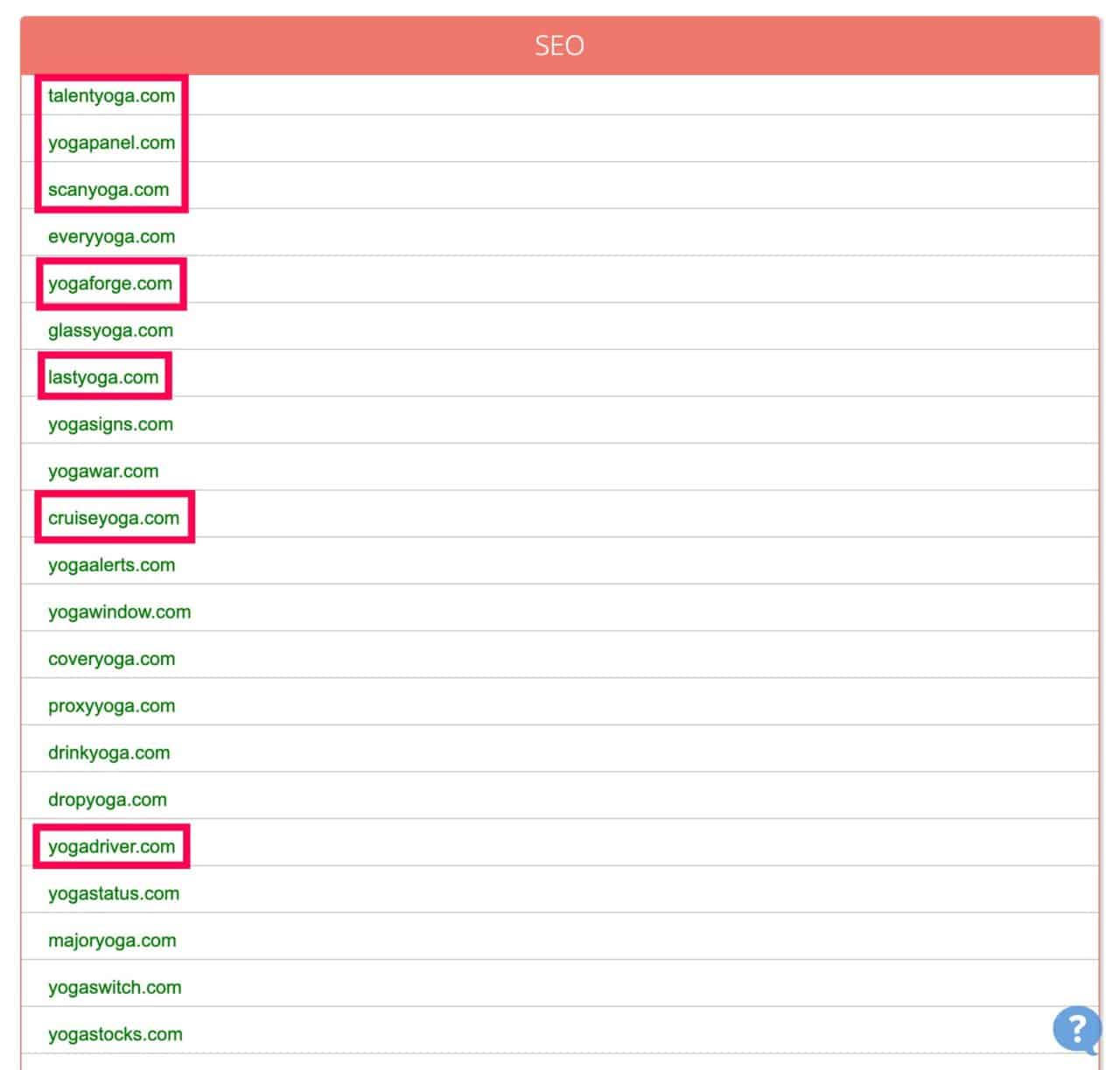 I don't know about you, but to me, all of these sound pretty legit!
And you may find a new niche or audience you didn't think of, too.
For example:
Talent Yoga: find the best instructor around your area, or yoga for actors
Yoga Panel: a company specialized in building and equipping yoga studios
Yoga Forge: a dope name for a yoga studio
Last Yoga: a definitive method to learning yoga
Yoga Driver: yoga practice for taxi drivers (to release their tensions)
I could go on for hours…
Sweet.
6. Namelix – AI-Powered Business Name (and Logo) Generator
Everything tastes better with bacon, right?
Well, now everything works better with AI (artificial intelligence) – or at least I like to think so.
So when a business name generator meets AI, you get Namelix.
Namelix is pretty straightforward – enter a keyword and click "Generate":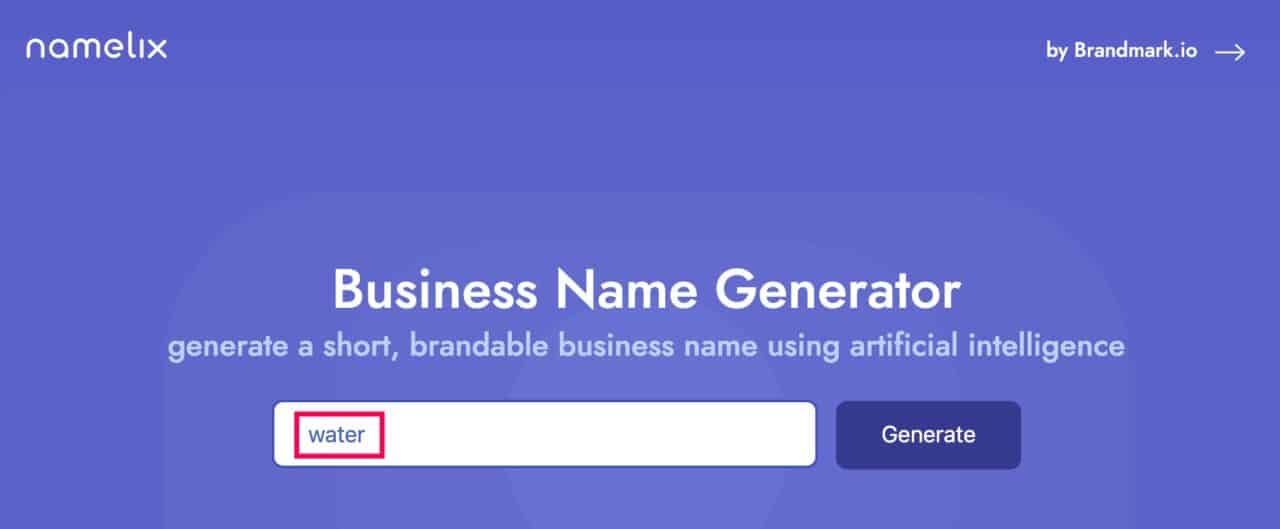 Choose a name length (I like to go for 6-12 letters as I think it works best):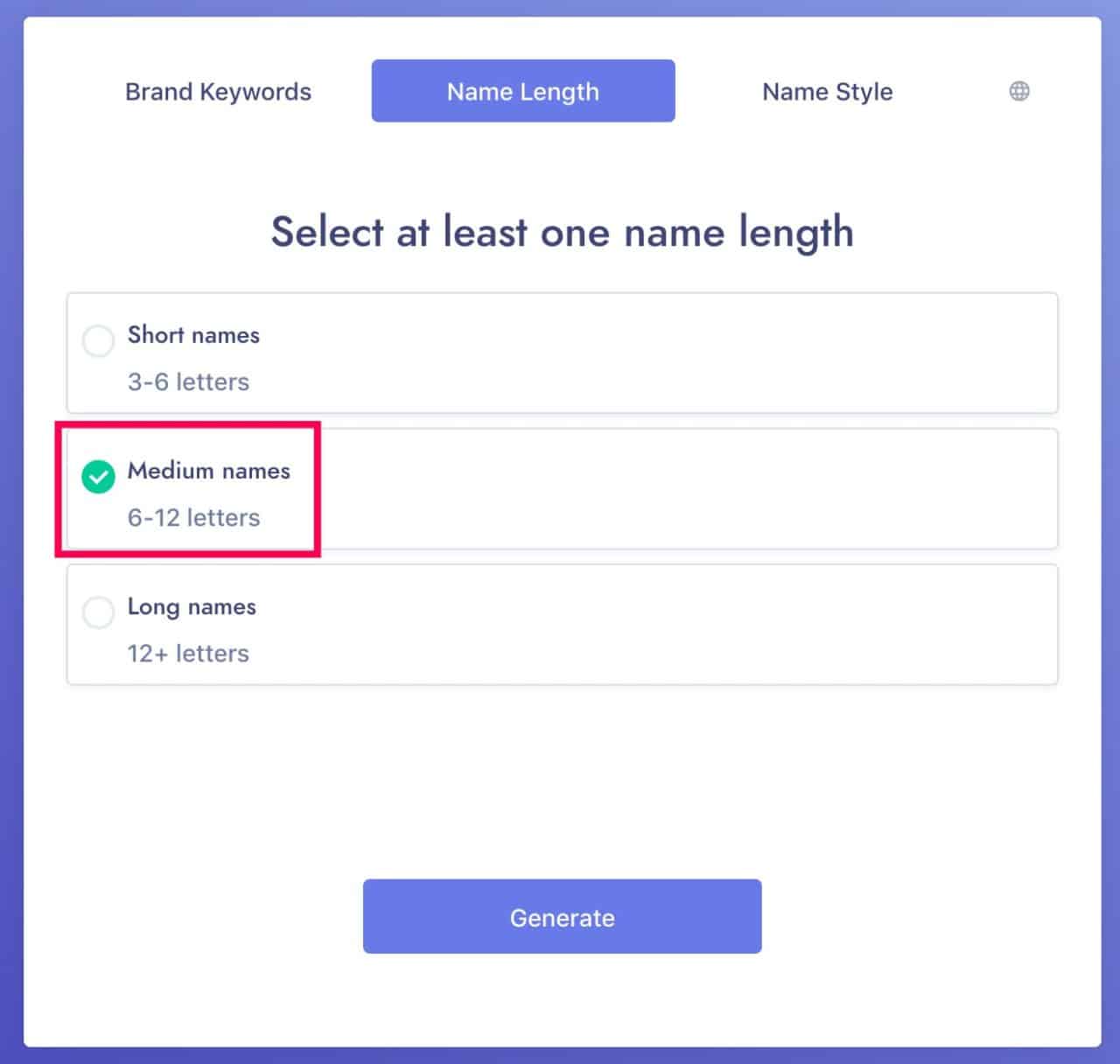 Choose your name style, depending on the type of name your brand or business needs (I like Brandable names or multiple words):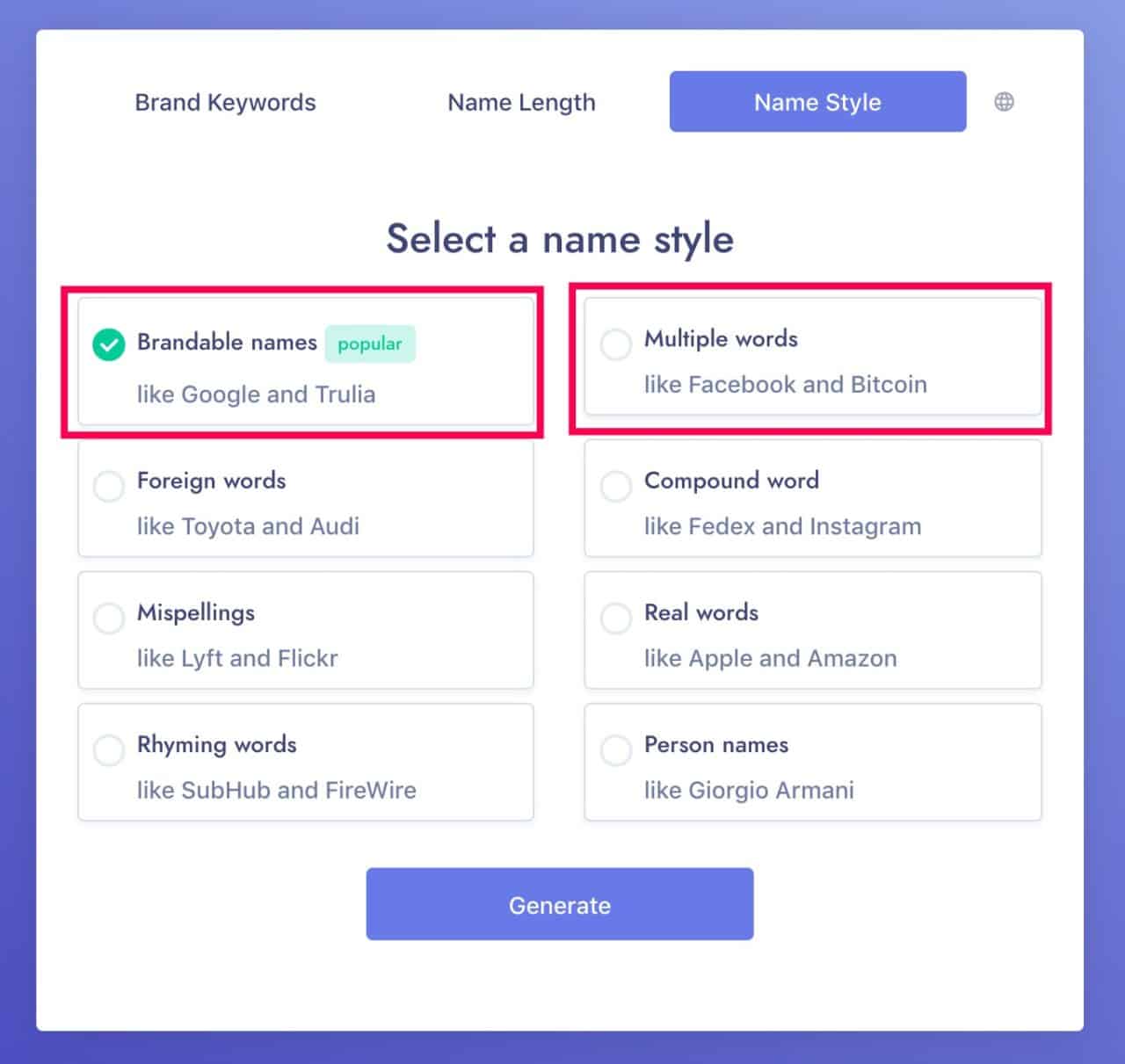 And then enjoy the results – complete with logo designs: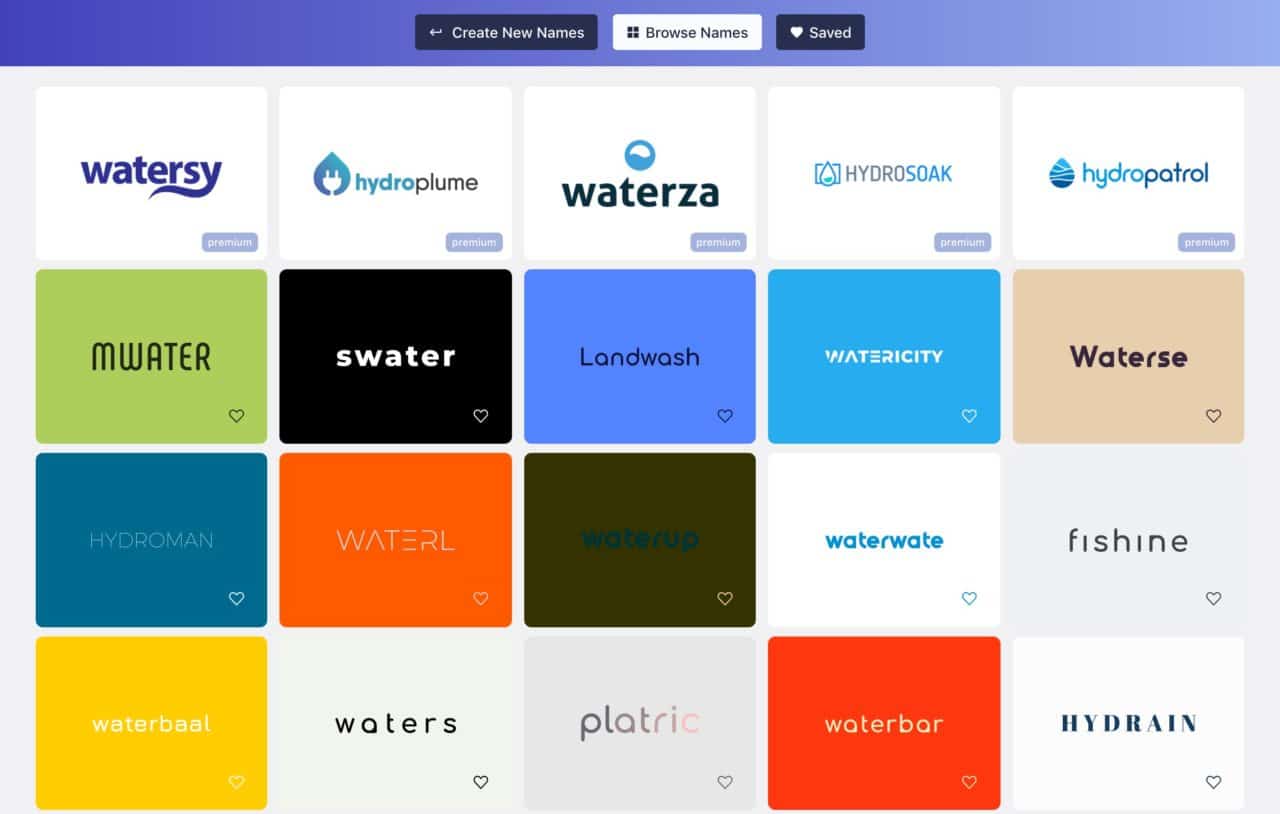 How cool is that?
Not only Namelix will give you some food for thought when it comes to names related to your keywords.
But it will do so by showing you some designs of what it could actually look like in the real world.
Give it a shot, I'm sure it will spark some cool ideas!
7. BatName – Let Hashtags Find Your New Business Name
If you Google BatName, you'll see that they call themselves "the world's best domain name generator".
I don't know about that, but it sure is an interesting name generator to consider.
If you're a bit geeky like me, you'll love that you can set some rules, group keywords and let BatName mix and match.
For example, searching for "[apples bananas oranges pears] are [fun tasty yucky]" gives: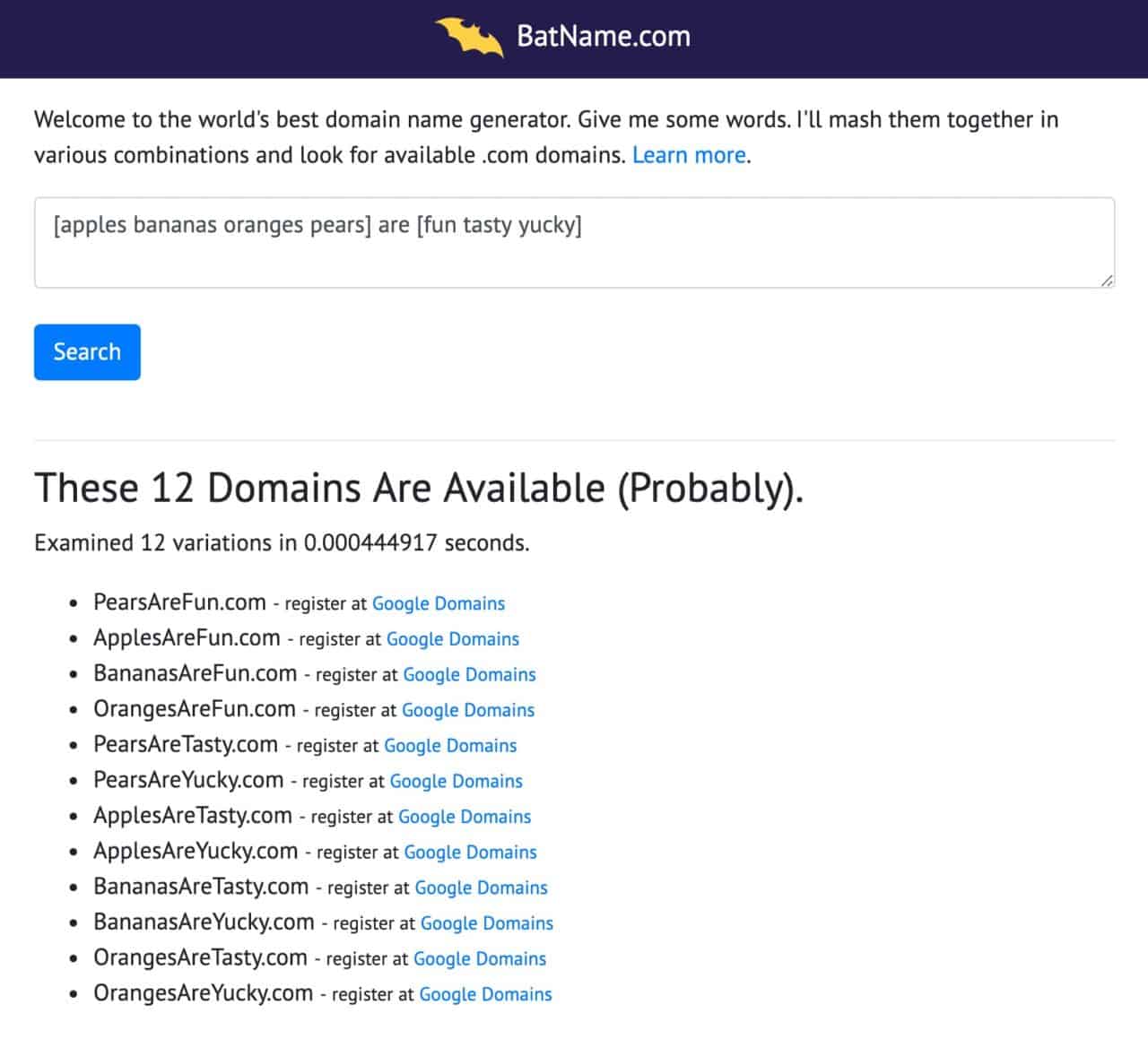 Pretty cool, right?
But the real power of BatName is that you can use hashtags, too.
If you use any of those: #alcohol, #animal, #atom, #color, #digit, #emotion, #flavor, #food, #fruit, #letter, #metal, #money, #number, #nut, #planet, #prefix, #secret, #shape, #space, #suffix, #vegetable, or #vehicle… BatName will swap those hashtags with a list of words.
Check what searching for "#color #planet" returns as results: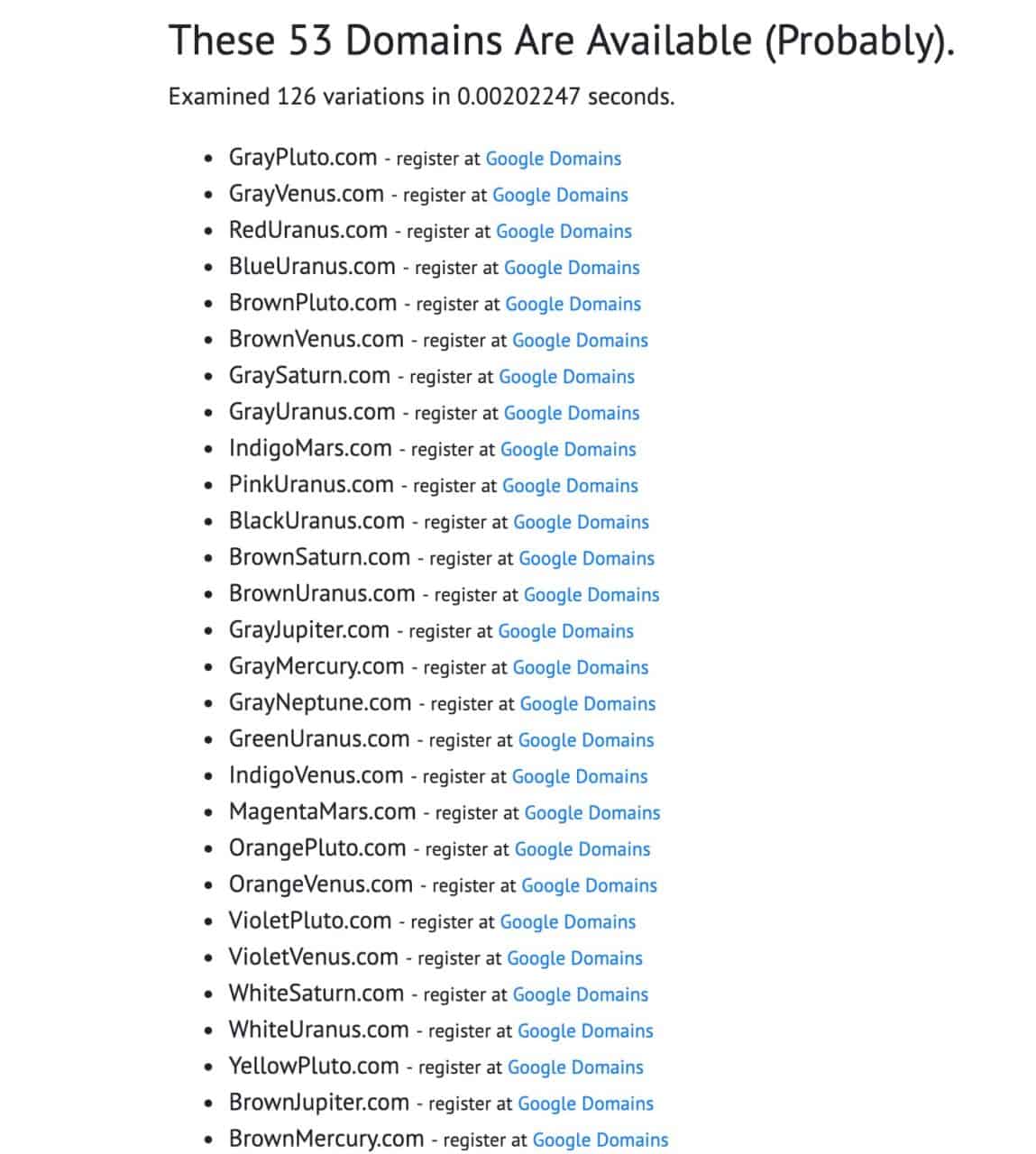 Now that's pretty cool!
I could play with this for hours… and I'm sure you can find some pretty unique combinations you probably didn't think of, too!
Backup Plan: Shopify Business Name Generator – When Everything Else Fails
You've been searching for days (sometimes weeks), and nothing interesting has come out of your numerous brainstorming sessions.
Been there, done that.
It sucks… and you're left with no business name.
When all else fails, you can still give the Shopify Business Name Generator a try.
Let's say you sell pillows.
The Shopify Business Name Generator will give you 100 options containing your keyword: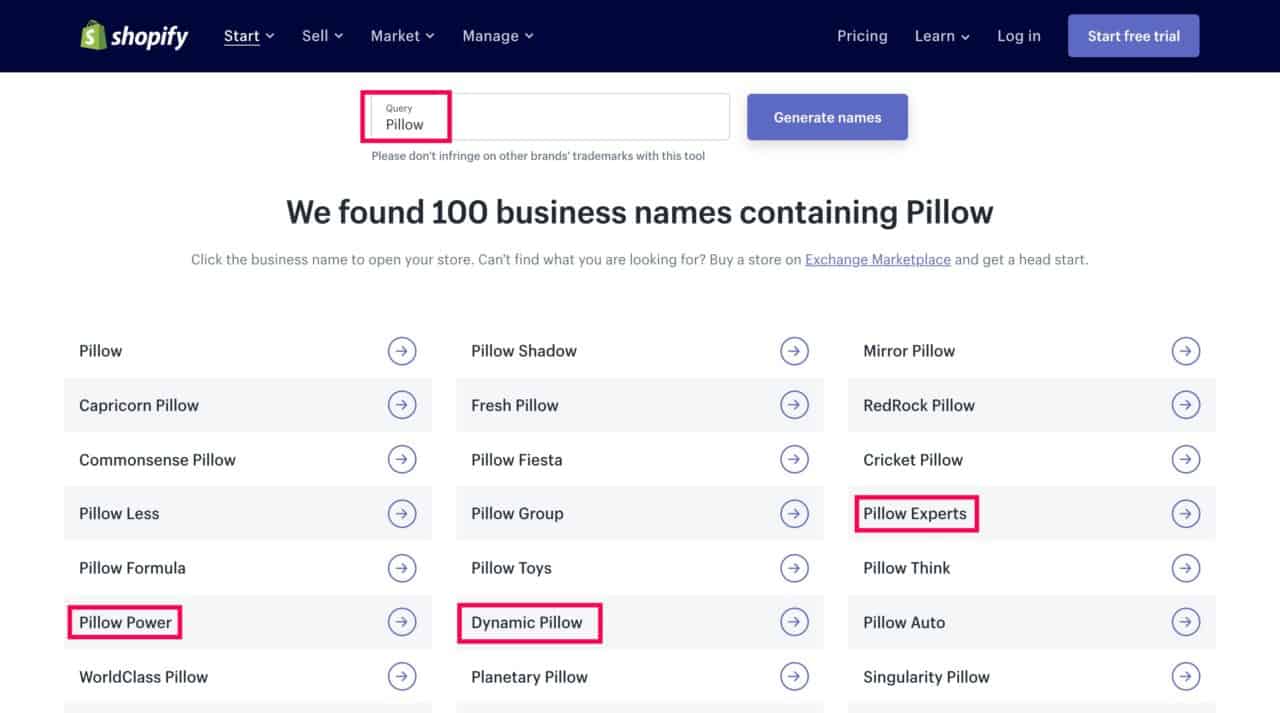 Now, don't expect a miracle.
But sometimes you can find interesting propositions that can work for you (as highlighted on the screenshot).
So it's worth giving it a shot: you never know!
Now, just don't settle for an okay name – this is one of the worse business name mistakes.
Keep pushing.
Trust me, you'll be happy you did!
Why I Don't Use Other Business or Blog Name Generators
There are actually a lot of reasons why I don't use them.
Among these reasons are:
most options sound (and look) pretty bad to me
they don't check the availability of the .com domain name, or…
they try to sell available .com domain names (bueno!). But because so many good .coms are taken, you only get the lousy ones (no bueno!)
they propose word combinations that make no sense most of the time (at least, if you're taking your business seriously, which I hope you do)
they come up with SuperLongDomainNamesThatAreAvailable.com. Duh! Who wants one of those?
But hey, maybe that's me.
Maybe you came up with something interesting from a "catchy" name generator!